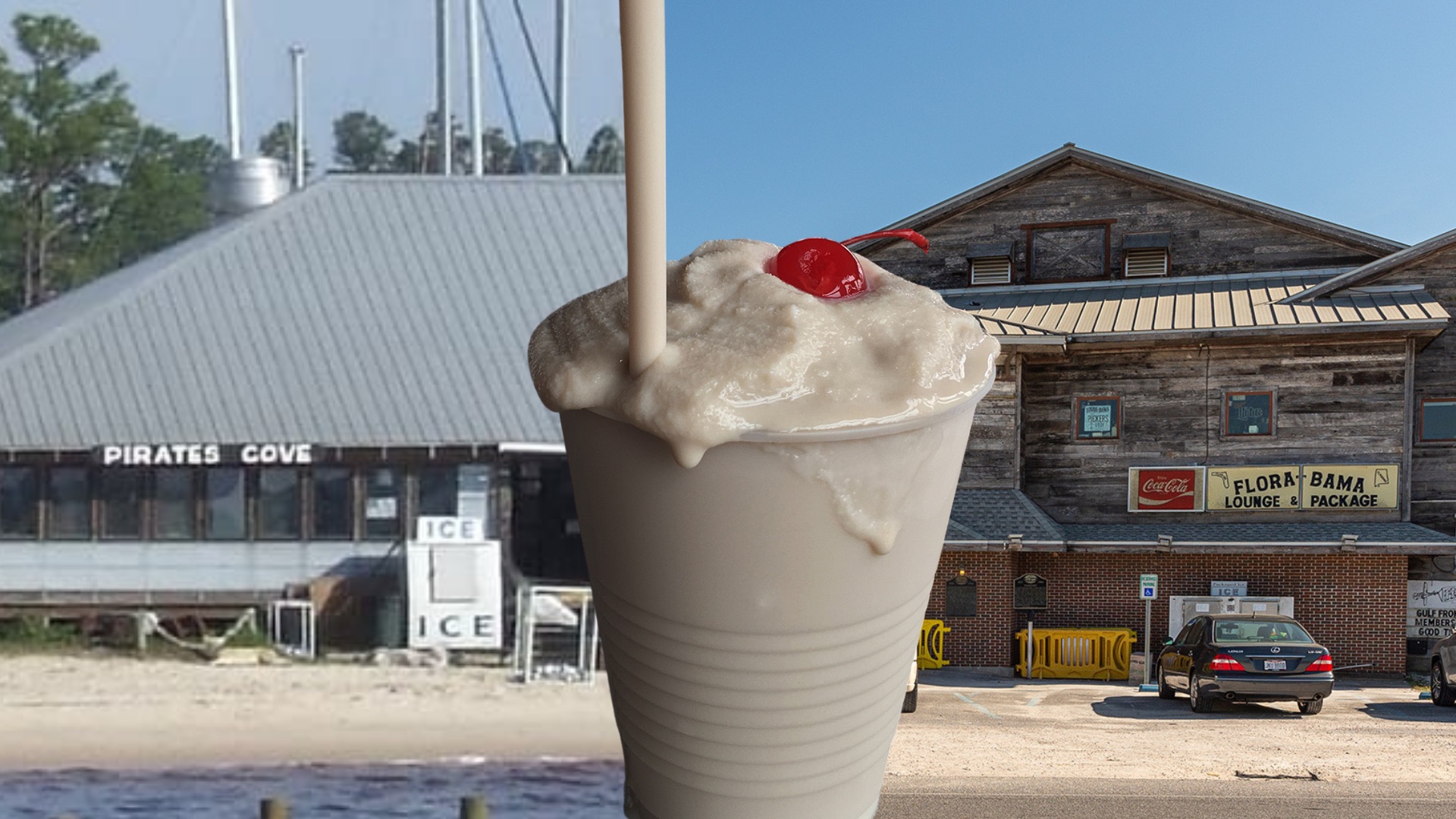 Have You Ever Been Bushwacked?
Two famous dive bars on the Alabama coast — The Flora-Bama Lounge and Pirate's Cove — serve thousands of their famous Bushwacker frozen cocktails every day. The big question is: Which bar makes the best one?
There are people who hear the phrase "dive bar" and turn up their noses. I'm in the group that hears "dive bar" and asks, with great enthusiasm, not disdain, "How much of a dive is it?" And the higher it ranks on the scale of old, rickety, unfashionable and cheap — with a bit of smelly and a dash of sketchy thrown in — the happier I am.
It's why two of my favorite spots are Pirate's Cove and The Flora-Bama Lounge. And lucky for me, they're within 25 miles of each other down on the Alabama coast, meaning I can visit the pair on a single weekend. (And I have.) But while they both have the criteria necessary to earn "dive bar" status, you may ask yourself, which is the bigger (translation, better) dive? I'm not sure I can pick a favorite. But we'll walk through the argument, just for fun.
Our first contestant is The Flora-Bama Lounge & Oyster Bar. Opened in 1964, it's set on a stretch of soft, sugar-sand beach, its ramshackle collection of tents, decks and interior rooms — including the two-story main band room that's crisscrossed by clotheslines hanging heavy with discarded bras — is cozied up to the Florida-Alabama state line, but actually sits in Florida.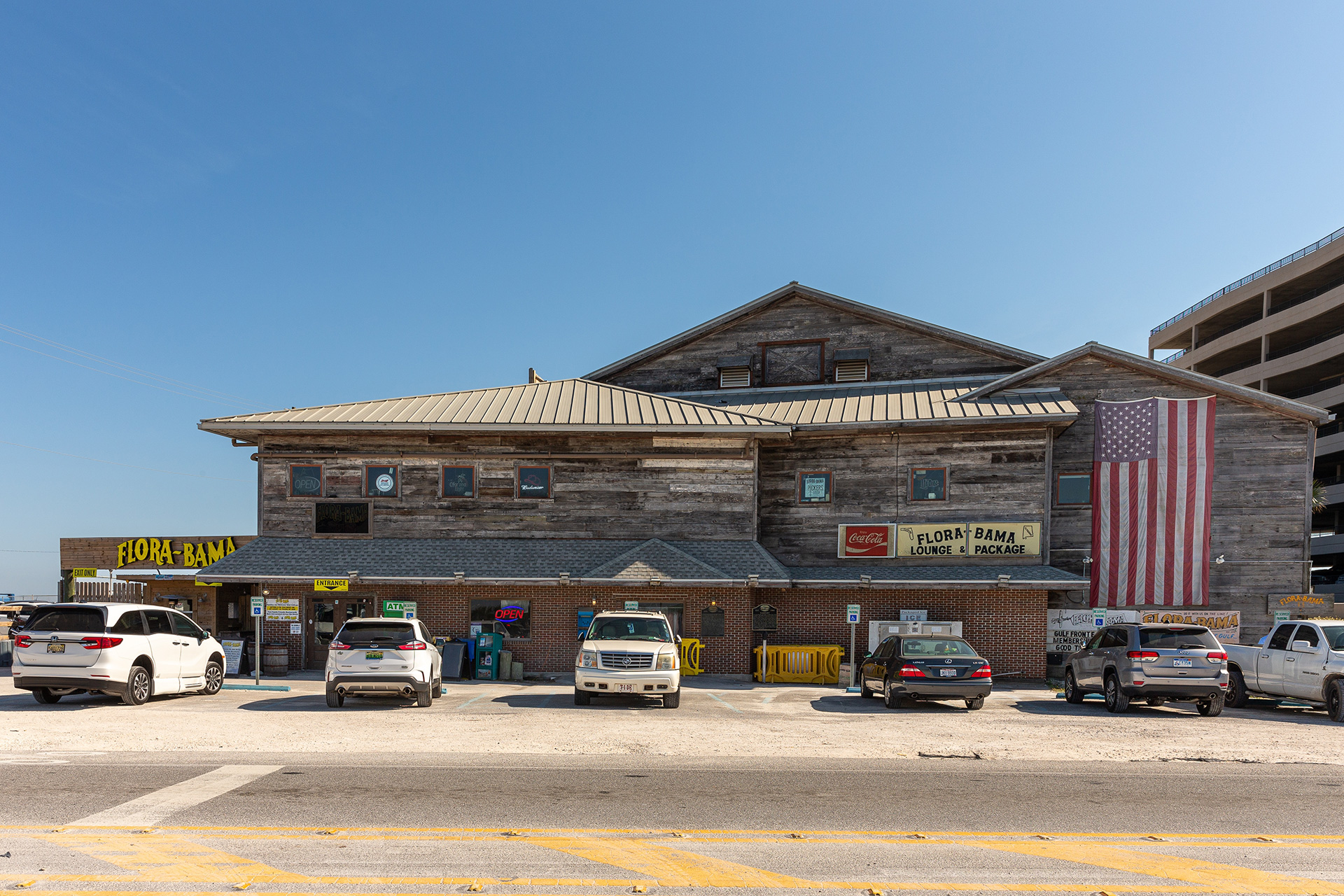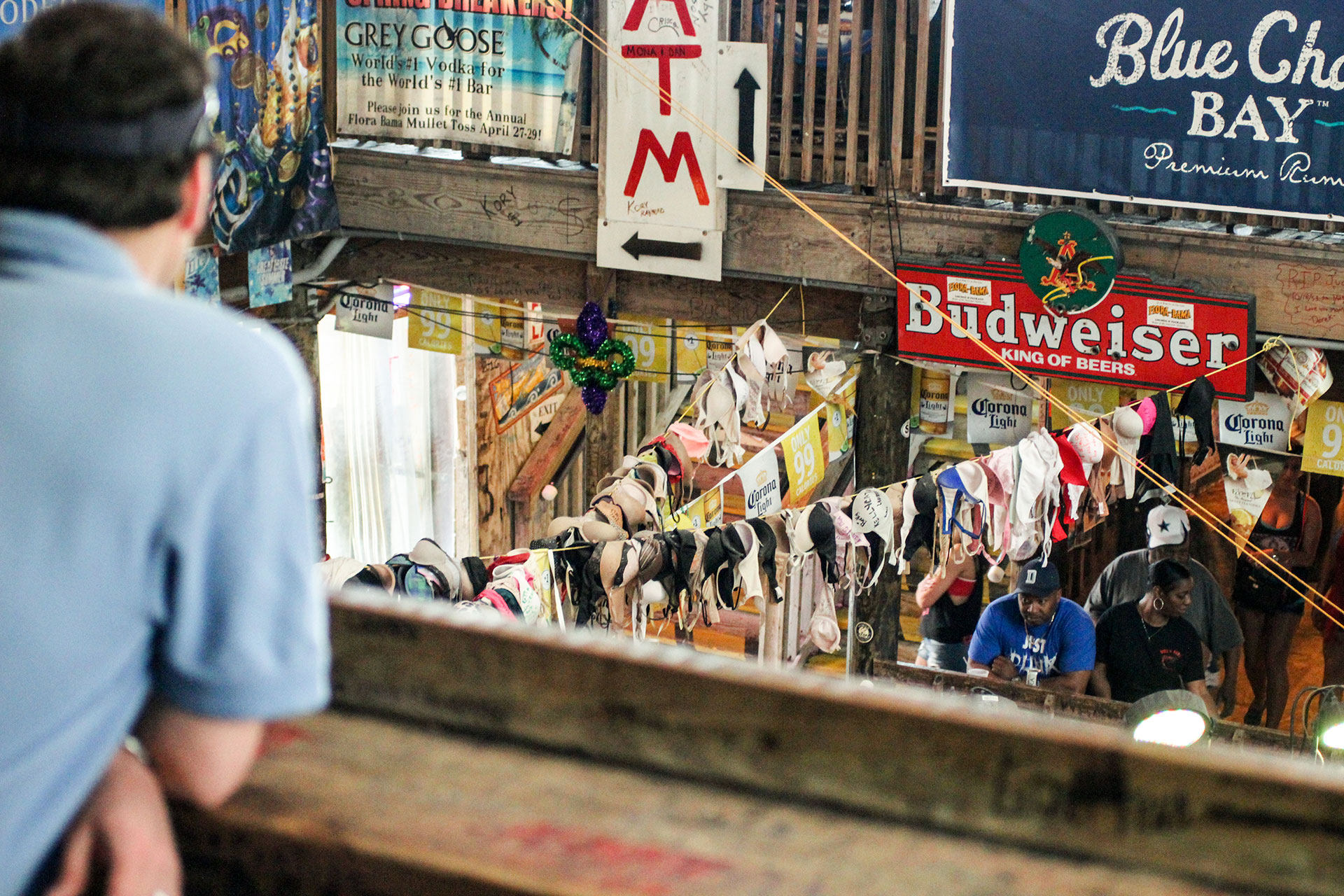 It's always packed with a colorful cross section of society, everyone from frat boys, sorority belles and vacationers (including families with kids during the day) to band groupies, grizzled old salts and leather-clad bikers. Every spring, it hosts the annual Interstate Mullet Toss. While you'll probably see a few mullet hairdos here, they're not what you want to try to hurl across the state line (unless you're looking for a black eye). That would be the mullet fish, a small silver-flanked species that's more aerodynamic than you might think. Folks stand on the beach in Florida and compete to see who can throw their fish the farthest into Alabama.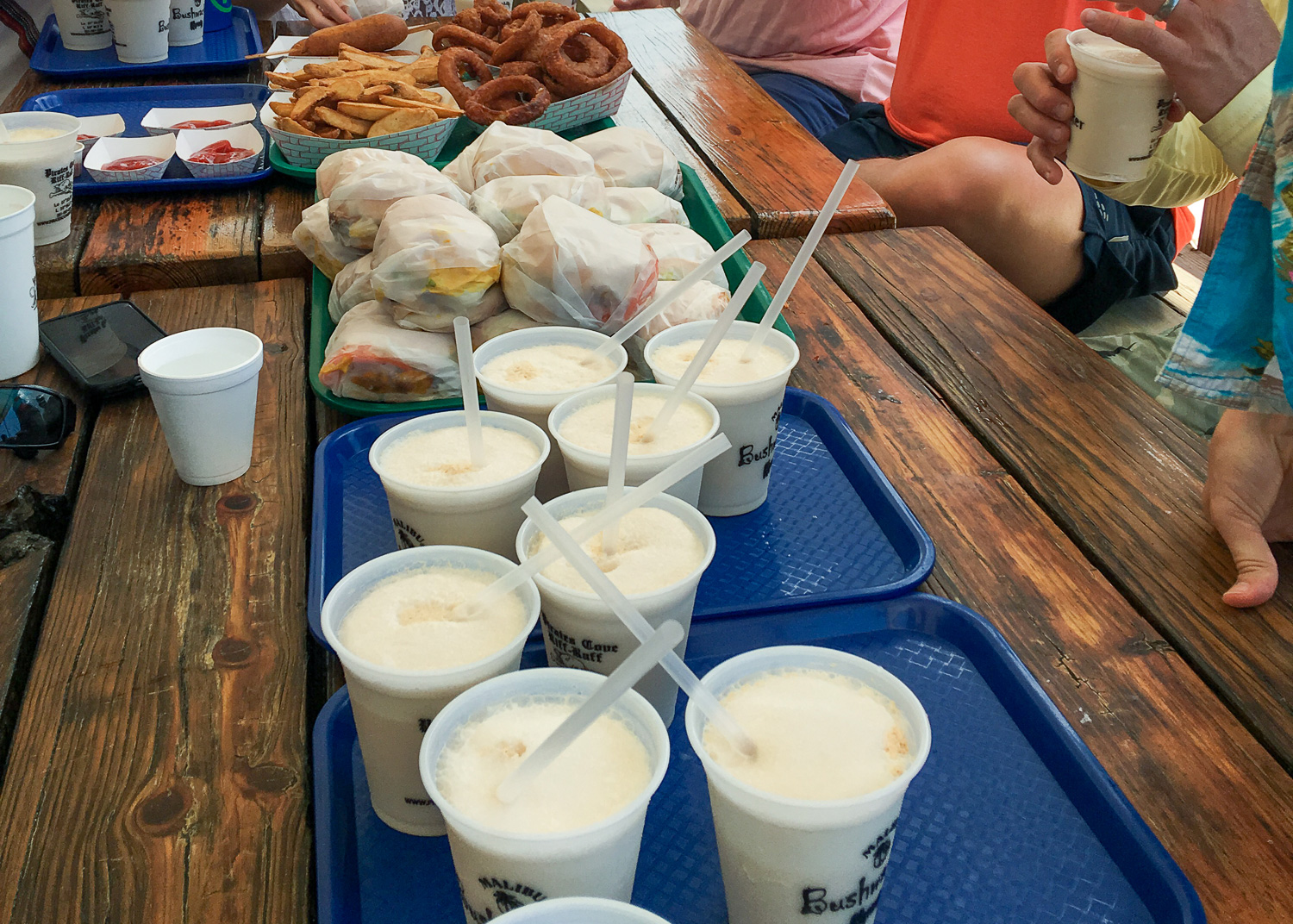 Pirate's Cove is a lot smaller but shares a similar aesthetic. It's a mash-up of tin-topped wooden decks surrounding a small central shack, all fronting a small backwater beach on Arnica Bay. It's also been welcoming a diverse group of scallywags and riff raff, including at least 20 sand-coated, freewheeling dogs, since 1957. You can dig into one of the finest cheeseburgers you've ever stuffed in your mouth at this bayou bar; some locals even boast that it's the famous "cheeseburger in paradise" immortalized in song by Alabama native Jimmy Buffett.
When using generic dive bar metrics like level of shabby, possibly structurally unsound, buildings and the likelihood of encountering a mixed but often uncouth clientele to judge the two spots, it's practically a tie. But on the Gulf Coast there's another test to turn to: the Bushwacker.
When using generic dive bar metrics like the level of shabby, possibly structurally unsound buildings and the likelihood of encountering a mixed but often uncouth clientele to judge the two spots, it's practically a tie. But on the Gulf Coast there's another test to turn to: the Bushwacker.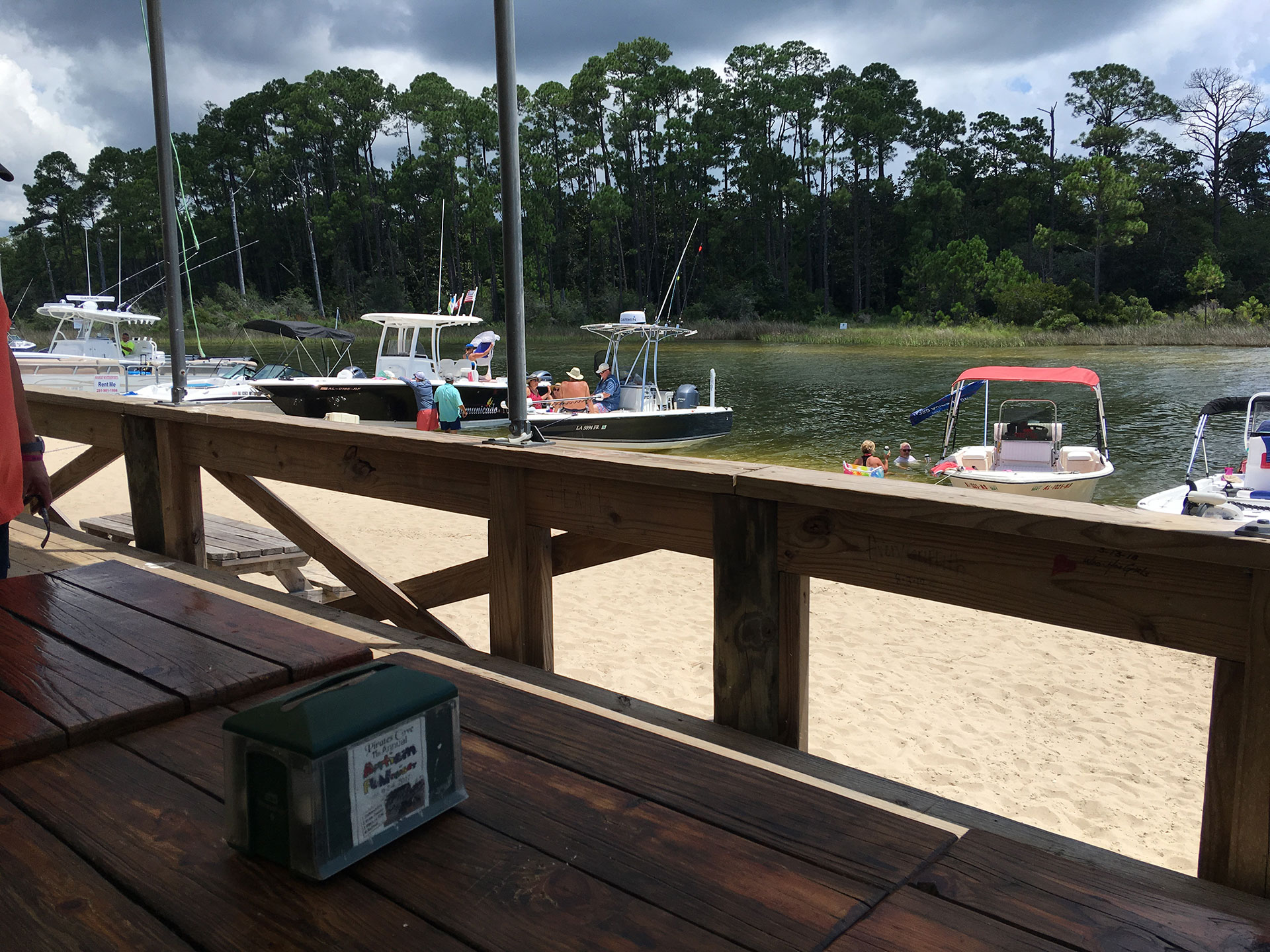 Many area joints include this icy, creamy cocktail that's akin to a milkshake on their menus, and it's slightly different at every place. But it's usually made from some combo of rum(s), coffee liqueur, crème de cacao, amaretto, coconut cream and milk or half-and-half. You may find a drizzle of chocolate syrup. There might be vanilla ice-cream involved. Both The Flora-Bama and Pirate's Cove note their version of the Bushwacker among their claims to fame. So, whose is best?
The original Flora-Bama owner has admitted to basing its recipe on that of Sandshaker Lounge in Pensacola Beach, which claims to be the first spot to serve Bushwackers stateside after its owner enjoyed them where they originated, a bar in St. Thomas, one of the U.S. Virgin Islands, in the mid-1970s. So, the Flora-Bama has authenticity on its side. Today, the sweet, stout confection in a cup topped with a maraschino cherry is its signature and best-selling drink. The recipe is a secret, but it's rumored to get its punch from a secret blend of several alcohol sources, including regular rum, spiced rum, amaretto, coffee liqueur and chocolate liqueur.
A Pirate's Cove Bushwacker has an ice cream base but features fewer ingredients overall, and while it skips the spiced rum and amaretto, it still brings the booze. They top their version with a floater of 151-proof rum instead of a bright-red maraschino cherry.
It's difficult to choose a favorite from these two, but I've long been a bigger fan of the Pirate's Cove Bushwacker. It's got a smoother texture and has a richer, yet simpler taste. But many people would disagree with me and name the Flora-Bama's rendition winner, as evidenced by the hundreds of thousands it sells every year. Then again, a recent article reported that Pirate's Cove can sell up to 3,000 on one of its busy days, so I'm sure there are folks on Team Pirate's Cove to stand alongside me. In the end, "best" boils down to personal preference and how much chocolate, coffee, coconut or other flavor you desire and which consistency suits you.
One thing is undebatable: Both Bushwackers are deceptively dessert-like, but they are, without a doubt, heavy-hitting alcoholic beverages. So, a few words of advice if you choose to partake: Watch out and slip slowly. You don't want the dreaded brain freeze, and you don't want to end up splayed out on either dive bar's deck, completely "bushwacked."