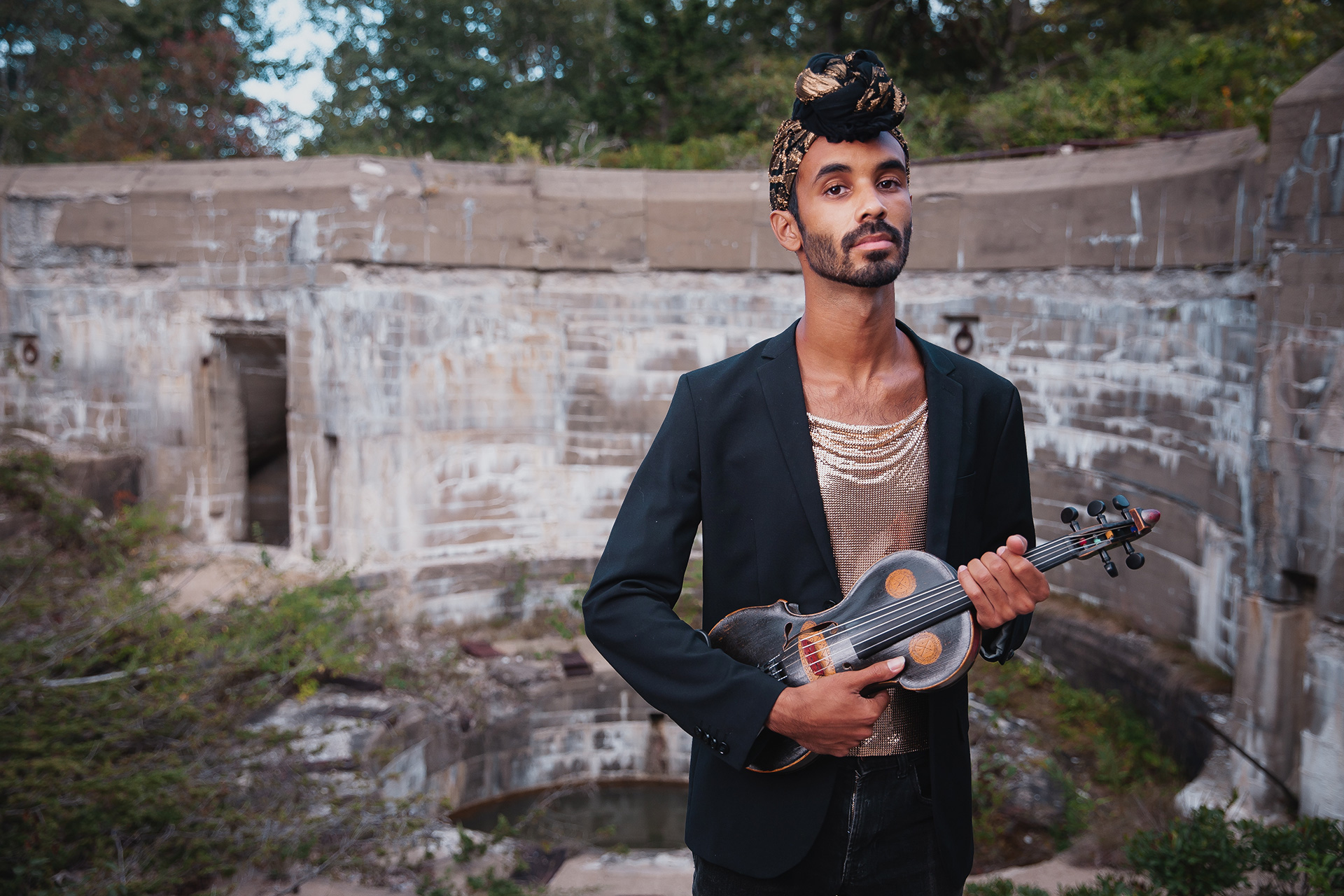 Jake Blount's Straight Line from Lowcountry Shouts to Afrofuturism
The traditional musician Jake Blount plumbs the depths of African American string band music and comes up with a thoroughly modern style that's like nothing you've ever heard.
Straight to the point here: You could skip this review and go ahead and plunk your coin down for Jake Blount's latest album "The New Faith" (Smithsonian Folkways, 2022). Here's the first single, "Didn't It Rain," a new take on an old spiritual that draws a straight line from Gullah ring shouts through Sister Rosetta Tharpe to the beats of generation hip hop. Go. Listen.
"The New Faith" is an album that could change the way people think about "Americana" (oof, that worrrrd) as much as the soundtrack to "O Brother, Where Art Thou?" managed 20-odd years ago. It might even change the way some folk folks think about rapping and hip hop.
Blount grew up in D.C., son of a CNN foreign correspondent mother and a television director/novelist father, and he spent a lot of time on his family's farm in Smithfield, Virginia, a place near where his ancestors were held as slaves. Blount cut his teeth playing guitar in funk and metal bands (if anyone has any recordings of this, please share!) while attending Georgetown Day School, the first integrated school in District of Columbia and alma mater to loads of offspring of the rich and famous.
Not exactly the capsule bio one might expect from an emergent banjo hero, but hey: multitudes.
Around 10 years ago, in one of those happenstances that can realign a life trajectory, Blount wandered into an Ethiopian restaurant. He described this personal earthquake to Banjo Newsletter:
"This woman had a washboard strapped on, and the guy next to her had a banjo. I said: What's about to happen? I just came for Ethiopian food! But when Megan Jean started singing, everyone's jaw just hit the floor. And the guy with her, Byrne Klay, was playing clawhammer banjo. I found it fascinating and went up to them afterwards — they have since become dear friends and mentors. That was the first I heard clawhammer, and Byrne talked about its African origins."
Blount went on to earn an ethnomusicology degree and took occasional lessons from the likes of Bruce Molsky, Hubby Jenkins and Rhiannon Giddens, but he earned most of his chops and knowledge the old-fashioned way, haunting traditional music workshops and festivals, jamming with every musician he met.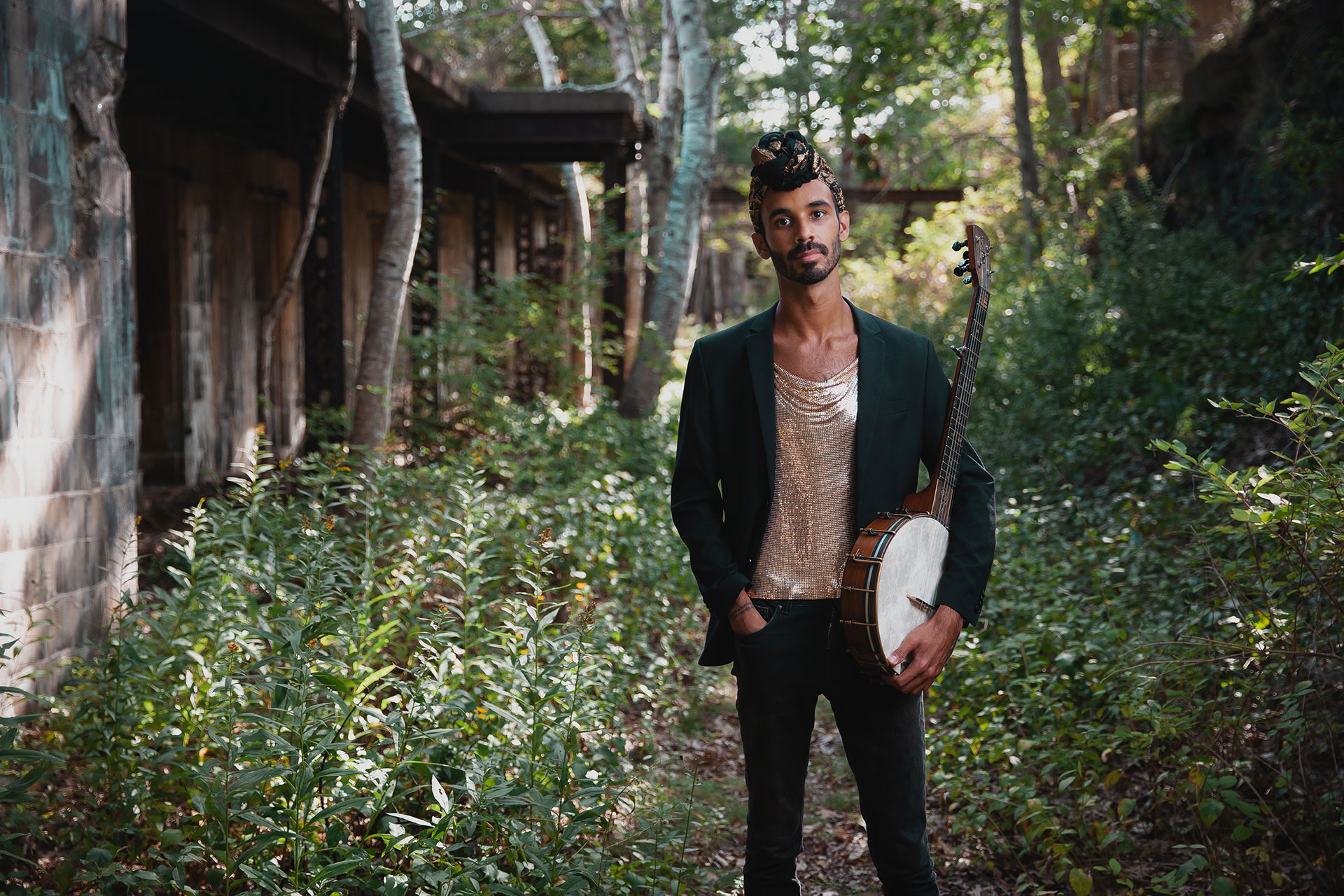 Since then, Blount has more than established his bona fides in the American string band tradition. Giddens tapped him as the opener for her 2018 "Freedom Highway" tour. He placed first in the prestigious Clifftop Festival competition twice and was awarded the 2020 Steve Martin Banjo Prize. His musical scholarship landed him guest stints at Yale, Berklee and the Smithsonian Institution, and in Paste and No Depression magazines.
In 2019, his duo Tui, with Libby Weitnauer, released a terrific album of traditional tunes that is an essential for any string band fan; the musicianship is just off the charts. For his debut as solo artist — "Spider Tales" (Free Dirt Records, 2020) — Blount delivered a set of traditional tunes by Black and Indigenous musicians that call out to Anansi the Spider, the Akan trickster god whose legend spread via the same slave ships that brought the banjo to the so-called New World. The vibe on "Spider Tales" would settle nicely into an "O Brother"-style soundtrack, though the plot might need to shift to a Black/queer protagonist trying to establish his rightful place in a heritage that has until recently been downright hostile to the idea of giving these "other" folk a place at the table.
Where "Spider Tales" presents a set of short stories, loosely connected via the central conceit of Anansi, "The New Faith" is a musical novel that echoes the Black science fiction writers Octavia Butler and N.K. Jemison. It's an Afrofuturist tale of enviro-apocalypse in three acts of four tracks each: "The Psalms of the Sentinel," "The Psalms of the Gravedigger" and "The Psalms of the Teacher." This narrative spans warnings ignored, repercussions unavoidable, and lessons we'd best hold close if we wish to survive.
It also expands upon the possibilities of traditional music by incorporating electric guitar, digital looping and, even more adventurously, rhymes from a North Carolina-raised rapper/banjoist/bones player by the name of Demeanor.
The album opens and closes with tunes by Bessie Jones of the Sea Island Singers. In between we hear from Skip James, Fannie Lou Hamer and the utterly haunting "Tangle Eye Blues" by Walter "Tangle Eye" Jackson. Blount's read on "Just as Well to Get Ready, You Got to Die" is as fine a Blind Willie McTell interpretation as I've ever heard, funky beat and all. And yowie, does this one ever stick in my onboard radio loop.
Demeanor contributes rhymes on three tunes, one in each Psalm. These performances are key drivers of the tale, their lyrical complexity surprisingly at home aside the simpler language of the traditional tunes. "The Downward Road" portends darkness; "Death Have Mercy" travels deep into its heart. But in act three, "Give Up the World" — a tune by an "unknown singer" from Port Royal Island published in "Slave Songs of the United States" in 1867 — encourages a keep-on-keeping-on spirit. Woven between the call and response exhortation "My brother / Don't you give up the world!", Demeanor starts out with "Don't you give up the world, don't you believe / You have more than enough to learn, you too young to leave" and ending with:
If you gon' give up something
Give up whatever you wouldn't take were you to go around it
Give up the only world you know about
And I bet that you gon' work it out
The video for the closing number, "Once There Was No Sun" — which Blount describes as "an invitation to reflect on the impermanence, fragility and beauty of a world we too often take for granted" — features Sudanese dancer Veeva Banga and Blount performing on a starkly beautiful Maine coastline. Once again, the ring shout-cum-hip hop beat grounds Blount's excavation of the deep continuity of Great Black Music, Ancient to the (Afro)Future. Here is your earworm for the week.
Typical of Afrofuturist apocalypse tales, "The New Faith" is past, present and future, a clear warning alongside a persistent glimmer of hope. We might (or might not) wake up before it is too late, but even in the face of the harshest reality we might find a path toward survival and redemption.