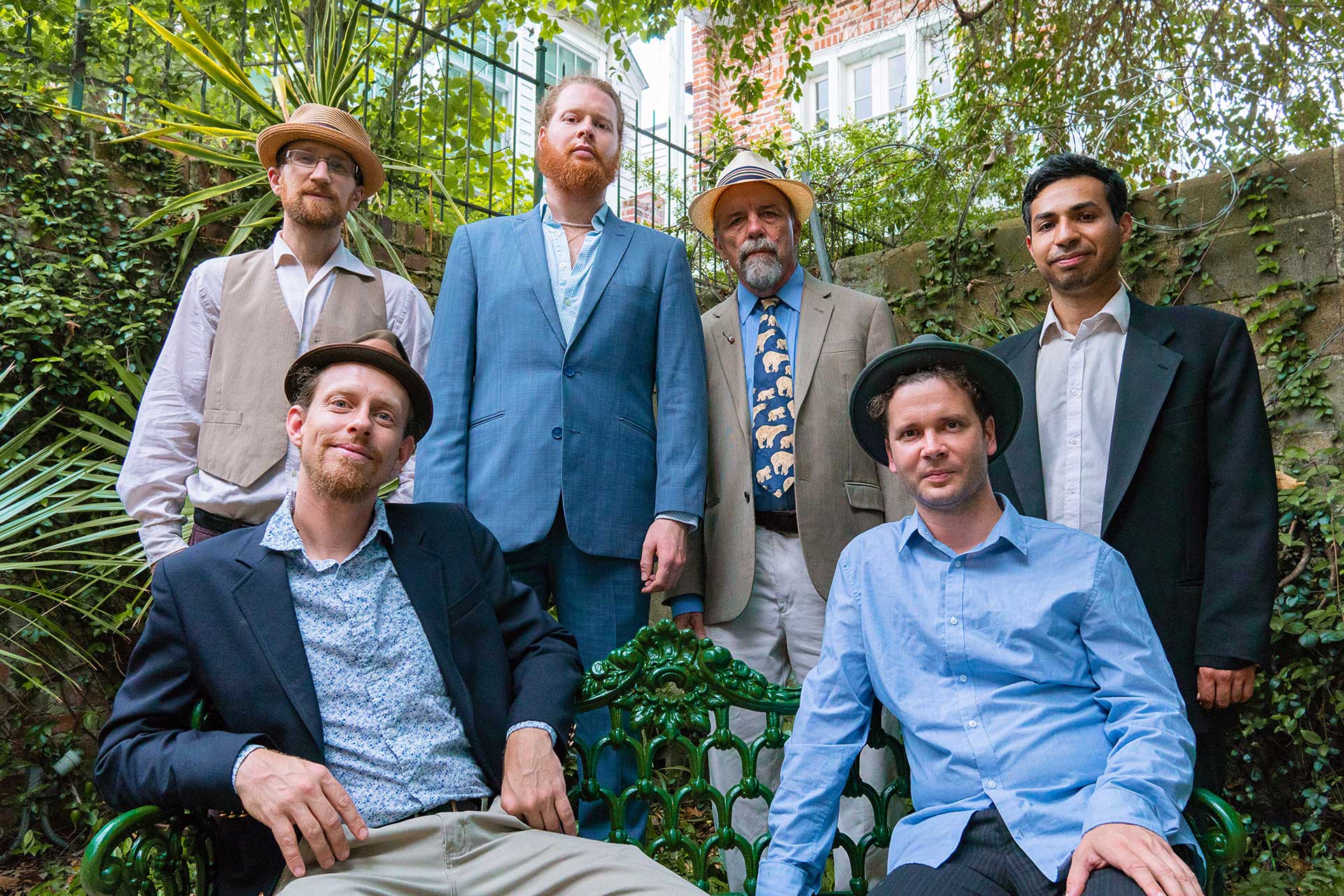 New Orleans' long tradition of celebration as resistance is the driving force behind the musical outfit Sabertooth Swing.
Well, we're nearing the end of Lent, Mardi Gras is fading fast into the rearview, and I reckon most of us are probably thinking, "Damn, I wish I hadn't given that up this year. I could really stand a […] or two right now."
Set that pesky 40 days of abnegation aside for a minute and let's reminisce this year's bacchanal. Carnival 2022 was a welcome harbinger of the unicorn of our time: A return to Normal. As if anyone knows what normal might look like anymore.
In 2020, before anyone knew what we were dealing with, an estimated 50,000 COVID cases made Mardi Gras our first big super-spreader event. Last year all things krewe were cancelled outright, so the natives improvised and rallied under a new banner: The Krewe of House Floats. To watch the parade in 2021, crowds had to move past the floats for a change.
This year, anticipation for an in-the-flesh Carnival was high, even with parade routes clipped due to shortages of health and public safety employees. The first grassroot, neighborhood-oriented rambles began in early February with the customary good times. Big-name parades, and their inevitable thronging of what Calvin Trillin dubbed "band[s] of all-purpose American event-attenders," were slated to begin February 25. So far, so normal.
On February 24, Putin's troops invaded Ukraine. So not normal. And yet they persisted, marching in full regalia with cries of "Hey, Mister!" and clouds of beads and doubloons filling the air. But not without a fair share of social media grumblings courtesy of "how dare they have a good time when…" finger waggers. A fair point, granted. Yes. But.
On the final Sunday of carnival, I spotted this eloquent answer to those scolds in a Facebook post that captures the essence of what makes New Orleans – even still, despite its history of slavery and massacre and endemic civic corruption – one of the most inspiring cities in the world.
I saw a post today from someone wondering how all of us in New Orleans could be out partying in the streets as if WWIII wasn't breaking out. Please allow me to explain what is happening here right now.
In New Orleans, our resistance looks different, our grief looks different. When times are hard and we are afraid, or grieving, or angry, or suffering, we come together in the streets — all of us. We throw second lines for funerals; we play music to honor our dead and as a conduit for our emotions. We cry together, we dance together, we mourn together and we rise together. Our joy is our resistance.
We value a world of music and food and community and elaborate costumes and art. We create in times of hardship as a tribute to a spirit that cannot be crushed, that will not be defeated by fear, anger, or oppression. We lift ourselves and each other up, over and over again.
We are just as frightened as everyone else. We mourn deeply for the people of Ukraine and there are tributes to them everywhere here right now. The big parades are the ones that get the most publicity but all over our city there are smaller parades happening in every neighborhood— parades of mourning, parades that honor grief of lives lost these past two years, parades of resistance and compassion and community.
So please please don't misunderstand us and what we are about. We just do things a little differently here. (reprinted with permission from Erin Alexander, a 20-year NOLA transplant)
"Our joy is our resistance." Goddamit, NOLA! I rise to salute…
"We create in times of hardship as a tribute to a spirit that cannot be crushed…"
Yes. I said YES.
Celebration-as-resistance is the driving force behind Delta Bound (Fairground Records), the latest album from the New Orleans jazz outfit Sabertooth Swing.
"How does music carry memory? How does New Orleans music carry memory differently? Is there meaning in historical violence? What is the meaning of Louisiana's historical violence?"
Sabertooth Swing looks like a traditional NOLA jazz outfit whose ethos is captured by the title of their second album, Songs of Future Past. Their repertoire, primarily old standards, leans hard on nostalgia, but with enough snap and good humor (check their cover of the Family Guy theme or The Kinks' "Alcohol" for sampling of their irreverence) to transcend the curse of the moldy fig.
With the release of Delta Bound, Sabertooth is bound to garner attention beyond the hermetic New Orleans club scene. The set telegraphs its spirit of resistance on its sleeve copy with this probing inquiry:
"How does music carry memory? How does New Orleans music carry memory differently? Is there meaning in historical violence? What is the meaning of Louisiana's historical violence?"
Delta Bound is the brainchild of Sabertooth's Romain Beauxis and Chris Butcher and writer Holly Devon, who co-produced this ramble. It features an extensive roster of notable guests contributing music and recitations that evoke the long, deep, and frequently dark history of this most American of American cities.
Most of the tunes are old, but the interpretations are fresh as a hot beignet. Sabertooth's deep well of classics serves as the anchor, but Delta Bound tells a story far older than that. And more recent.
The 1930s standard "Delta Bound" launches the proceedings with a deceptively traditional arrangement that slyly juxtaposes a theme from Wayne Shorter's "Fee Fi Fo Fum" against the happy Dixie lyrics. Meanwhile Skull & Bone Gang Chief Bruce "Sunpie" Barnes grinds pure menace on his accordion.
The lyric is the double-edged blade here with its now-ironic longing for the carefree pleasures of old times not forgotten. "Every time I close my eyes, I seem to see Louisiana / I can hear those jockeys sing in that free and easy manner." Not the sentiment most Black folks would have experienced on the trip down Ol' Man River, reckon.
Next up, the first of two recitations from the journal of a soldier in genocidal maniac Hernando DeSoto's doomed expedition down that muddy sluice, another less than romantic adventure wherein DeSoto and scores of Spaniards died after killing hundreds of Natives.
Later, Bessie Smith's defiant "Send Me to the 'Lectric Chair" bumps up against Sister Helen Prejean reciting her famous letter to Pope John Paul II. After thanking him for bringing Mother Church behind the anti-execution movement, she name-checks public Catholics like longtime NOLA District Attorney Harry Connick Sr. for moral contortionism regarding the sanctity of life.
A litany of recitations includes Sidney Bechet's warm reminiscence of his grandparents and several poems and short tales that flesh out the album's twin themes of survival and violence. But the music is the thing, from charming bayou harmonies on "La Chanson de Mardi Gras" to Kid Chocolate's deep turn on "Buddy Bolden's Blues" and Jeffrey Broussard's growling rendering of the Zydeco classic "I'm On the Wonder." At last, a haunted rendition of "Nuages" by rising star chanteuse Anna Laura Quinn brings the journey home. (Keep your radar up for Quinn. She delivers the goods here and on the Rimbaud. Just freaking killer.)
Just before that final grace note, though, Sister Helen intones, "We are a very young country, and violence has worked for us in the past." Noting that violence in America is foundational – Native population genocide, slavery, and capital punishment as exhibits A-through-Z – she observes that society now blames the poor for violence, which naturally must be corrected through violence. Ain't we just so damn civilized?
"Can we all face this violent history and can we all face the truth of it?"
Here's hoping. As it has for a few centuries, the deeply felt cultural expression of this cursed/blessed city suggests that maybe we can.