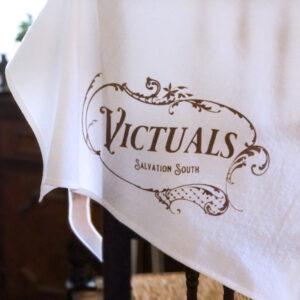 Victual – noun
vict·​ual | \ ˈvi-tᵊl \
1: food usable by people
2: victuals\ ˈvi-​tᵊlz \ plural : supplies of food : PROVISIONS
This 100% cotton tea towel will charm the pants off your guests with its timeless design. This 100% cotton heavyweight kitchen towel measures 30″x30″ and will stand up to what you and your family can throw at it. Screen printed by hand, you won't find a thicker or more elegant towel on the market. Wash it. Bleach it. Just iron on the opposite side of the design.
We stand behind the quality of our products and promise you that if you are unsatisfied, we will move heaven and earth to make you happy.