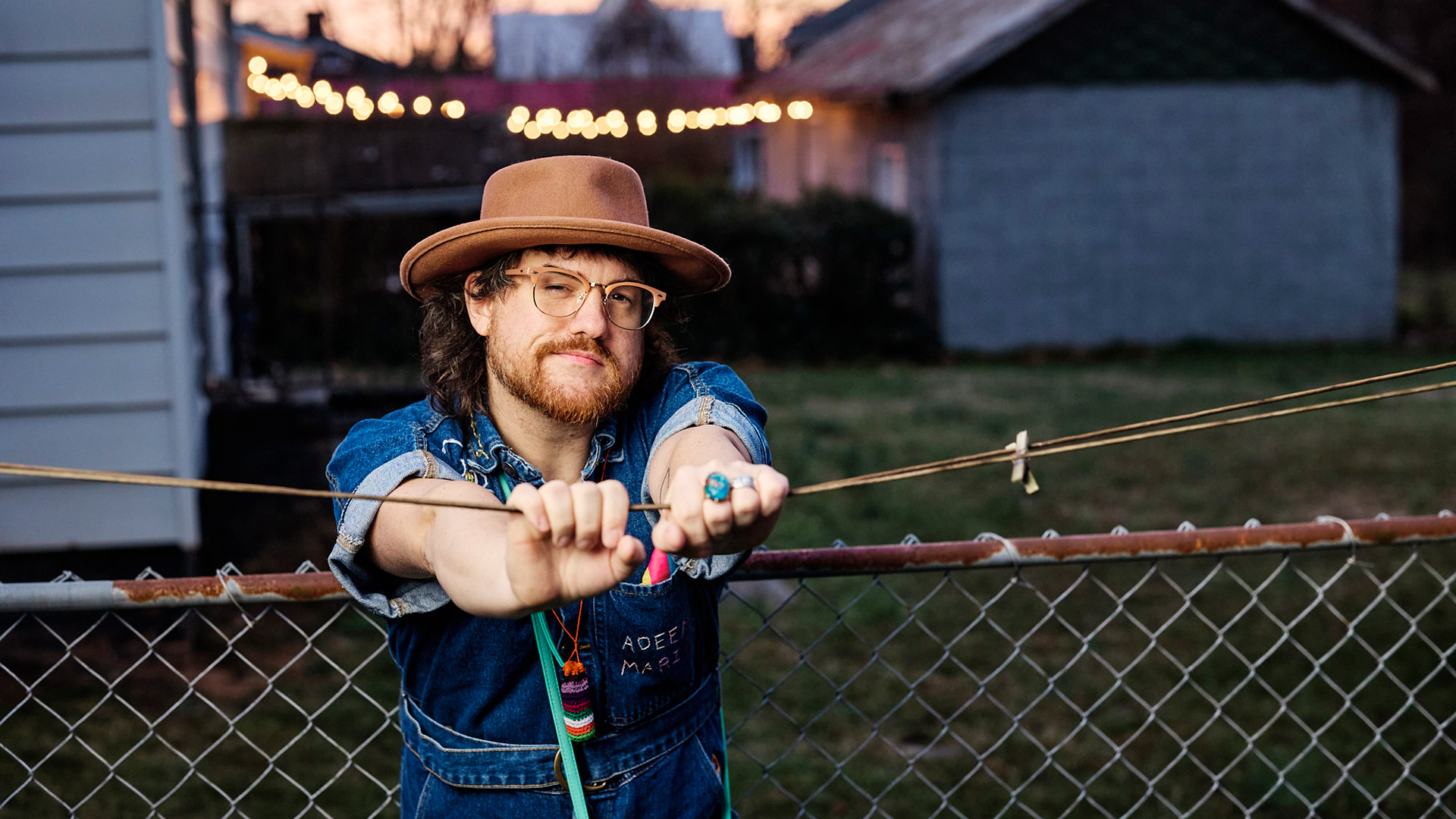 Tennessee's Adeem the Artist sounds country — truly and deeply country — but every sharp lyric and wicked guitar twang challenges our notions of what "country" really means.
Do you really wanna go to heaven
When we get this rapture started?
Or do you want to go to hell, children,
With Adeem the Artist?
— from "Going to Hell" by Adeem the Artist
At first blush, Adeem the Artist looks and sounds like someone ready to glide easily into country music's outlaw lineage. But take a closer look and you'll find this outlaw comes dressed in nail polish, lipstick, and a paisley jacket. Adeem's Bandcamp page describes them as a "seventh-generation Carolinian, a makeshift poet, singer-songwriter, storyteller, and blue-collar Artist." Spot on as far as it goes, but their Twitter bio puts a finer point on things with "testosterone-challenged sissy."
After years of trying to fit into the gender/identity boxes on offer to a self-described "white trash trailer kid," Adeem — with the encouragement of their wife, visual artist Hannah Bingham — started pushing the accepted gender norms of traditional Southern culture. Sporting a blend of "feminine" clothing and makeup with work boots and flannels, Adeem has taken a stand as a human being writing and singing songs that explore the gender norms and social discontents that go along with being a progressive, gender-fluid, non-binary pansexual leftist in the heart of Bible Belt America.
Like most overnight sensations, Adeem the Artist has been honing their singer/songwriter chops for a good long time. Their Bandcamp discography boasts eight albums, three EPs, and a bunch of one- and two-song offerings since 2011. They span the gamut from alt-folk to a dabble in hip hop/electronica and back to country music. I was curious how Adeem came back around to embrace country music.
Adeem describes moving north as a kid and doing "a lot of work to get rid of my accent and everything, just kind of assimilate. I grew up a poor white trash kid in North Carolina, and then I moved to (Syracuse) New York, and I think that gave me a really big complex. [It] was tough because I was read as kind of a good old boy, you know, and I had never been read that way in the South. In the South, I was so not that. I had long curly blonde hair. I was feminine. I think all that pushed me really hard into a lot of weird spaces to try and get away from the idea that I was a good old boy redneck."
Once they moved back south to Knoxville, Tennessee, Adeem reconnected to their country roots while also coming to grips with their gender reality. The music that has emerged "said a lot of things that feel meaningful and important to me, and that's the only way I feel like I could have said them for them to matter. Like that's how they need to be said."
"I grew up a poor white trash kid in North Carolina, and then I moved to (Syracuse) New York, and I think that gave me a really big complex. It was tough, because I was read as kind of a good old boy, and I had never been read that way in the South. In the South, I was so not that."
Adeem's family legacy in North Carolina goes back seven generations.
"I'm connecting to this heritage and speaking to this ancestry," Adeem says. "But when your ancestors are dishonorable, how do you honor them? The only way to do it is to do the work of trying to complete something like absolution in their name. And for me, that means calling into account the ways we've missed the mark and trying to aspire, moving forward, to do a better job of telling the full story of holding the responsibility of the way things have been mismanaged culturally for generations. Country music is that ancestry point for me, so it makes the most sense to work in that vernacular."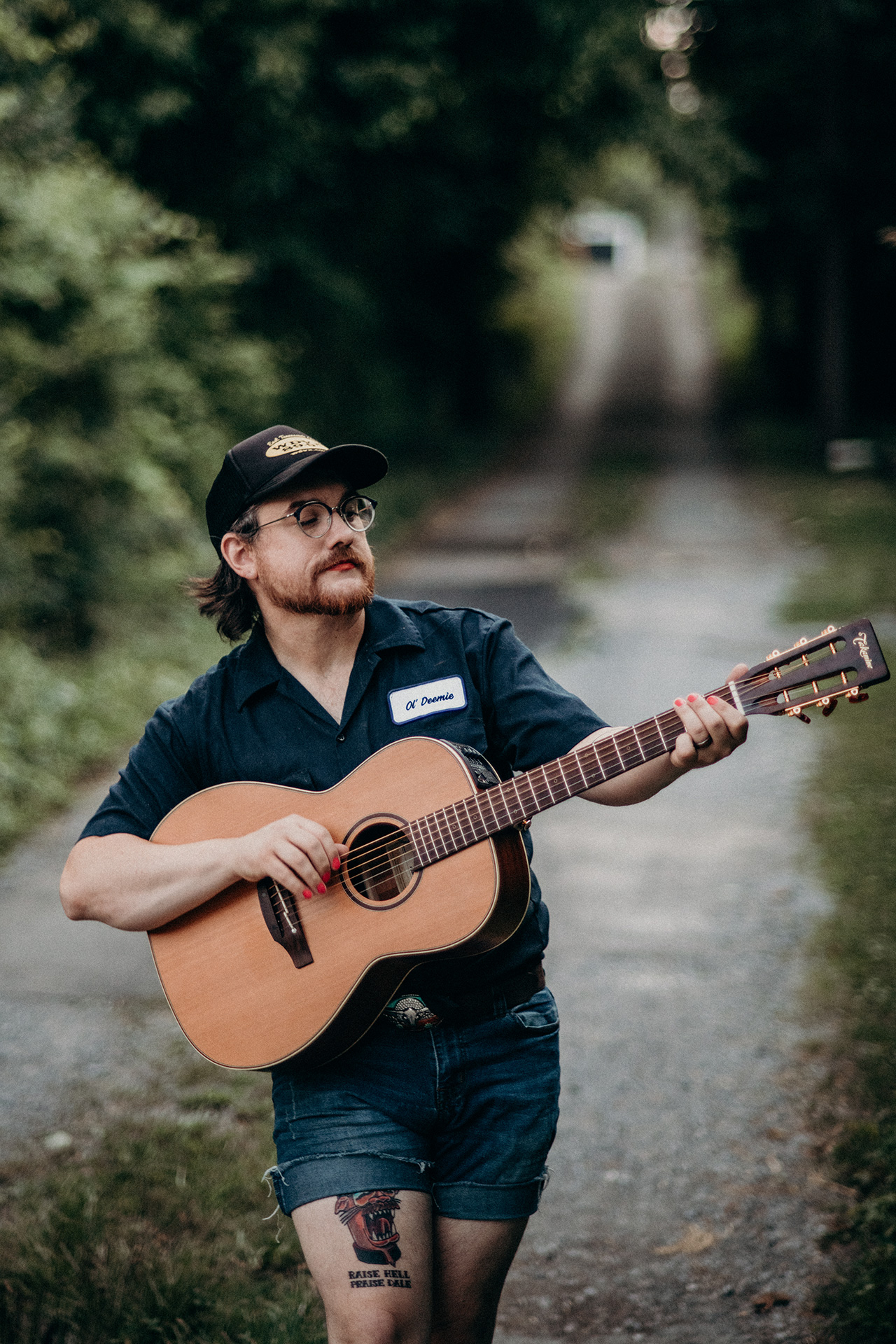 With their self-released 2021 album "Cast-Iron Pansexual," Adeem leaned hard into country music as the right vehicle for exploring what they describe as "the act of being human." The album attracted all the right kind of attention: The title track landed Adeem a Best Country Song of the Week spot in Rolling Stone, while the terrific "I Wish You Would've Been a Cowboy" earned them an opening act slot on an American Aquarium tour.
While you brag about kicking asses
With a boot in your mouth, exploiting the American South
You helped turn my culture into a parody
Milking laborers for your prosperity
I wish you would've been a cowboy, Toby Keith
Their music's sense of humor and forthright declaration of here/queer/get-used-to-it garnered Adeem some seriously impressive streaming numbers and praise from heavy hitters like Brandi Carlisle, who described them as "one of the best writers in roots music." So when Adeem launched an online fundraiser for a follow-up album, they raised north of 15 grand in no time, with a substantial retweet and cash boost from actor Vincent D'Onofrio.
"What we're talking about is, like, what I am, whatever that is, I'm allowed to be whatever I am."
The newest album, "White Trash Revelry," marks the arrival of Adeem as an artist whose time has come. It is their first release to enjoy label backing and distribution, and the first to benefit from professional production, not to mention a backing band of ringers like Joy Clark and Jake Blount.
"I couldn't have afforded some of those people if I'd waited a little longer," Adeem says, laughing.
The album is a triumph, every track a winner. There are familiar musical reference points, like the customary shitkicking of "Going to Hell" and "Run This Town." The opening track, "Carolina," suggests a Mellencamp vibe, while the rocking "Heritage of Arrogance" ("Two sides of a coin / Jesus Christ and White Supremacy") would fit a Drive-By Truckers set. "Baptized in Well Spirits" would make Tom Petty proud.
But these are just echoes, not mimicry. Anyway, you don't journey to the land of "three chords and the truth" for musical innovations. What you're looking for is a compelling story told with heart and style and, if we're lucky, enough sense of the absurd to make you laugh while you hang your head and cry. This is where Adeem stakes their claim as an Artist with a capital A.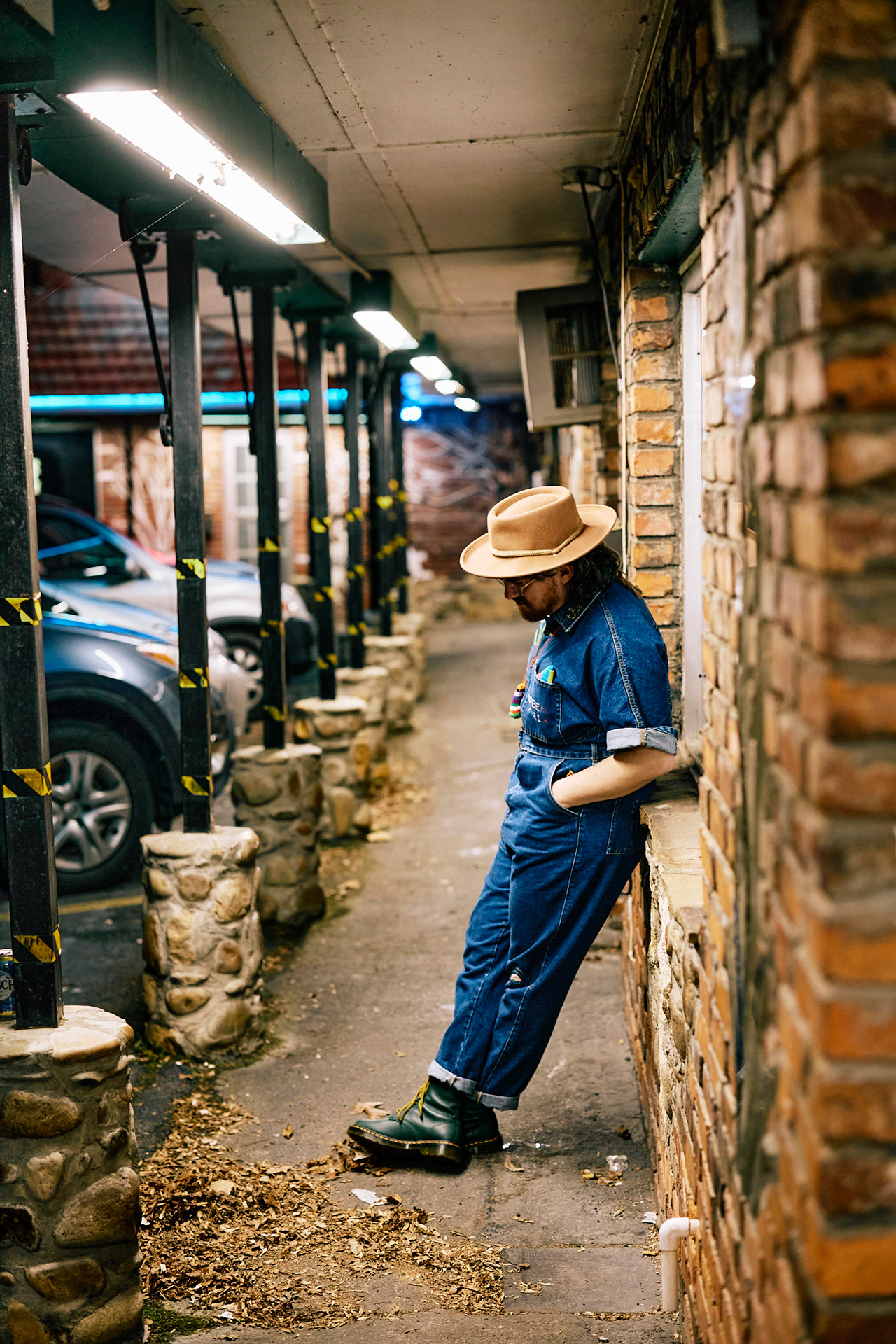 Even the good-timey tunes wield a sharp edge. On the surface, "Going to Hell" is just a jokey poke at religious piety. But when they ask the devil about the myth of Robert Johnson at the crossroads, Old Scratch reveals that, in fact, Johnson "showed me how the blues could work" before tying it in a bow: "White folk would rather give the devil praise / Than acknowledge a Black man's worth."
There are plenty of juicy punch lines in Adeem's lyrics alongside an abundance of hard-to-face truths about where they came from and how they were taught to inhabit the world around them. Since their ambition goes beyond simply preaching to the choir, perhaps the music's familiarity is just the ticket to help a broader audience hear the stark truths that dwell within Adeem's growing songwriting prowess.
Adeem — who grew up devouring Whitman, Longfellow, and Eliot – writes songs that merit comparison to literary songwriters like Dylan, Tom Waits, Leonard Cohen, Joni Mitchell, and so on. Their language is lush. The line breaks are alive with rhythmic surprise. The liberal use of internal rhyme is inherently musical. Adeem delivers it all in a warm drawl that is as inviting as a campfire. But like any fire, this one sends stray sparks flying that can leave a mark.
The gut-wrenching "Middle of a Heart" tells the tale of a typical country boy groomed to be man's man, raised to shoot, hunt, make Mama proud, and, inevitably, march off to war. It's a variation on Dylan's "John Brown" updated for our endless desert shitstorms.
"Painkillers & Magic" explores the horrors of children watching loved ones collapse under addiction ("through the lens of these memories / all our white trash revelry / painkillers and magic"), while "Carolina" tells of youthful passion, unwanted pregnancy, and tragic generational legacies.
From my grandpa's fist to my mother's lips
There's an ancestral impression
An American inheritance of trauma and depression
At their best – and this includes the songs that zero in on gender identity – Adeem paints mini-portraits that ring with universal tragedy and yearning. Their lyrics evoke the bittersweetness of loving family bonds that twine with social dispossession to carve deep and lasting wounds.
"Books & Records" traces the steady economic decline of a family living at the edge of ruin. Even in the face of certain disaster, they cling to one last shred of forced optimism that things might somehow work themselves out.
I priced my blood to try and turn back on our power
Oh, Lord, there's got to be a better way
We've been selling off our books and records
Instruments our grandparents played
But we're gonna buy them back some day
Adeem's concerns on "Cast-Iron Pansexual" were more specifically centered on gender identity. "White Trash Revelry" doesn't back away from that, but the new record is broad enough to embrace the humanity of a range of groups — LGBTQ+, rednecks, poor folks, Indigenous and Black people – that face the daily tribulations of existing as the Other.
"Ultimately what I'm talking about is the act of being human," they told me. "Marginalized groups are dehumanized and stripped of their humanity in very tedious ways. And at the end of the day, what we're talking about is not like 'I'm gay and I want people to know I'm gay.' What we're talking about is, like, what I am, whatever that is, I'm allowed to be whatever I am."
Most of us struggle to pin down "whatever I am." The process makes for a lifetime of interrogation and revision. It helps to have a companion like Adeem on the road to becoming human.
Adeem performs regularly in the East Tennessee area and will kick off a month-long spring tour with two shows at the 2023 Big Ears Festival before hoofing it down to the Alabama coast, up through the Midwest to Toronto, and back home again.
Go. Listen.