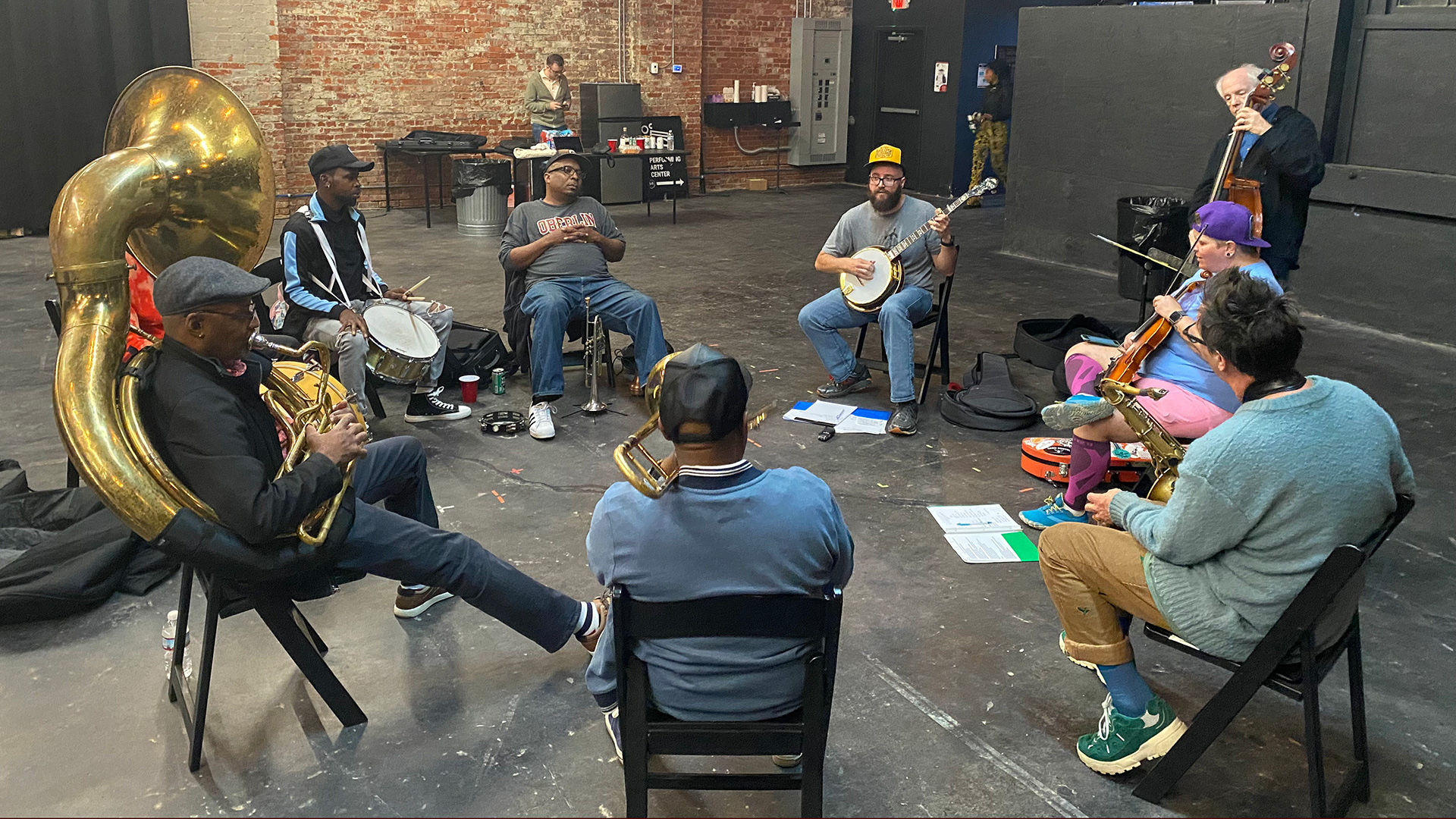 What a Way to Make a Living
The Preservation Hall Brass Band and the East Tennessee Bluegrass Association find common ground in Dolly Parton.
With a few exceptions, most of the musicians who appear at Big Ears Festival need to show up ready to work. The list of musicians who performed more than five times during the fest is too long to get into here. Add in the various panel discussions, enduring pesky journalist/fan boy questions, and the flurry of community engagement activities … it's enough to drive you crazy if you let it.
High on the list for the Hustling Time Award is the crew from New Orleans' Preservation Hall Brass Band. On top of their half-dozen formal performances, these guys played for the kids at the puppet workshop, marched in the Krewe Du Cattywampus Parade, and played for the follow-up Street Party. They also conducted workshops in two high schools and with the Knoxville Youth Jazz Orchestra. These guys came to play and teach.
But it was not just about these out-of-town big shots showing the locals how it's done. The group also took on a collaboration with the East Tennessee Bluegrass Association that culminated in a live radio broadcast and several jam-packed concerts throughout the weekend.
A few days ahead of the festival, I slipped into their get-to-know-you rehearsal. From the customary, tentative first steps – what key? twice through before solos or just once? what's your name again? – this unlikely pairing started to sound like they had been playing together, maybe not forever, but far longer than a couple of hours.
I am not sure either group realized ahead of time how this would become a collaboration of equals, but this encounter is yet another example of diverse cultures discovering common ground through respectful listening and free play. No bosses. No divas. Turns out that checking egos at the door creates a huge space for authentic connection to emerge.
Evie Andrus, president of the Bluegrass Association, wields a strong singing voice and finely honed fiddle chops. I contacted her after the festival for her impressions on the collab.
"It was a little intimidating at first because they have such a legacy and we are just getting established," she said. "But the guys were so kind and put us at ease … [once] the music started flowing [it] just all clicked in that way only music can."
"It was fun to find out so many tunes that were common to both sets of folks. One day we were at lunch discussing the roots of both styles of music and it was fun to trace it back to some of the same styles."
You could not ask for a starker contrast than these two traditions, one from the hills of Appalachia, the other emerging from the Black diaspora of New Orleans. But these are just surface distractions.
The essence of their generations-old musical traditions is surprisingly similar: Both are rooted in tight community ties with the music itself largely handed down via person-to-person transmission. It's not that these are "unschooled" musicians so much as it is that the schooling happens as part of their lives' daily fabric. To be clear, several of these cats have formal musical schooling, too, but that is by no means a necessity in their cultural practices.
One element that smoothed the ground between them is the amount of repertoire they have in common was huge. Andrus again:
"It was fun to find out so many tunes that were common to both sets of folks. One day we were at lunch discussing the roots of both styles of music and it was fun to trace it back to some of the same styles. Gospel of course is a huge influence for each of us. Also, they include some old country songs in their repertoire, which I admit was a slight surprise to me. For all that we had in common it was fun to introduce a few new tunes to each other."
During the first rehearsal, Andrus remarked half-jokingly that "…y'all can't come to East Tennessee and not play some Dolly." The first runs were a tad rough, but by the time these brothers and sisters of different mothers took the stage and airwaves at WDVX-FM for the Blue Plate Special live broadcast, they had another common tune in the pocket.
And that, cousins, is the story of how the Preservation Hall Brass Band came to play Dolly Parton's "9 to 5" with a few pickers from East Tennessee.
Smoking? Oh yes. Yes, it was.