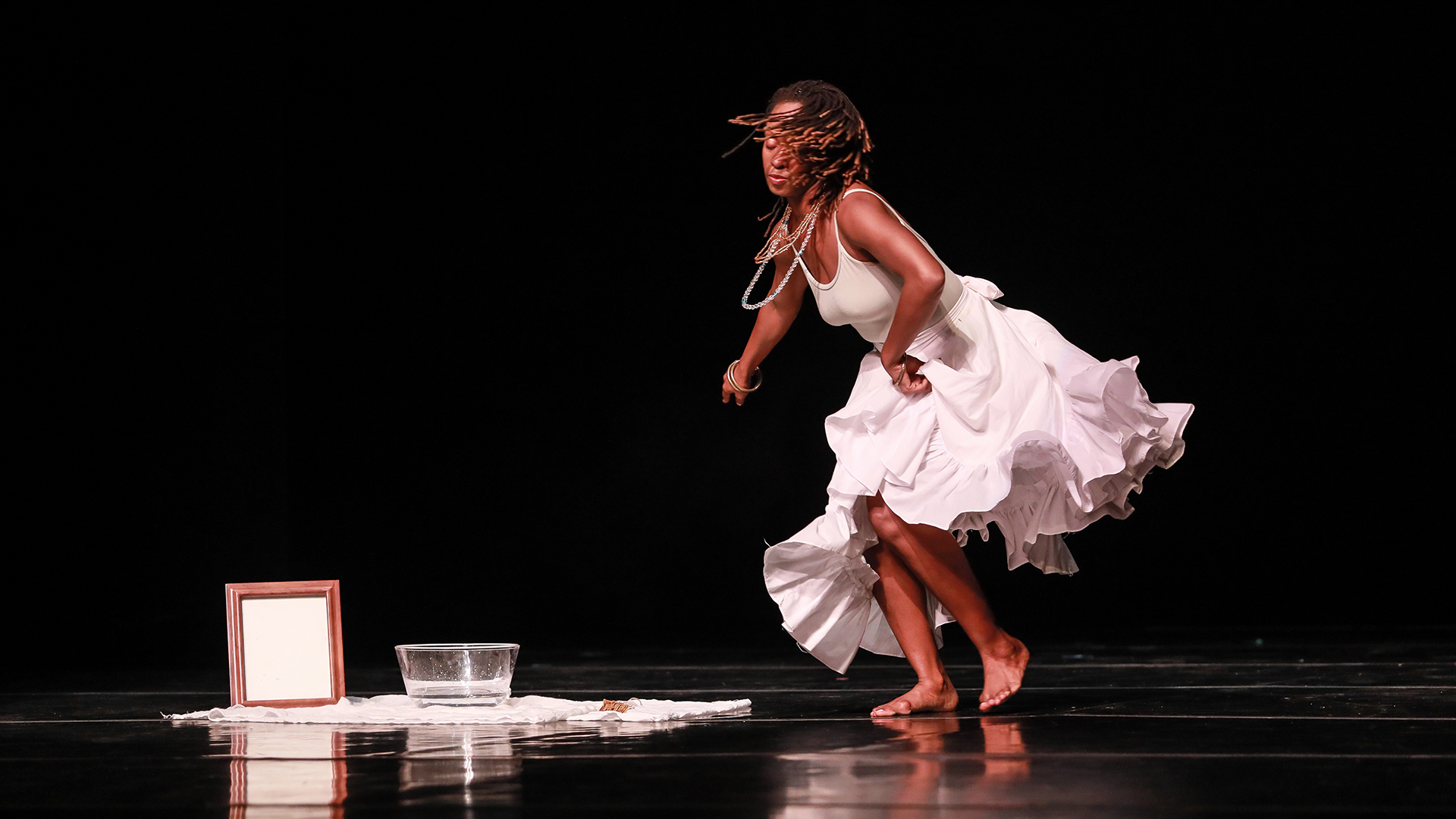 The Ring Shout — an ecstatic and transcendent spiritual dance rooted in West Africa — rose historically through the South as a tool of Black resistance. Today, its cultural significance and power serve the purpose of collective healing and the expression of Black joy.
Tamara Williams' childhood memories of Sundays at her grandmother's rural South Carolina church — where spirited women would break into praise-filled dance — linger deep in her consciousness and nest in her soul.
"I recall the tremendous energy there," says Williams, 37, an assistant professor of dance at the University of North Carolina Charlotte and founder of Moving Spirits Inc., a contemporary arts organization that produces arts of the African diaspora. "I saw something positive happening within their bodies, the shuffling of the feet and clapping and then, a moment of the holy ghost with this circling. When you're a child, to witness people catch the holy ghost, it's a lot. And while it can be overwhelming, it's also a very curious place. It looks scary. I saw this healing taking place and grew up curious as to what spirit and dance mean. How does spirit find its way in dance?"
Though she didn't know it then, Williams had discovered the Ring Shout. Our country's earliest enslaved African Americans carried this ritualized dance forward. Their practice of transcendent movement, gestures and song served as a collective outpouring of grief at the abduction from their homeland and traditions, and a commitment to maintaining their cultural roots and ancestral heritage.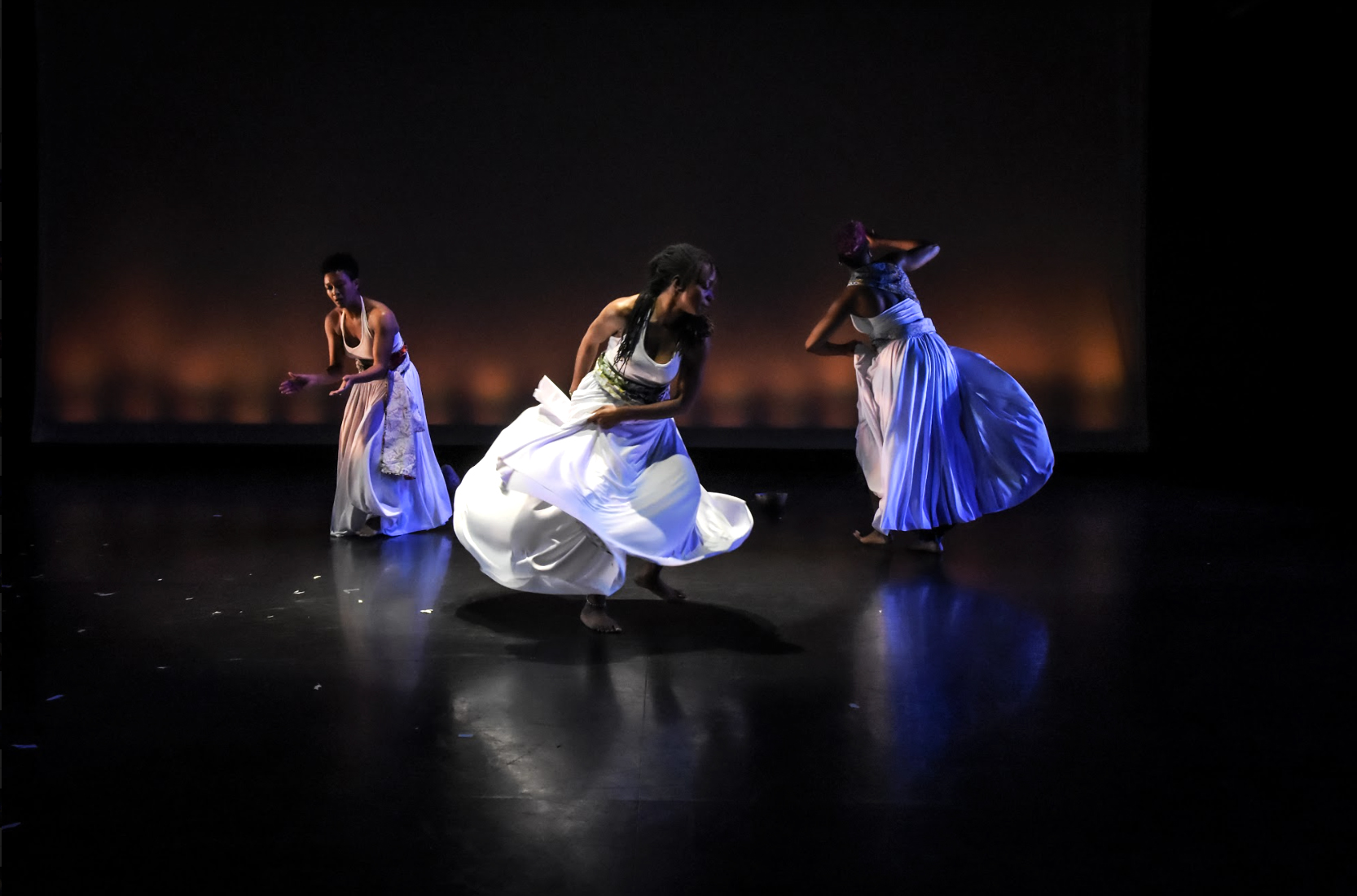 As an adolescent, Williams started to study dances of the African diaspora and to research the Orichas, or divine spirits of nature. She found these traditions came from various points of the Black diaspora to the New World, such as Cuba, Trinidad, Venezuela, Brazil, Colombia and Jamaica.
More than three decades on, Williams' pursuit continues to shape her career as a dancer, choreographer and educator.
Her discoveries reveal a centuries-old journey of purpose for the Ring Shout: from its earliest form of ancestral veneration, spiritual honor and devotion, to a tool of resistance employed by enslaved Blacks who pushed back against the forced religious beliefs and practices of white Christian slaveholders. A current renaissance of this form of cultural expression, she believes, represents collective healing and the expression of pure Black joy.
For Williams, it's the evolution of the traditional dance and movement of the Ring Shout that holds special fascination.
"When I reflect on my own culture as an African American woman," she says, "I started to question why the spiritual dance forms of the enslaved people in the United States were not preserved in the same way as they have been throughout the Caribbean, in Cuba, Brazil and Haiti. I learned that over the years — and through the forced indoctrination of Christianity [in America] — the Ring Shout tradition has drastically morphed and changed."
"I invoked my great-grandmother and asked her as an ancestor what would she have done in the worst of times. And her response came through my body, and [her answer] was prayer." — Charmaine Minniefield
Slaves in the U.S. practiced Ring Shout to honor their dead, but the ritual came originally from West African peoples, such as the Yoruba and other ethnic tribes, where ancestral veneration is a large part of the culture and traditional practice.
"Going back to the West African connection, the deceased are buried underneath the house," Williams says. In this tradition, there was a direct physical connection to family forebearers. "Traditional West African dances have movement that goes around in a circle with the feet shuffling on the earth to call the energy and spirit of those people who are underneath."
Williams explains that when enslaved Africans came to this side of the waters, their ancestors weren't beneath them anymore. So, they put a cast iron pot in the center of their circle to symbolize their relations. Williams says collective rhythms and movements create so much spiritual energy that participants feel as if they are being mounted by the spirit. They are moved to come into the center of the circle to sing and clap.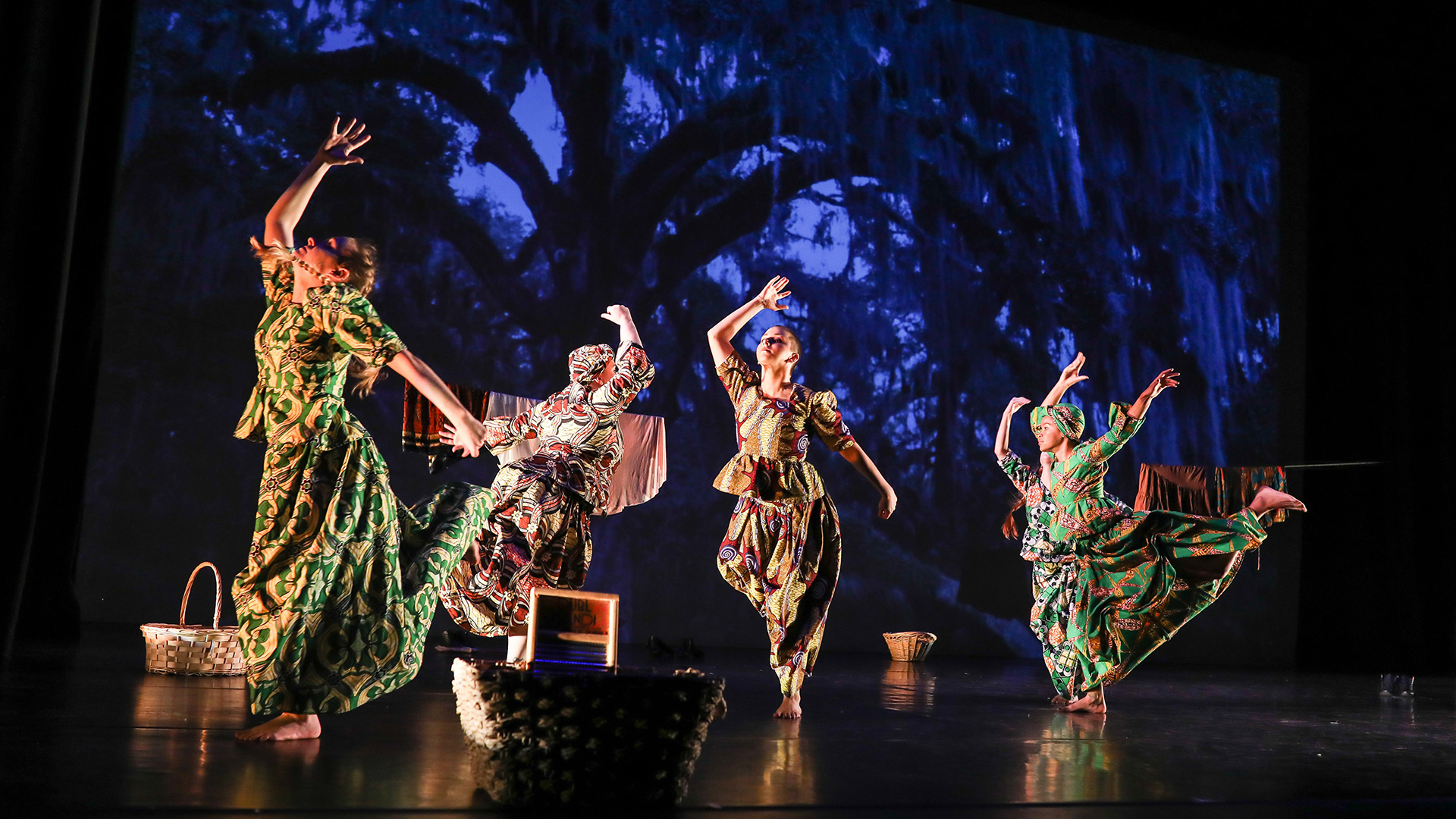 "Historically, during the 1800s, plantation owners and overseers of the enslaved people became afraid and forbade these rituals," Williams says. "This led to traditional songs evolving from native languages into hymns and Christian songs."
As the tradition evolved from its African roots into a Christian context in America, the mounting of the ancestral spirit became the mounting of the holy ghost, though many are not aware of those origins.
"Ring Shout is blood memory," Williams says. "These traditions have ancestral connections, or blood memories, that go back to West Africa. There are several nations of people where these traditions are rooted. When I'm in other parts of the world – in Brazil or in Trinidad – and clap a particular rhythm, I find it's (immediately recognized and) is a rhythm that is found across the diaspora. Whether it is Ring Shout in the U.S., or samba in Brazil, or the rhythm for salsa, it is connected through this blood memory."
Charmaine Minniefield, an Atlanta-based artist and activist who draws from indigenous traditions as seen throughout Africa and the diaspora to explore African and African American history, says Ring Shout was reborn during enslavement in the American South in resistance to laws which prohibited enslaved people from gathering, except for worship. "These laws forbid many forms of cultural expression, including drumming," she says.
Minniefield recently served as the Stuart A. Rose Library artist-in-residence at Atlanta's Emory University. She was awarded the National Endowment of the Arts Our Town Grant to present her Praise House Project, three site-specific installations in Atlanta honoring African American history. Centuries ago, Black people in praise houses — tiny under-the-radar dwellings — often performed the Ring Shout surreptitiously.
"Ring Shout was a gathering and worship practice performed by enslaved Africans in the Southeast," says Minniefield. "We would gather in a circle and sing and call-and-response. We would move counterclockwise, the whole room of us, lifting our collective intentions in prayer. And we did this in resistance to laws that were meant to dismantle community and to dismantle identity."
Williams believes that the last three years have pushed the Black community to an emotional tipping point in America. COVID-19 affected the community disproportionately. And in the wake of a long history of police killings, the Black Lives Matter movement came together amid societal upheaval across the country.
Now, Williams argues, is the time for healing in the Black community, and she believes that a balm for the emotional injuries can be found in the community's reclamation of historical traditions. With the Black diaspora, those displaced from their homelands came with decorative arts, stories, indigenous foods and entire ways of life. Ring Shout and other forms of creative expression serve as gateways to lost ways of life. In the rediscovery of these traditions, Black people can reclaim their identity and find healing.
"In Yoruba culture, dance is a spirit," says Williams, who sees her work connecting with Black communities and beyond as a source of hope, belonging and uplift. "My experiences in culture and spiritual practices are not separate from my artistic practice. Being able to share these cultures through my artistic expression brings a great sense of pride and a greater understanding of who I am."
Though Ring Shout in America has evolved into a form of resistance and protest against cultural appropriation, Williams believes the collective care and healing many associate with the practice is too often overlooked. But like the circular movement of the Ring Shout itself, the practice today is coming full circle in fulfilling its purpose of uplift and restoration.
"My experiences in culture and spiritual practices are not separate from my artistic practice. Being able to share these cultures through my artistic expression brings a great sense of pride and a greater understanding of who I am." — Tamara Williams
"There has been so much work of resistance, revolt and protest — though the healing portion hasn't taken place," says Williams. "It's healing to be in community; it's healing to have support. This place of healing and using the Ring Shout as a place of finding Black joy, when there's been so much sadness and trial for Black people, is a resurgence of how we find joy in our collective feeling."
In April, Williams and Moving Spirits performed a new piece they created, "Iba Obinrin" (an homage to women), at the Ohio Dance Festival in Columbus. The work was set for the stage and developed from a film Williams made in 2021 commissioned by the National Center for Choreography.
"I wanted this work to reflect the coming together of women in the community," Williams says. "During the pandemic, I saw that many women, specifically Black women, were the ones uplifting and caring for their families as they were sick or mistreated. It is an homage to my grandmother and great-grandmother and rooted in using nature to protect and heal the body, family and community."
Williams was moved by how the piece resonated with many who experienced it.
"Several people came to me afterwards weeping," she says. "They had such a strong connection to the story and told me of their own grandmothers singing some of the same songs."
Undeterred by pandemic-related restrictions on social gathering, many community creatives reached beyond in-person performances and exhibitions and created virtual platforms to reach audiences, spawning unique and, in some cases, long distance collaborations.
One such project was Minniefield's 2020 Juneteenth film celebrating the Ring Shout, "Let Us Come Together." Minniefield and choreographer Julie B. Johnson created the project, a digital collage involving nine individual dances. The piece integrated the work of several artists, including Williams, who served as a choreographic consultant on the project.
Minniefield and Williams became aware of each other's work through a mutual affiliation with Alternate Roots, a regional artist collective and cultural organization based in Atlanta.
"At the time of my mourning ones lost to Covid, [I was in] in The Gambia," Minniefield says. "I invoked my great-grandmother and asked her as an ancestor what would she have done in the worst of times. And her response came through my body, and [her answer] was prayer; we would pray. We curated the dances in this work structured around prayer and healing. The world knows Black lives matter. This healing practice is a chorus and prayer for all life."
As Covid restrictions lift, longed-for in-person gatherings make for joyous connections. Earlier this year, Williams' Moving Spirits company and its community partner, , an organization that reinforces pride in African heritage and culture through music, dance, songs, cooking and education, launched LAVAGEM, a four-day African diaspora and cultural arts festival in Charlotte. The festival celebrated Black heritage and welcomed a diverse audience for dance performances, panel discussions, drumming classes, indigenous foods and storytelling.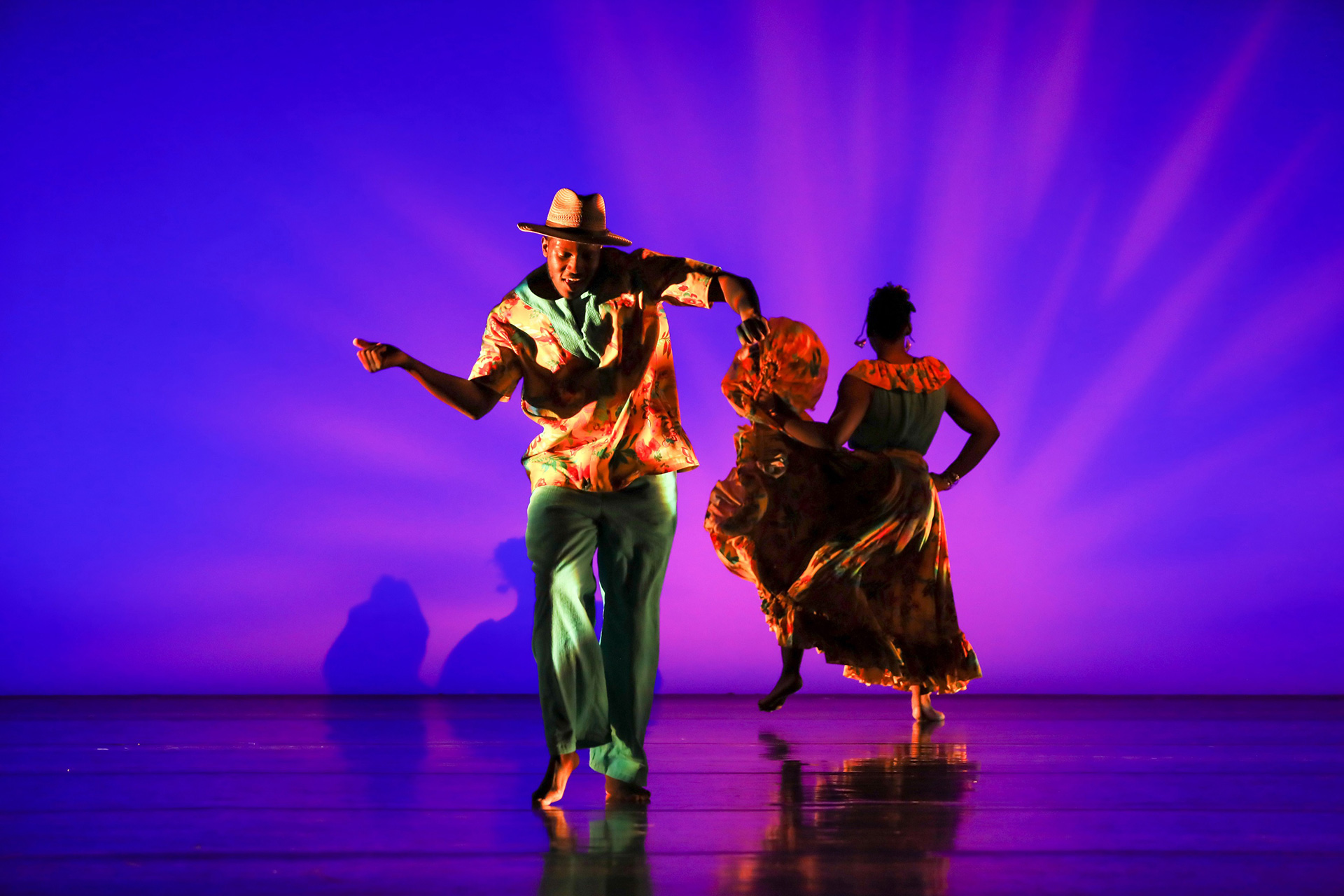 "There is a connective power with dance that people don't often recognize until it is upon them," says Calvin Coleman, a rising senior at the University of North Carolina at Charlotte and a student of Williams. Coleman, 23, has performed with Moving Spirits and in several student dance productions. "It's a form of art that is therapeutic, creates bonds and is pure joy to perform and experience. The festival had so many people of diverse backgrounds. It was wonderful to see people be inspired by these traditional dance forms and enjoy being together."
For Williams, there's no questioning the topicality and relevance of Ring Shout's cultural heritage.
"Ring Shout has been a foundational aspect of not just Black culture, but American culture," she says. "From its origins come jazz, tap, the blues. They all come from traditions of Ring Shout. They are shouting in Jamaica. They are shouting in Trinidad. These art forms uplift people and keep us going."
Michael J. Solender lives in and writes from Charlotte, North Carolina. His work has been featured in The New York Times, Smithsonian Magazine, SouthPark Magazine, Charlotte magazine, and many others. Reach him at michaeljsolender@gmail or through his site at michaeljwrites.com
In 2020, Williams and Charlotte filmmaker Marlon Morrison made a 12-minute film focusing on the Ring Shout for UNC Charlotte's Virtual Fall Dance Concert. UNC Charlotte students performed at several historical sites throughout Charlotte, including the Siloam School, a Jim Crow-era Rosenwald school for African-American children.
A collection of Minniefield's work, Indigo Prayers: A Creation Story, is on exhibition at Emory University's Michael C. Carlos Museum in Atlanta through September 11, 2022. The series of paintings is inspired by her time in The Gambia, West Africa, searching for her grandmother's ancestral lines, and it builds upon her ongoing exploration of the Ring Shout.