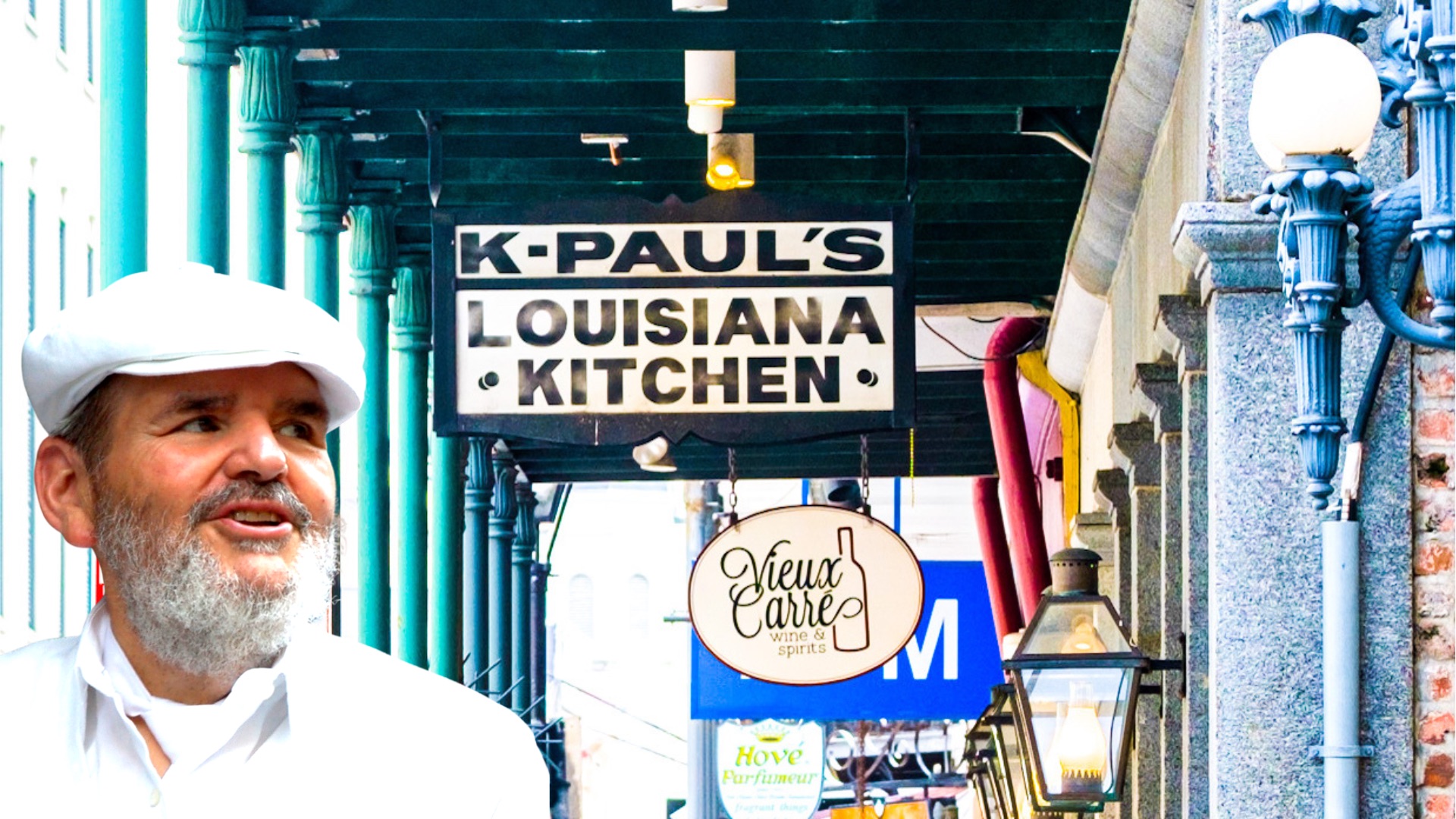 Carrying the Legacy of Paul Prudhomme
Two New Orleans restaurants trace their origins directly to the famed Cajun dining spot, K-Paul's: Brigtsen's and Gabrielle now carry the late chef's torch.
This May, I happened down New Orleans's Chartres Street only to see Chef Paul Miller standing high on a ladder, removing the K-Paul's sign that hung for decades in front of the iconic French Quarter restaurant. K-Paul's had closed in 2020 amid the COVID-19 pandemic, and the sign was the last vestige of my favorite restaurant.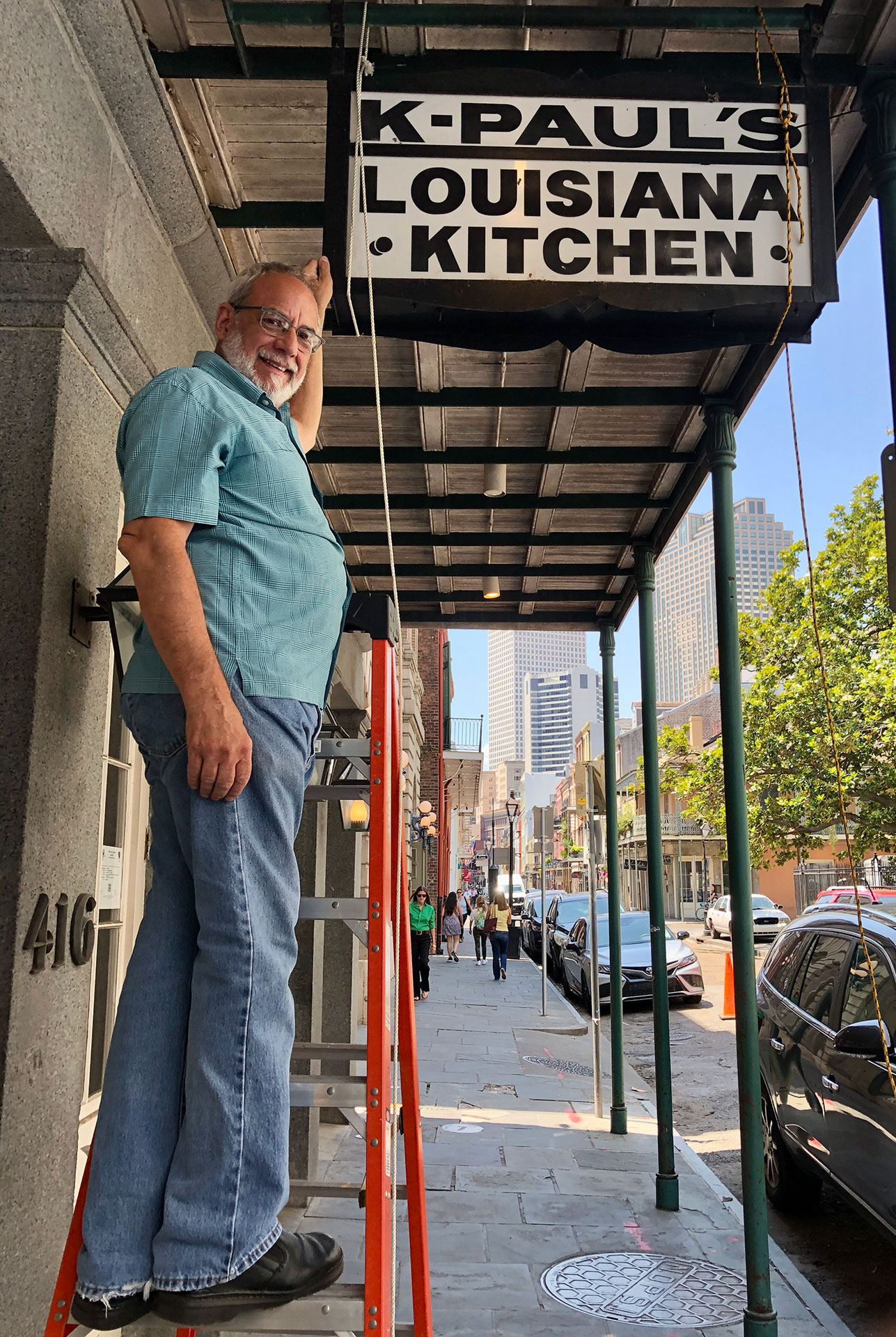 It was the end. A death in the family. I had held out hope that one day the luxurious bread baskets, dark, rich gumbo, and perfectly blackened drum would return. That Miller, the heir by marriage to Paul Prudhomme's classic Cajun restaurant, would change his mind. That the tables, still set with white linen, would once again be full of eager diners. But it was not to be. K-Paul's Restaurant, where Chef Paul Prudhomme introduced America to Cajun cuisine, had closed for good.
When a family member dies, we typically take solace in our nearest relations. Here, the relations are two restaurants: Brigtsen's and Gabrielle. With craft and creativity, warmth and grace, and more than a little love, they are carrying Prudhomme's tradition forward.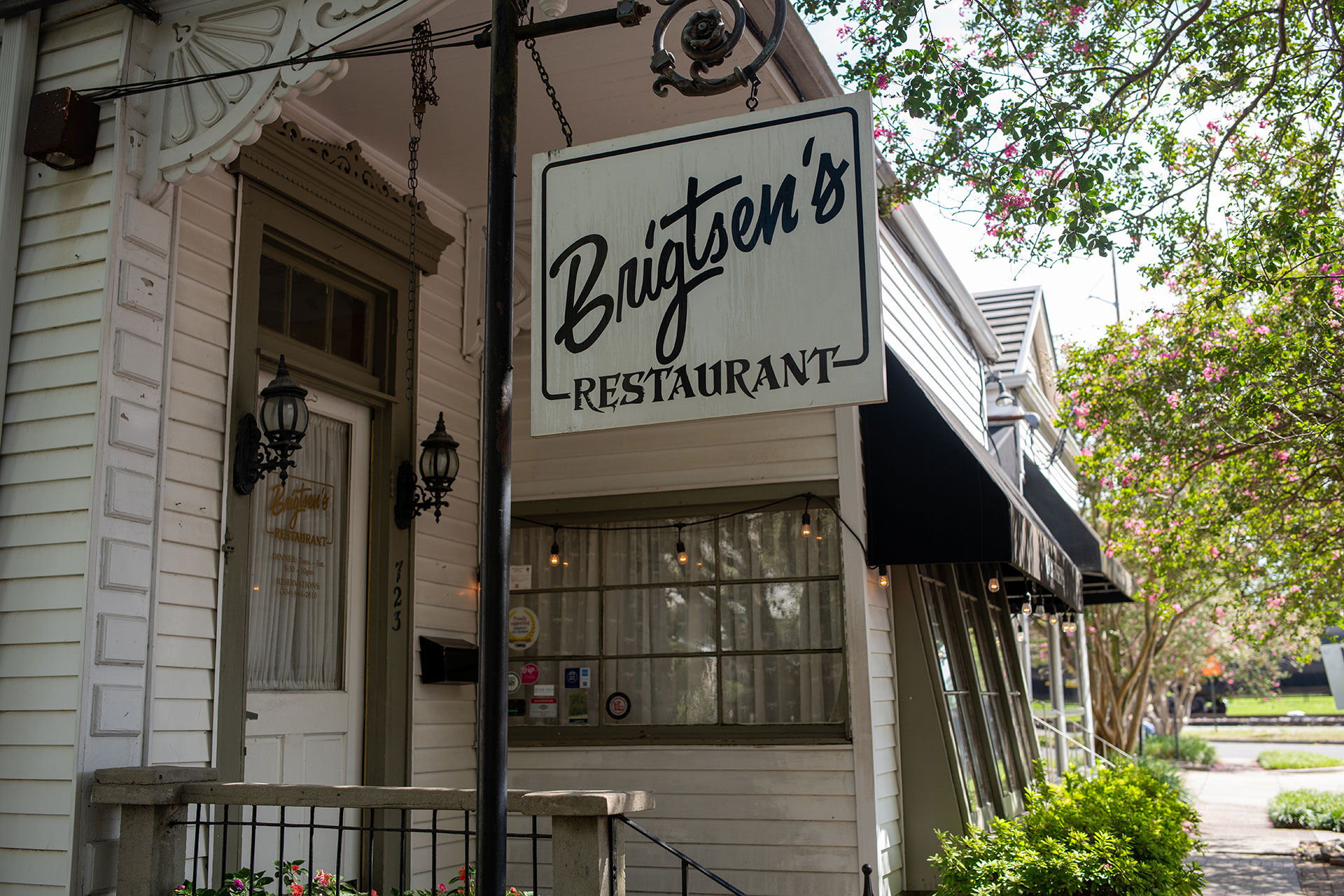 In 1978, a year before Prudhomme and his wife Kay opened K-Paul's, he interviewed a young cook named Frank Brigtsen, who wanted to join him in the kitchen of Commander's Palace, the legendary New Orleans restaurant where Prudhomme was executive chef.
"What do you want out of life?" Prudhomme asked Brigtsen.
"One day, I'd like to have my own little place," Brigtsen responded, "my own little restaurant."
Thanks largely to Prudhomme, for the last 36 years Brigtsen and his wife Marna have had that place, Brigtsen's, in a snug side-hall shotgun house in New Orleans' Riverbend neighborhood.
For six years, Brigtsen was Prudhomme's right-hand man at K-Paul's, getting promoted from cook to chef to purchaser. Prudhomme wanted to teach Brigtsen every aspect of the business. One day, Paul and his wife Kay called him out of the kitchen and said, "Frank, we think you're ready." They had prepared him to run his own place.
"What I've learned is that a chef's role in the community is much more than providing dinner. We can restore spirits, create new memories of joy for families and loved ones."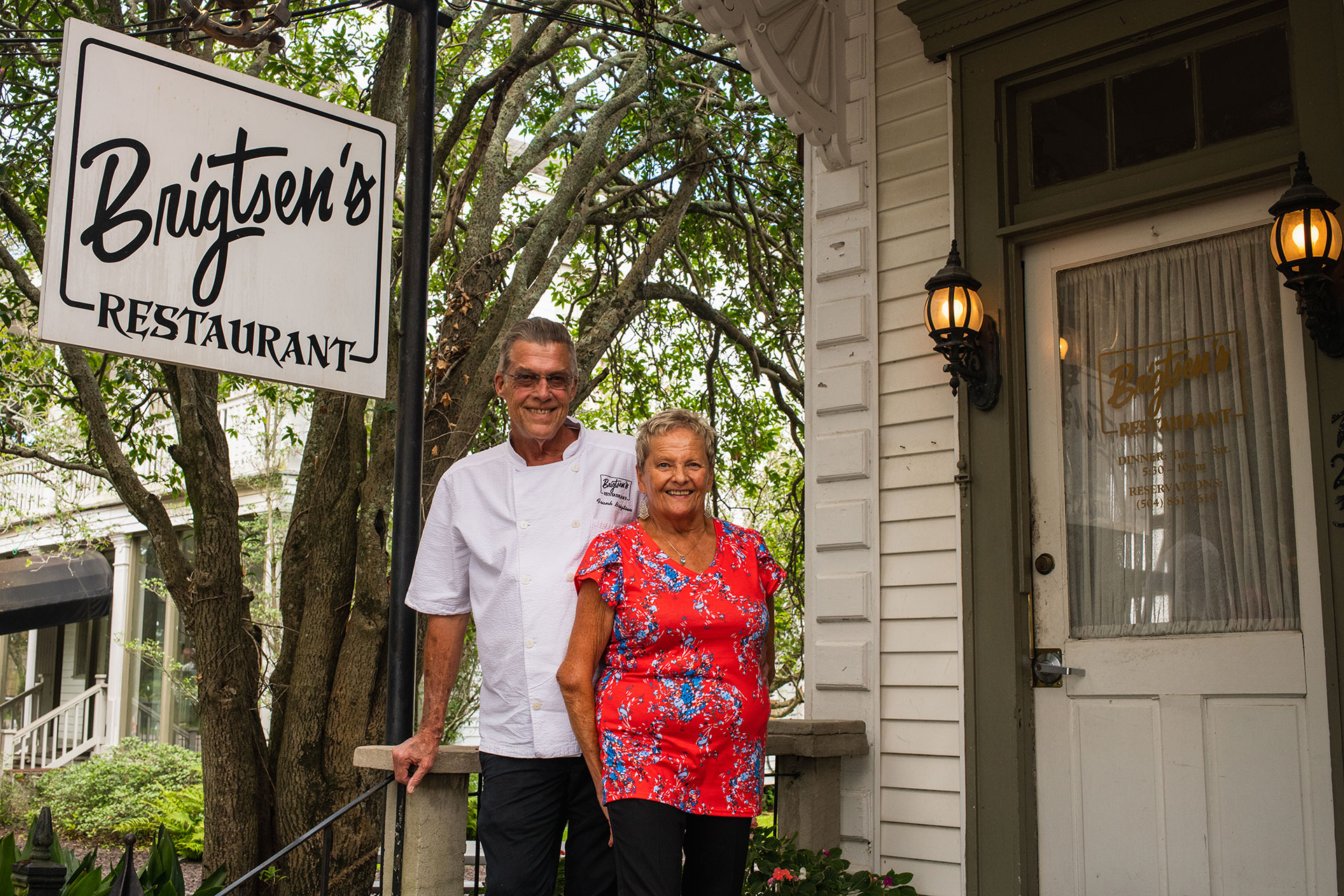 "I know that I was kind of like a son to them," Brigtsen says. "They didn't have children, but I was the first chef there and they felt confident, and they lent me the money. They set me up with a CPA, a lawyer and a real estate agent, and allowed me to take key staff members to ensure our success. I owe everything to them."
When I arrived at the restaurant, I found Brigtsen, a tall, commanding presence with a distinct widow's peak and slicked-back hair, sitting at a small table in the hallway just outside the kitchen. His mentor, Prudhomme, also had a table just outside his kitchen, a perch from which he could take the temperature of the room and taste everything being served.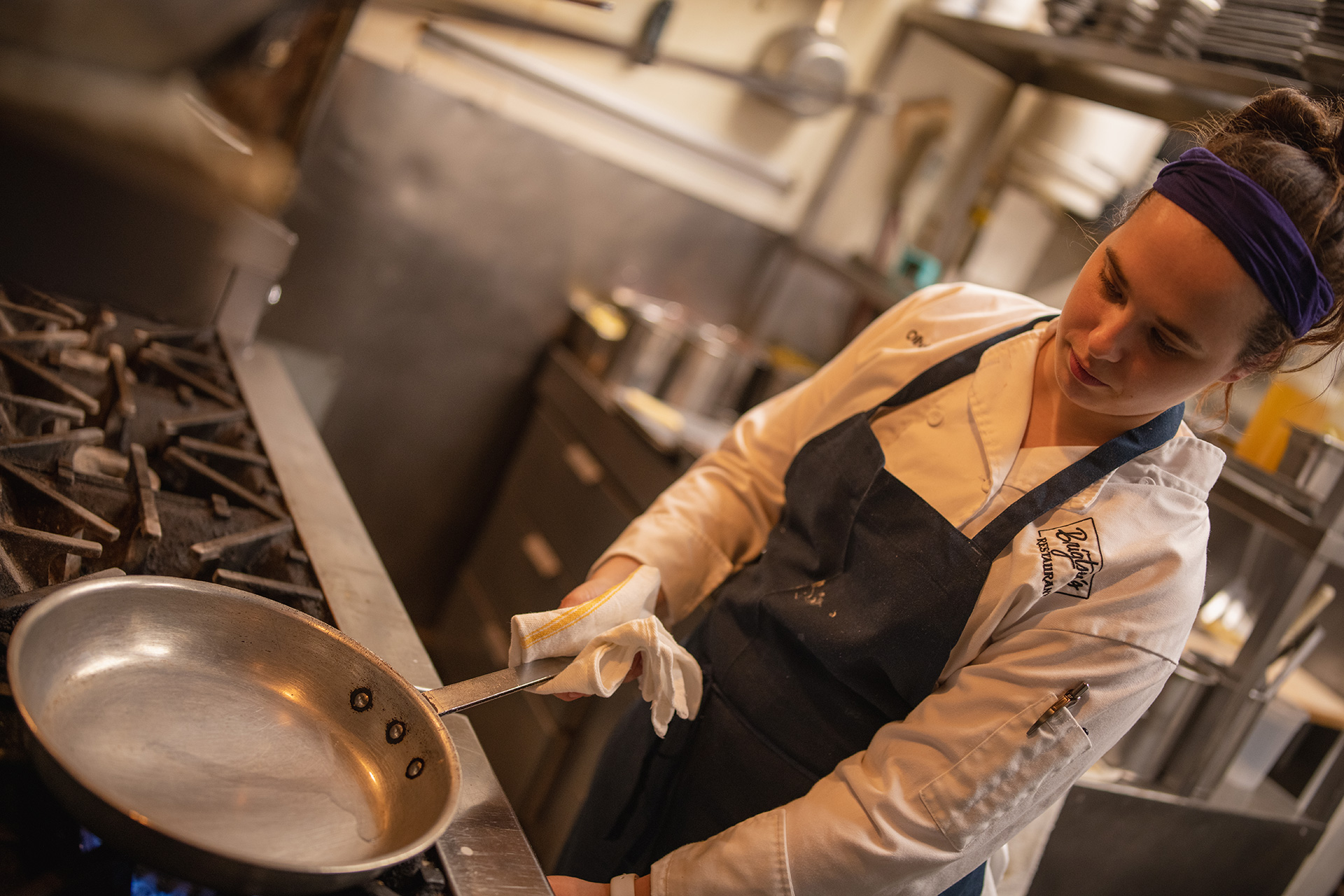 Behind a plexiglass partition, a reminder of the pandemic and its impact on the hospitality industry, Brigtsen sipped on an oversized mug of black coffee. He seemed a little tired, noting, "We had to repair every piece of equipment in the kitchen last month." At the height of the COVID-19 pandemic, Brigtsen's switched its model to a family-style takeout restaurant, a move that allowed them to survive.
But before anyone gets to Chef Brigtsen, however, his wife Marna meets them at the door. She is an ebullient blonde with piercing blue eyes, a native North Dakotan who long ago became a fixture of New Orleans. Marna and Frank met at K-Paul's, the classic front of the house/back of the house romance. She has an irresistible charm, and her personality alone is worth a visit to Brigtsen's. Throughout my conversation with Brigtsen, I could hear her in the background asking customers, "Isn't it your birthday?" and telling others their day was "about to improve immensely." It was well-rehearsed, but it was no act. She genuinely cared about everyone who passed through the door, whether you were dining there for the first time or a couple who's had a standing Friday night reservation at 7:30 p.m. for 36 years.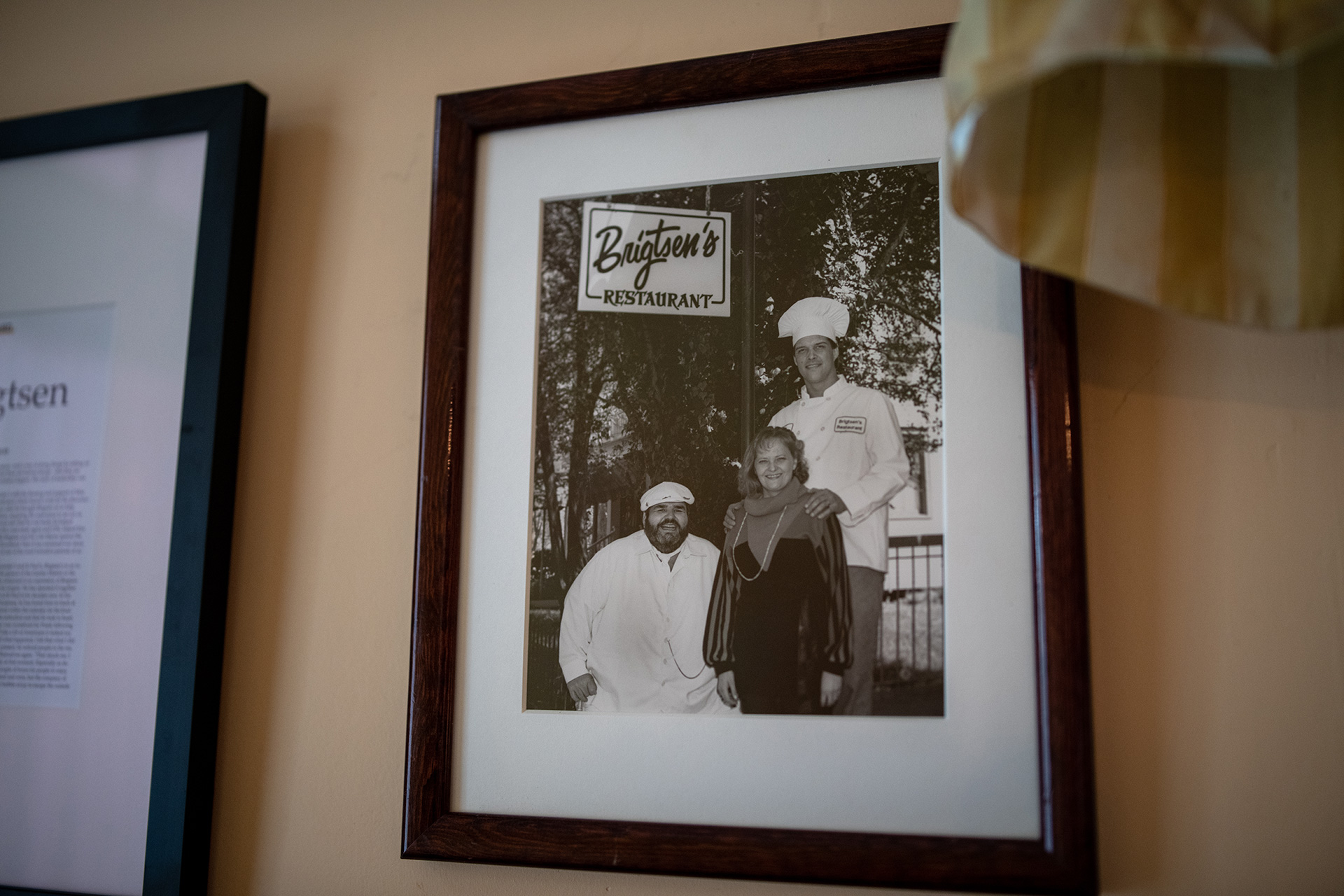 As Chef Brigtsen and I spoke, Samantha Stone, a young cook — whom he hired even though he "didn't have a spot for her" — approached us with a beautifully plated fig and brie cheesecake. Stone, a graduate of Le Cordon Bleu in Miami, was a bundle of positive energy, and the cheesecake was sublime and complex in a way that shouldn't have worked but did. I was impressed, and so was Brigtsen. He is renowned for his mentorship, extending the generosity Prudhomme showed him at the start of his career. Besides mentoring cooks in his own kitchen, Brigtsen also teaches at the New Orleans Center for the Creative Arts and the Chef John Folse Culinary Institute.
"My joy now, at 67 years old, in my kitchen, is standing back and watching," he said, "watching these young people learn how to sauté, watching this team of wonderful people learn how to work together to create great things."
And great things, for Brigtsen, come in a particular color — a color he learned in the kitchen of K-Paul's.
"One of my most popular mottos is that in cooking, color is flavor, and brown is the color of flavor," he said with a grin.
And he means it, too, from the dark roux of his gumbo to the meltingly tender duck. This isn't molecular gastronomy, but hearty portions of food where taste and technique come before showmanship. It is a mix of what Brigtsen terms "cravers," which customers return for time and again, and more seasonal dishes. It is deeply satisfying food. And Brigtsen, who went from avant-garde to old guard, waxes philosophical.
"The beauty of food is in its diversity," he said. "We have palates that crave diversity. We don't want the same thing every day. And I think that's the beauty in life, too — the diversity. I think if you want to be happy and enjoy life, you need to embrace diversity. Don't hate it, embrace it."
Brigtsen knows that food nourishes in many ways.
"What I've learned is that a chef's role in the community is much more than providing dinner," he said. "We can restore spirits, create new memories of joy for families and loved ones. I'm not cooking for me. I'm cooking for my guests. My job is to make my guests happy."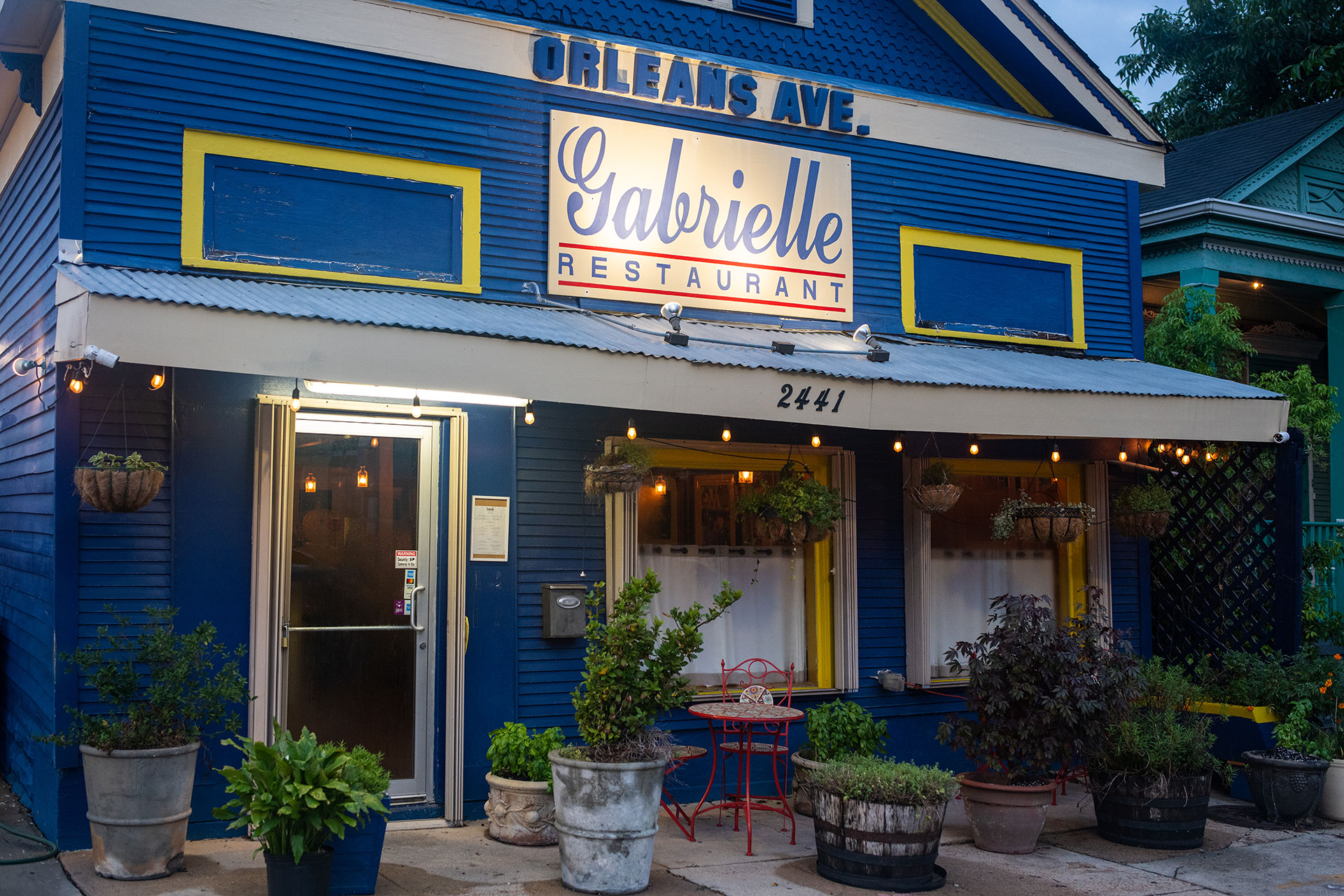 In the kitchen of Gabrielle, Chef Greg Sonnier, wearing a gray chef's coat and a light brown apron, gently presses thickly cut, seasoned veal chops onto the flattop while a covered stockpot murmurs nearby. Sonnier still works his own line every night. His gray curls and glasses riding down to the tip of his nose give him a professorial look. He is a thoughtful cook, if an unlikely one.
"Believe it or not, after working at K-Paul's for three or four weeks, I was going to quit because I thought it was just too hard," said Sonnier, who originally wanted to go into criminal justice. But something kept him there. Kept him in the kitchen.
Maybe it was the pretty young cook he was hired to replace, Mary Blanchard, who had recently been promoted to the line. Like Sonnier, Blanchard was new to the professional kitchen. She showed up to her interview wearing pearls, which eventually earned her the nickname "the butcher with the pearls." Blanchard had just moved back to New Orleans from Memphis and saw an advertisement for Dixie Beer with Prudhomme "holding a po'boy." She had no idea she was seeing a future mentor.
"Chef Paul taught me to make sure that the finished product is nothing but perfect. And if it's not perfect, it has to be cooked over again, even if a customer has to wait for a longer period of time."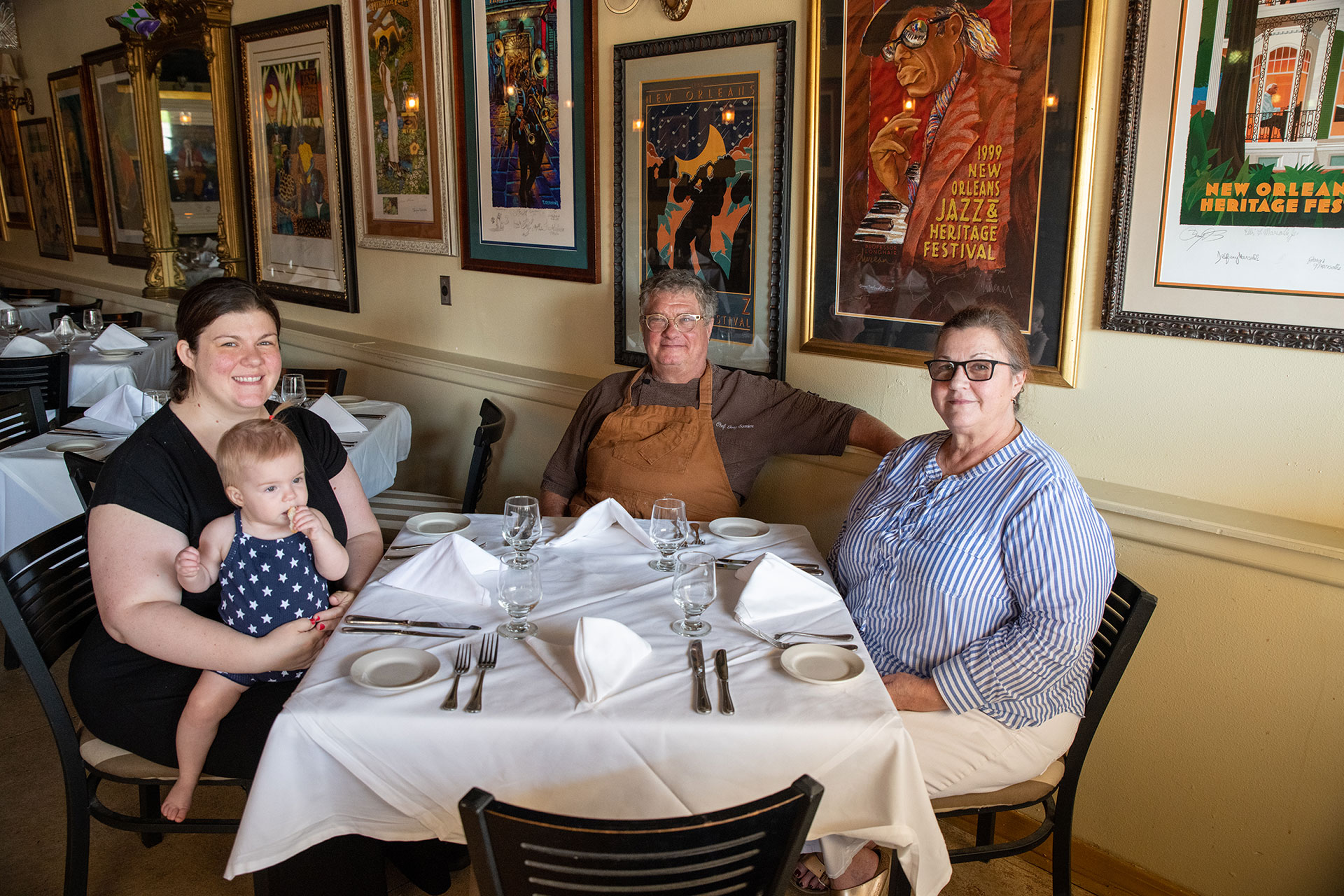 "I honestly was looking for a bartending job, but couldn't find one," said Mary Sonnier of her foray into the kitchen. "My sister found an ad in the classifieds of The Times-Picayune: 'Apprentice cooks wanted at K-Paul's Louisiana Kitchen.' And it had the date and the time to be there. And that was it."
After a series of interviews, Prudhomme hired her as butcher, drawing her a picture of a French chef's knife and a boning knife as the tools she would need for work. He told her she "would earn little, but learn a lot." She committed to a three-year apprenticeship with him, expediting at the restaurant, helping him test recipes for his cookbooks and seasoning blends, and traveling with him to New York City for his pop-up restaurant on the Lower East Side. Long before the current pop-up craze, Prudhomme had taken his culinary act on the road, and his cooks with him, spreading the gospel of Cajun cuisine to the coasts, with outposts in San Francisco and New York.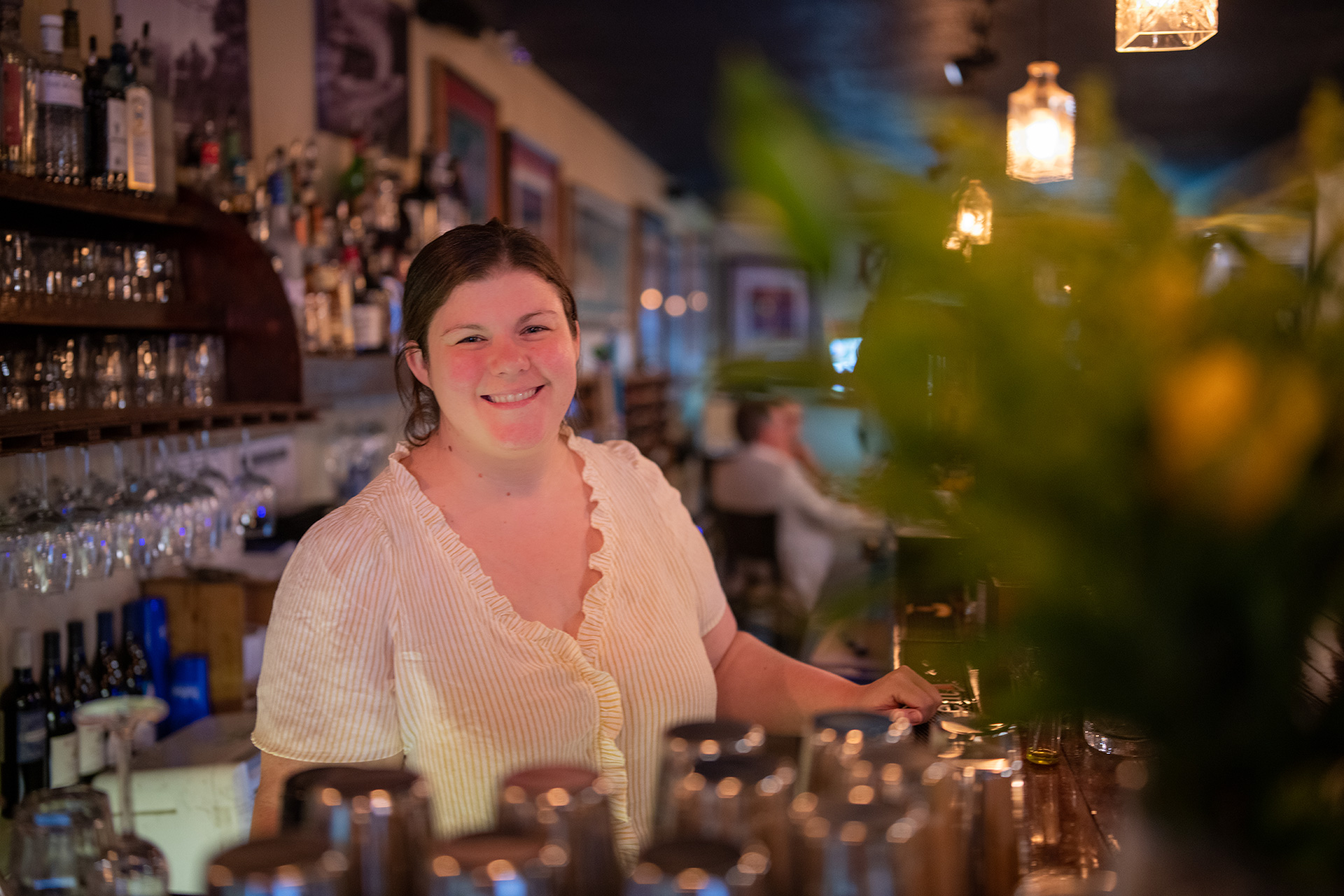 It was an exciting time, both personally and professionally, for Sonnier and Blanchard. Sonnier followed Brigtsen to his eponymous restaurant in 1986 to become a sous chef, and in 1987 Sonnier and Blanchard married. In 1989, Gabrielle Sonnier, who would become the namesake of her parents' restaurant, was born.
The Sonniers opened Gabrielle Restaurant in 1992, just outside the Fairgrounds in the triangle of Esplanade Avenue and Maurepas and Mystery streets. It was an immediate hit with locals and luminaries such as Mick Jagger, who fawned over the sweet potatoes.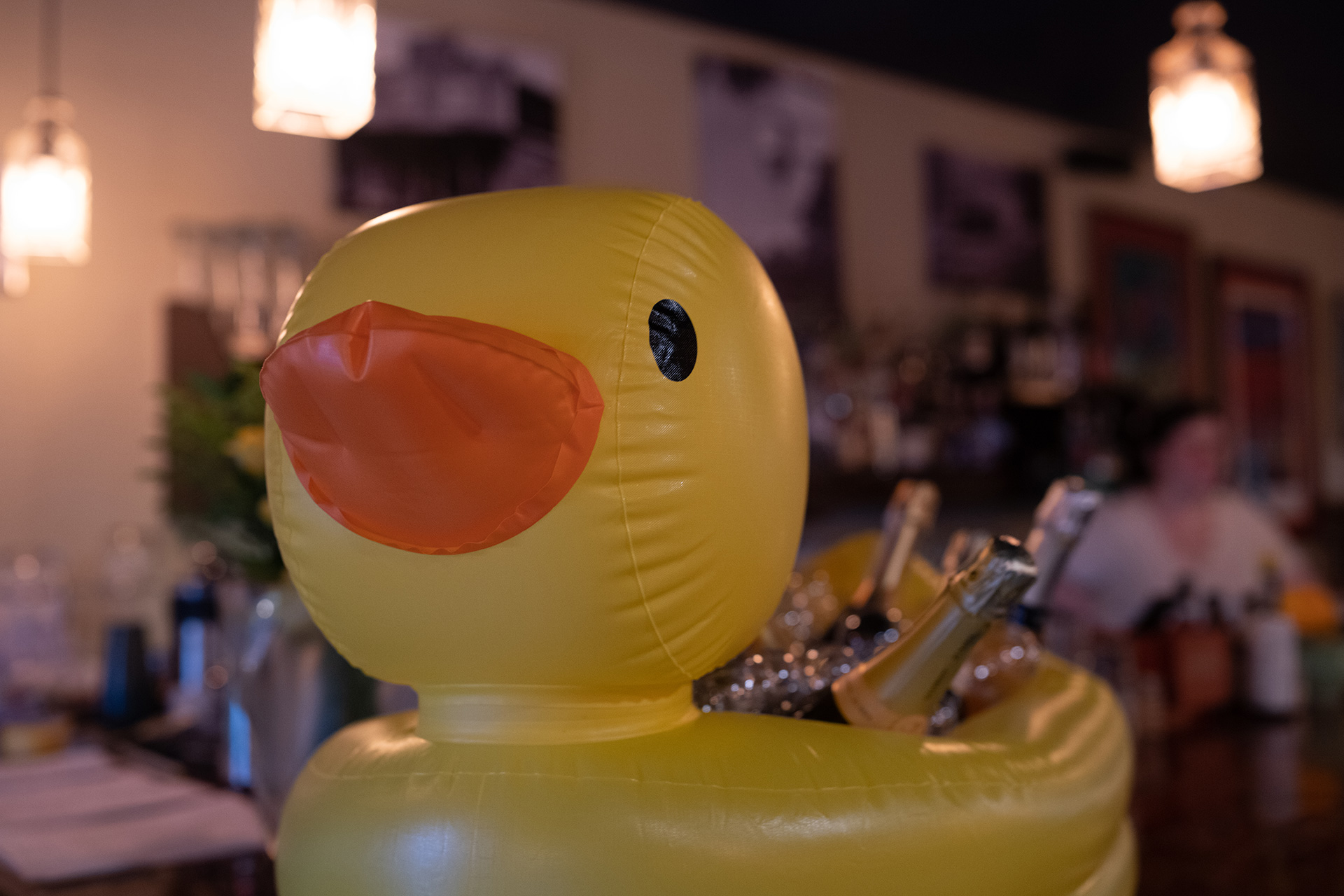 The Esplanade location closed following Hurricane Katrina. The restaurant was reborn uptown on Henry Clay from 2006 to 2013, before a dubious zoning dispute forced it to shutter. In 2017 Gabrielle reopened in its current location on Orleans Avenue, bringing its distinctive Cajun fusion style to the 6th Ward neighborhood made famous by the late Chef Leah Chase's Creole cuisine. And while the chef remains the same, the restaurant's namesake, Gabrielle Prudhomme née Sonnier, is now the manager. For a time, Gabrielle's husband Marsh, a distant cousin of Paul Prudhomme, tended bar at the restaurant and helped develop their reimagined cocktail menu.
Inside Gabrielle, the lessons learned long ago at K-Paul's are still being practiced, as complex flavors and straightforward plating remind you that taste is always first.
"I think tasting food was kind of the biggest thing he taught me," said Mary Sonnier, "and not just the end product, but in stages." Prudhomme was adamant about tasting everything that came out of his kitchen.
To drive the point home, she poured me a cup of crab bisque from the line and one for herself, checking the balance of flavors. Greg Sonnier echoed this sentiment.
"Chef Paul taught me to make sure that the finished product is nothing but perfect," said Sonnier emphatically. "And if it's not perfect, it has to be cooked over again, even if a customer has to wait for a longer period of time, because he was making sure everything that came out of the kitchen was absolutely perfect."
Gabrielle achieves perfection nightly with its slow-roasted duck in an orange juice and sherry glaze, served over shoestring potatoes that developed as an homage to a French fry debris po-boy. If preceded by the smoky, impossibly rich quail and andouille gumbo, it is a one-two punch of flavor — a standing eight count — that can only be finished by one of the knockout desserts developed by Chef Mary Sonnier. And while there are many standouts on the dessert menu, it is the Peppermint Patti, with its fudge brownie and homemade peppermint ice cream, that steals the show.
K-Paul's curtain closed at 416 Chartres Street, but the show is far from over. It must go on, because there are still people in the house who need to feel joy and have their spirits uplifted. Brigtsen's and Gabrielle — Prudhomme's offspring — still give award- winning performances nightly, in a way that can happen only in New Orleans.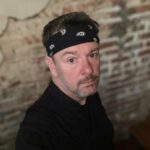 James Cullen is a New Orleans photographer, writer and chef whose muse is the rich culture of his city and the back roads of Alabama, Kentucky and Tennessee. His work has appeared in Business Insider, The Times-Picayune, Gambit, Antigravity Magazine, and The Peauxdunque Review.