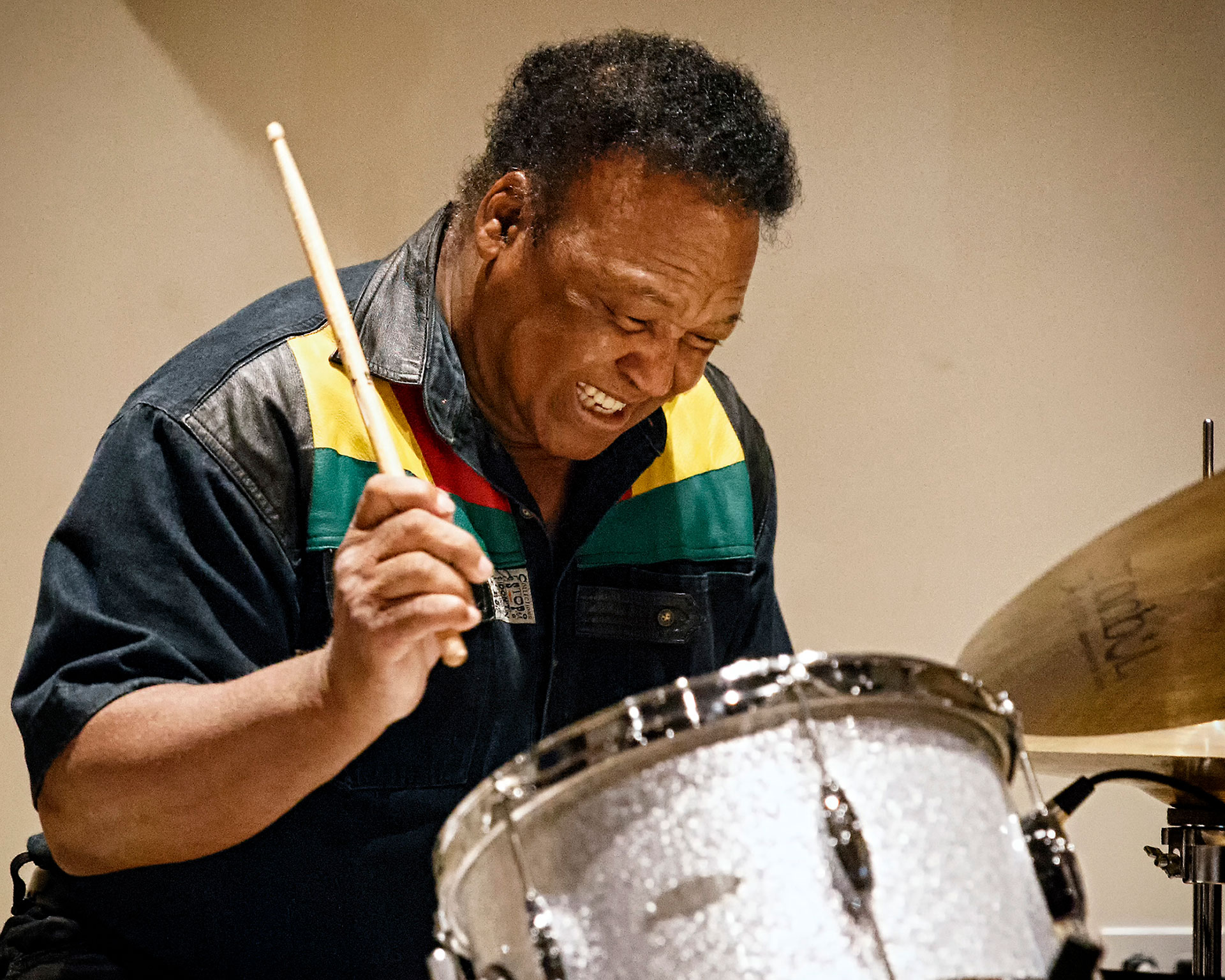 Remembering Memphis drummer Howard Grimes, who backed Al Green, Ann Peebles, O.V. Wright, Willie Mitchell and others
All the elements of great Memphis soul music gathered one day in 1972 when Al Green, drummer Howard Grimes and the guys in the Hi Rhythm Section gathered at Royal Studios in Memphis to make the classic song, "Love and Happiness."
First you hear Mabon "Teenie" Hodges play two distinctive strums on the electric guitar. Then there's Green's distinctive squeal. He teases you soulfully, gently singing the title of the song about to unfold. "Make you wanna do wrong, wanna make you do right," he sings.
"L-o-o-o-v-e," he continues.
Earlier, producer Willie Mitchell had asked Grimes to fetch an old wooden Coca-Cola crate that had been sitting in the room for years. Mitchell asked Teenie Hodges to tap on the crate with his foot before playing the signature guitar lick that makes the song ready to launch.
That's when Grimes, who died in February at the age of 80, starts playing a groove that felt so good, so steady and perfect, the song seems like it'll never stop. Mitchell, the legendary figure who ran Royal Studios and Hi Records, finally had to cut them off. This band couldn't seem to stop.
"Man, when we locked that track in, we couldn't turn it loose," Grimes said last May during a visit on his front porch in Memphis.
That's why it's so hard to accept that Grimes' groove-making has come to an end.
"He's one of the architects and foundations of what people think of as Memphis music," Scott Bomar, a veteran musician and producer in Memphis and close friend to Grimes, said last year. "He's one of the most important and overlooked figures in Memphis music over the past 50 years."
"He's one of the architects and foundations of what people think of as Memphis music. He's one of the most important and overlooked figures in Memphis music over the past 50 years."
Grimes had a brilliant life of many ups and downs. He was a natural musician, and a deep and caring soul who talked to God all the time and made sure he checked up on people. As a drummer and percussionist, he played some of the most distinctive grooves in American music history.
Grimes was only 12 when his band director at school, Emerson Able (later a member of the Isaac Hayes Movement, even though he'd kicked Hayes out of the school band), let him play at his jazz gig at the Rivermont Club.
Grimes was inspired by the rhythm of life. As a child, he absorbed every drop of music and creativity from TV shows and movies growing up. He found rhythm in everything. "All my ideas came from movies, sounds," Grimes told me. "There used to be a train. My grandaddy worked at Baptist Hospital. He'd get up just before daybreak. I could hear those rails. I could hear that rhythm. It had to be God, all these rhythms."
"I hear rhythm now," he said, as cars passed by.
His experience as a young musician drew the attention of Rufus Thomas, the local DJ and singer who had recorded earlier on Sun Records, who brought a young Grimes to play a 1959 session at Stax Studios (for Satellite Records, which later became the famous Stax label) with Thomas and his daughter, Carla. They recorded "'Cause I Love You," which became a minor R&B hit in 1960.
At Stax, Grimes saw Black and white musicians performing together, a young Booker T. Jones among them. Grimes played on cuts by Eddie Floyd, Sam & Dave, and Ivory Joe Hunter, but didn't stay long enough to play with Otis Redding, who arrived at Stax in 1962.
Jim Stewart, who founded the Stax label with his sister Estelle Axton, asked Grimes him to play on Carla Thomas' own first singles, including the smash, "Gee Whiz," and William Bell's classic "You Don't Miss Your Water," released in 1961 and later covered by Redding. Then Grimes racially integrated the pop band Paul Revere and the Raiders for a national tour, before he returned to Memphis and joined Willie Mitchell's band at Royal Studios.
That's where he met the Hodges brothers and joined what would become the famed Hi Rhythm Section. Together, they "made music that will go on past our own days on this earth," Grimes wrote in 2021 in his gritty autobiography, "Timekeeper: My Life in Rhythm."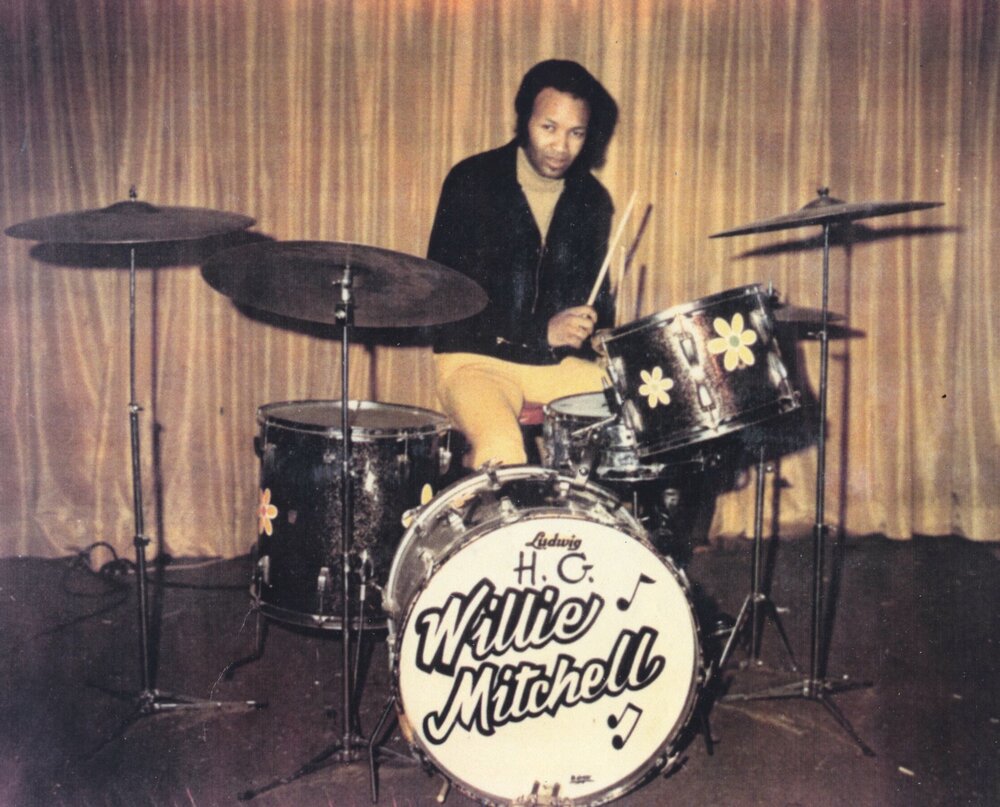 Grimes' stories are enough for many lifetimes — his musical adventures, the difficulties of growing up in Memphis' tough Little Chicago neighborhood, and his years left homeless and adrift after the demise of Hi Records in the late 1970s. There was also the night at the Troubadour when he turned down Faye Dunaway. Or what it was like to back Ike and Tina Turner on tour and in the studio. Or the desperate, stormy night in Memphis when he prayed for help and Al Green showed up unexpectedly with some cash to pay the bills.
Under the guidance of Mitchell at Royal Studios, Grimes truly discovered his groove. The unassuming place on Lauderdale Avenue, not far from the Stax Museum of American Soul, remains an active studio. Portions of Bruno Mars' "Uptown Funk" and the album by Silk Sonic (the duo of Mars and Anderson Paak, joined by special guest Bootsy Collins) were recorded there in recent years.
The music Grimes witnessed and was part of in the 1960s and '70s was a critical part of American culture in those days. There was Ann Peebles' classic "I Can't Stand the Rain," written by the singer and her husband Don Bryant (whose more recent solo albums also featured Grimes on drums). Al Jackson Jr., the other regular drummer in the Hi Rhythm Section, an incredible talent himself and a full-time member of Booker T. & the M.G.'s, the house band at Stax, played the drums on that one. But it was Grimes who initially played the sound of raindrops on the little timbale heard in the song's unmistakable opening. He said the sound reminded him of a coffee pot percolating.
There were also sessions at Royal with the criminally underappreciated O.V. Wright, one of the best soul singers of all time. Howard's playing on Wright's "A Nickel and a Nail," "Ace of Spades," "I'd Rather Be (Blind, Crippled and Crazy)" and others are some of soul music's finest moments. The latter song is built on one of Grimes's most incredible grooves, inspired by dancer Ray Bolger's Vaudeville-style moves as the Scarecrow in 1939's "The Wizard of Oz."
"Willie felt like if he'd lived, people would recognize O.V. as the greatest singer in the world," Grimes wrote of Wright, who died tragically in 1980 after long battles with addiction.
It was on the recordings with Al Green, however, when Grimes most heeded Willie Mitchell's instructions to "slow the f—k down" and found the groove that would make Green's records so divine. Just listen to Howard's beat on Green's "Tired of Being Alone" in 1971, Love and Happiness the following year or, later, "Take Me to the River." (Grimes also played on the first hit version of "Take Me to the River," by Syl Johnson, another great soul artist who recently passed away.)
On "Let's Stay Together" — the title song on Green's album released 50 years ago this month — Al Jackson handled the drums, but Howard played the little gallop that helped make it a classic, the perfect pallet for Green's incomparable performance.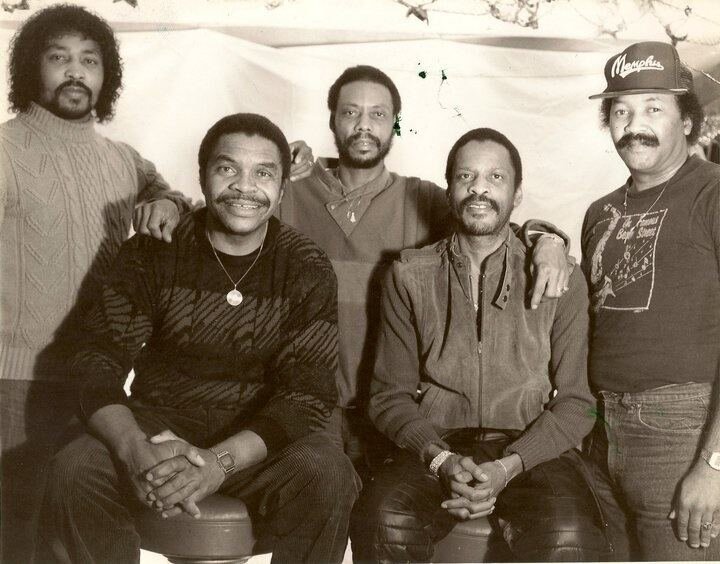 I spoke with Howard only twice. The final time was at his book signing at the Stax Museum last July with co-author Preston Lauterbach, who'd helped him turn an oral history into the book, Timekeeper.
After the reading and some questions from an adoring audience that included Boo Mitchell, Willie Mitchell's son, who now runs Royal, Grimes took the stage with The Bo-Keys, the band led by producer-musician Scott Bomar and featuring former regular Hi Rhythm sideman Archie "Hubbie" Turner, and singer Percy Wiggins. There also was a thrilling guest appearance from Don Bryant, who sang O.V. Wright's "A Nickel and a Nail" to that same distinctive groove from Howard, which was incredible to hear and see live.
The first time I saw Howard up close was the day I met him for that interview on his porch. Scott Bomar came by and accompanied us for a while. We stayed outdoors for safety reasons during the pandemic), but a friendly neighbor did stop by. Bomar pointed out that the visitor was drummer Willie Hall, who played on the Oscar-winning "Theme From Shaft" with Isaac Hayes and regularly backed the Blues Brothers and others.
Just another magical Memphis moment in a warm community of musicians that sometimes often transcends race, class or neighborhood — and embraces anyone who cares about the meaning of the music.
There's a love among the music community there and a certain rhythm to life. If you're into it, everyone can feel it. People can find common ground in music that speaks to them. We can all learn something from that.
Maybe we can learn everything from that.
Alan Richard is a writer in Atlanta and founder of the "Soul Country" music blog. His music writing has been published by No Depression, American Way (the American Airlines magazine), the Stax Museum of American Soul Music and others. His other work has appeared in The Washington Post, Education Week, The Nation and other outlets.