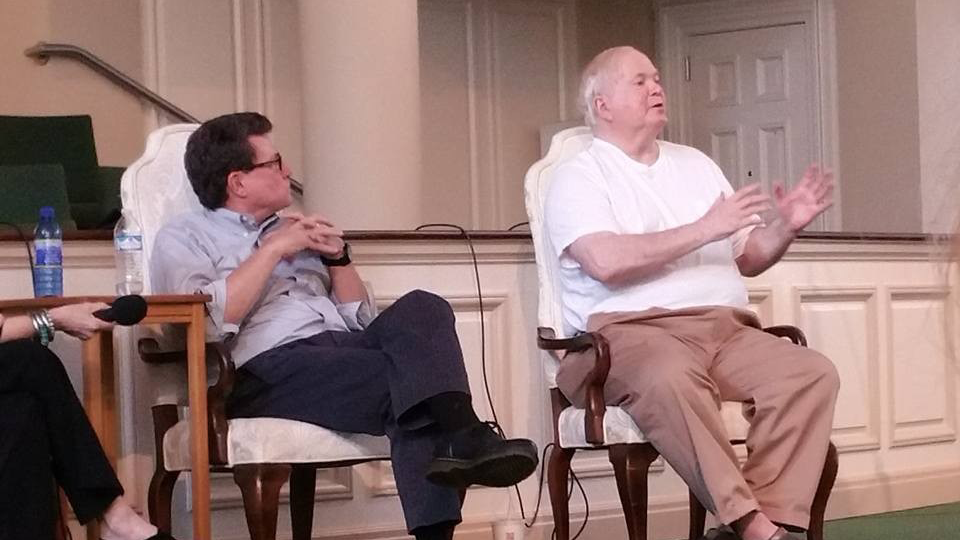 In 2015, novelist Jonathan Odell, a Mississippi native, shared the stage with a legend of Southern literature, Pat Conroy, at Georgia's Decatur Book Festival. In this lovely remembrance, he recalls how Conroy treated his fans like family.
The author Pat Conroy inspired me to write my first novel back in 2004. I adore his work and if I could write like anyone, it would be Pat. I like that he doesn't shy away from emotion and sentiment. His stories often have me wiping my eyes. He spoke the language of the heart.
But the thing that most motivated me was that he had turned his experiences of being raised in a crazy family into great literature. I thought, hell, I've got one of those! I decided to cash in on my family with my first novel. When people ask if my family was offended by how I portrayed them, I say I blamed Pat.
Before my second novel was released, my agent, Marly Rusoff, asked, "If you could choose any author to write a blurb for your book, who would it be?"
There was no question. Pat Conroy. Fortune smiled. My agent also represented Pat, and I received a very generous quote.
My mother was ecstatic that her son had got the attention of the fabled Pat Conroy. When I told him that his kind words about my book had made my mother cry, he said, "Good. I love to make women cry."
I knew what he meant. I, too, want to touch the hearts of my mostly female readers.
In 2015, I was blessed with the opportunity to share the stage with Pat at Georgia's Decatur Book Festival. It was just the two of us. I had no illusions about whom the overflow crowd had come to see. People had flown in from all over the country to be in the same room with the man who made them cry.
After the session, Pat and I were being shuttled to the tent where we were to sign books when he shouted to Marly, "This boy beat my ass up there on stage!"
He listened to them like family. He never acted rushed, even with people clamoring to get to him. Pat had true communion with each person.
It was true, I did get folks laughing a time or two, but I also I knew who they'd be talking about over supper tonight. It sure was nice of him to say, though.
After exiting the cart, we both took to our chairs behind a table where we were our books were stacked.
Pat's line snaked around the block. His fans hugged to their chests every book he had ever written, many torn and tattered from repeated reads. I may have had five people in my line. That's not counting the folks who figured out that by standing in my line, they could get close to Pat.
He saw what was happening and called Marly to his side. I heard him say, "Don't put him through this."
I knew what he meant. I've been seated next to famous authors before, and it is quite humiliating, being overlooked like bad fruit, hoping and praying someone will come stand in your line, even if they are event staff checking to make sure you had enough Sharpies. Not one of those authors, by the way, took any notice or else didn't care about my embarrassment.
But this was different. I had never seen anything like it. As fans came up to Pat, they talked to him like an old friend who knew everything about them. About their families. About their pains and tragedies. But the amazing thing was that he listened to them in turn like family. He never acted rushed, even with people clamoring to get to him. Pat had true communion with each person.
It was one of those moments when there is no room for jealousy or shame or measuring yourself against another. The moment was too full of grace.
To me it was a sacred moment, the fulfillment of the spiritual connection that is possible between author and reader, on full display before me.
No, you couldn't drag me away.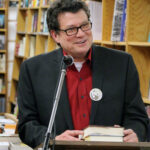 Jonathan Odell is the author of three novels, Miss Hazel and the Rosa Parks Club (Maiden Lane Press 2015), The View From Delphi (Macadam Cage 2004), and The Healing (Random House 2012). His essays, short stories, and poetry have appeared in The New York Times, Commonweal, Publishers Weekly, and others. He lives in Minneapolis with his husband.