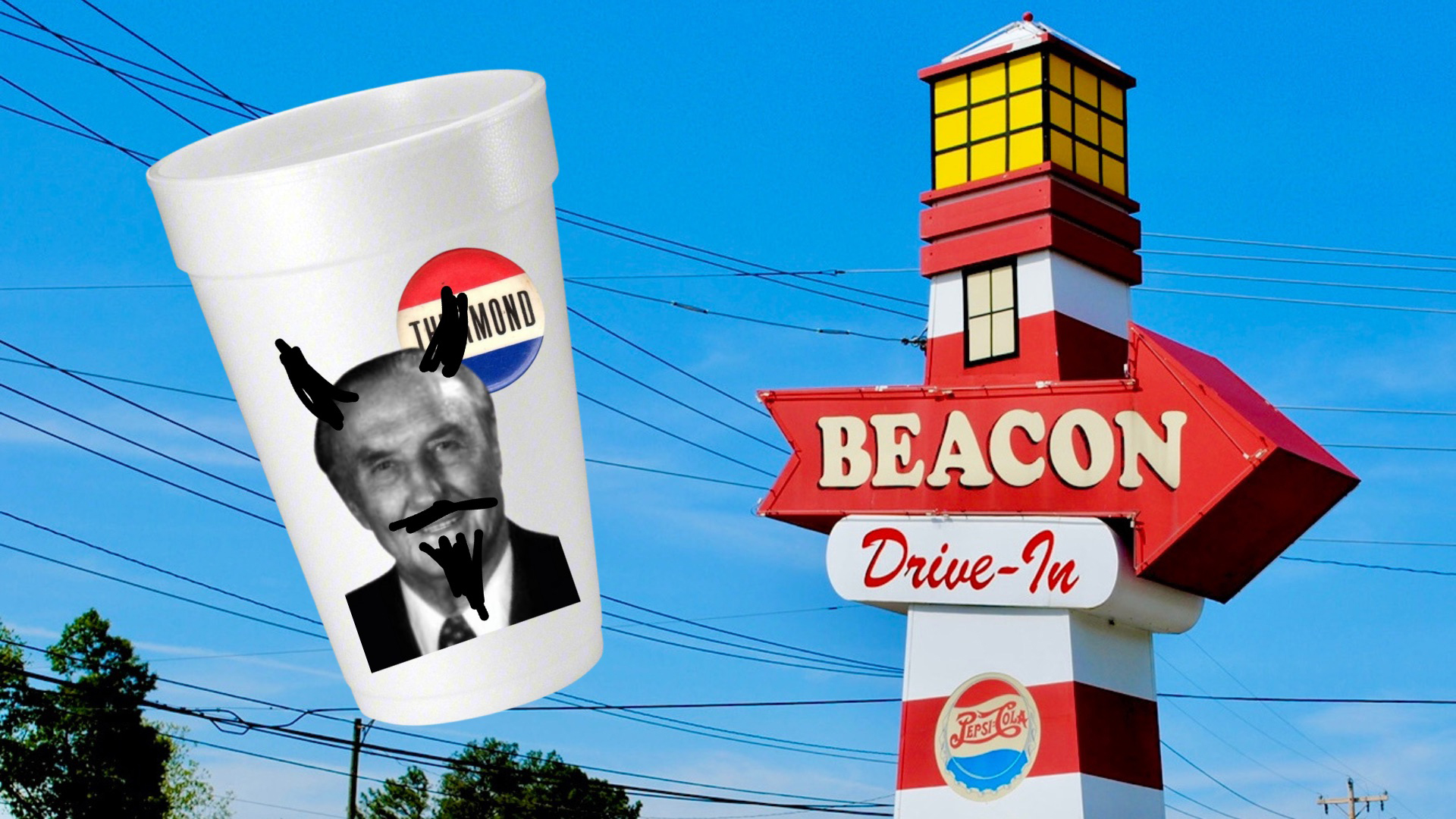 That Time Strom Thurmond Almost Ruined My Family Day
Trips to Spartanburg's landmark Beacon Drive-In were a beloved ritual. But in election years, the wrong politician's face on a cup of sweet tea could ruin the whole day.
A Saturday with Daddy, Mama, and Sissy was rare. Daddy was a real road cowboy, riding the interstates instead of bucking bulls. Mama was either cleaning the house or performing her financial wizardry on our blue-collar budget. Sissy's job was to entertain me. She would get down on the floor and balance my soft toddler belly on her feet to play the game she lovingly called "Airplane." Or she would play old church hymns on the piano, so I could pretend to be a famous dancer scooting across our harvest gold carpet complete with a sculpted flower design.
But once a month, a rare Saturday would bring us all together with no interstates, no cleaning, and no entertaining responsibilities. First order of business was getting everyone in the car. This involved Daddy grumbling, "Get in the goddamn car," exactly five times before we would all get our goddamn selves into the car. Sissy would be last. Sometimes she landed in the backseat with only one eye done up with eyeshadow. Daddy didn't care. He had a plan and a schedule for the day.
First stop was the Thunderbird Flea Market. It was a veritable circus for oddities and curiosities. But my favorite part was getting to pet a chicken. So many chickens in cages, just waiting on my chubby hands to pet them. And if you were lucky, sometimes there would be a dog to pet, too.
Daddy and Mama were on the hunt for antiques. Daddy liked glass, and Mama searched for blue enamelware. But the real draw was the food. It was an exotic market slapped right down in the middle of Spartanburg, South Carolina. Immigrants cooked foods from around the world: meat cooked on a stick and shaved off in front of you, fruits with seeds inside you could eat, and so many types of Vietnamese Bánh Cam — deep-fried, sesame seed-covered buns stuffed with eggs and a sweet, sticky sauce. Sissy and I were in food heaven, but we were just getting started. The food at the flea market was our amuse-bouche before the main event.
Daddy's signal that it was time to go was when I would cross my legs and whine that I wasn't going to pee in that port-a-potty. We would pile back into the car and head off to our next destination. And boy was it a good one. I would smell the french-fried onions before we'd even made it to the parking lot. We were heading to the Beacon.
The Beacon Drive-In opened in 1946, and it is so famous that there's a billboard out in California telling you how many miles you are from a chili-cheese a-plenty and world-famous Southern style sweet tea. But the best part for me was Mr. J.C. Stroble — an Arkwright native and the South's ambassador of fried food. He took your order, and he took it as soon as your foot crossed over the threshold.
If it was an election season, then there might be an old white guy plastered across your Styrofoam cup in the hopes you'd remember that name when you were in the voting booth. Daddy hated this.
Mr. J.C. would yell out, "Call it!"
Daddy would say, "That's your signal. Tell him what you want, baby."
I prided myself on being fast and efficient, so as not to slow down Mr. J.C.'s line. And as soon as the words "cheeseburger a-plenty plain" (a burger buried under onion rings and french fries) would leave my lips, Mr. J.C. would shout it back to the kitchen in his famous drawl. It was magic.
One other thing the Beacon was famous for was being political. If it was an election season, then there might be an old white guy plastered across your Styrofoam cup in the hopes you'd remember that name when you were in the voting booth. Daddy hated this.
After we'd place our order, Mama, Sissy, and I would hold our breath until we shuffled down toward the sweet tea service. This is where all those Styrofoam cups were lined up loaded with shaved ice and waiting to be poured full of sugary goodness.
One Saturday we shuffled down, and there was Mr. Strom Thurmond staring back at us from those damn cups. Mama froze. She made no sound. I was little, but I understood that someone had to save this day. We couldn't let a rare Saturday be wasted, especially because of some old politician. Daddy had already snagged us a table, so he hadn't seen the cups yet.
I watched with wide eyes as Sissy grabbed the sweet teas and ferried them to the condiments and napkin station. Mama and I followed closely as if we were shielding Daddy from the sight of Strom Thurmond himself. My eyes followed Sissy as she asked the cashier for an ink pen. She took that pen to Strom Thurmond's face, and the next thing Mama and I knew we were staring at the devil himself. She'd given him some horns, a goatee — even a pointy tail and a pitchfork. Pure artistry.
Mama and I both clapped our hands, giving her drawing the applause it deserved. Sissy carefully placed the teas on the tray with the faces pointed toward her. She set down the tray on the table, and before she could deliver to Daddy his specially doctored cup of sweet tea, he grabbed another, with Strom Thurmond's unadorned face on it.
"Goddamn it! I don't want to drink out of a cup with him on it!"
Sissy quickly took the tea from Daddy's hand and replaced it with her doctored-up version of old Strom. Something tugged at the sides of Daddy's mouth — almost like his moustache was tickling him or something. Then he threw his head back and a belly laugh escaped. Sissy had saved our Saturday.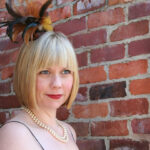 Rather than go to therapy, Katy Goforth writes stories and hopes that her friends and family don't realize they've become her characters. When she's not writing, she's traveling the country following her favorite musicians and collecting oddities. She was born and raised in South Carolina and lives in Anderson with her spouse and two dogs, Finn and Betty Anne.