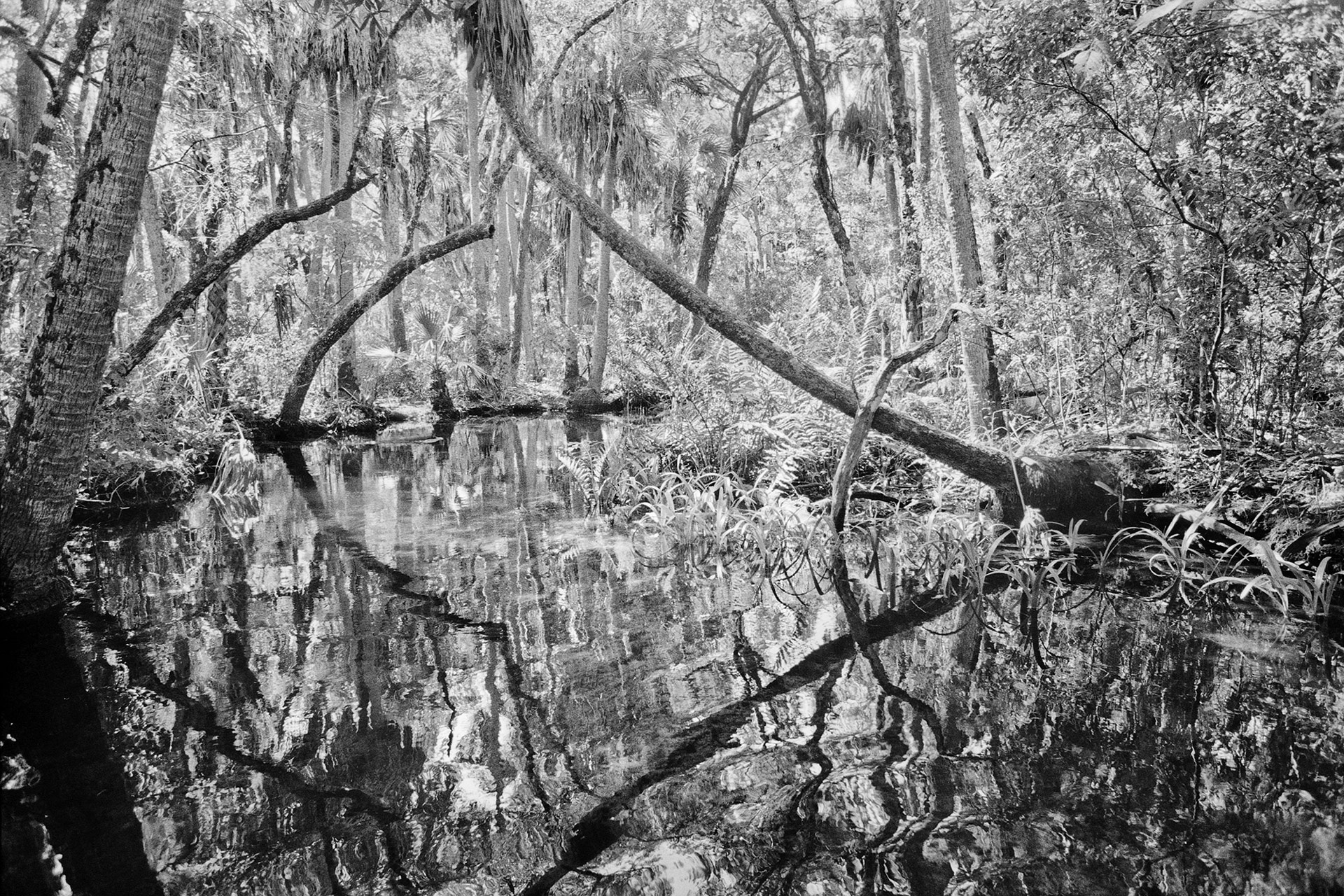 Benjamin Dimmitt has photographed Florida's swamps and creeks for decades. His images deliver an unvarnished look at the ravages of climate change.
EDITOR'S NOTE: This summer, I learned about the work of a native Floridian photographer named Benjamin Dimmitt. For four decades, Dimmitt has paddled the creeks and swamps near the little town of Chassahowitzka, in the Big Bend of Florida, north of Tampa. Over the years, he saw these pristine tropical environments deteriorate, thanks to global warming and overdevelopment. In two weeks, UGA Press will publish a book of Dimmitt's photographs, which dramatically illustrate the collapse of what were once some of Florida's most beautiful landscapes. The photographs and words here are all drawn from that book, An Unflinching Look.
—Chuck Reece
My first visit to the Chassahowitzka National Wildlife Refuge was in 1977 when a friend asked my brother and me to join him fishing there. I'd never seen such a massive estuary.
Crystal-clear water rose up out of springs, moved slowly for five miles through a hardwood swamp, then through brackish marshes and out into saltwater bays. I grew up in Clearwater, only seventy miles away, but this part of the Gulf of Mexico coastline was new to me; I had never seen a Florida coast without a beach or barrier island.
In 1985, I returned to Chassahowitzka with a companion to spend a day canoeing. We were dropped off at a small blue spring deep in a forest, and we paddled all day through shallow, pristine creeks and thick palm hammocks, returning to the launch ramp just before dark. I was captivated by this quintessentially Floridian environment.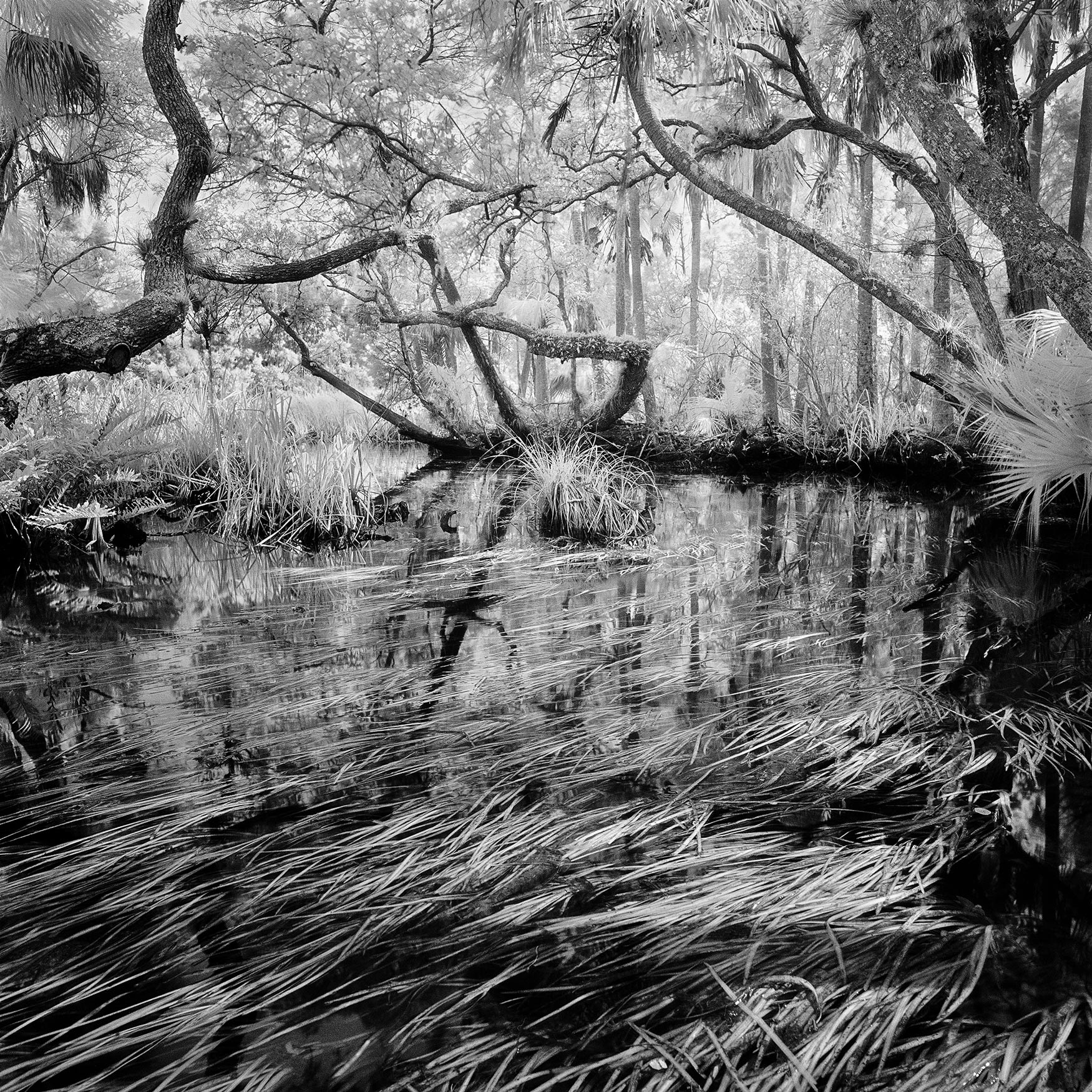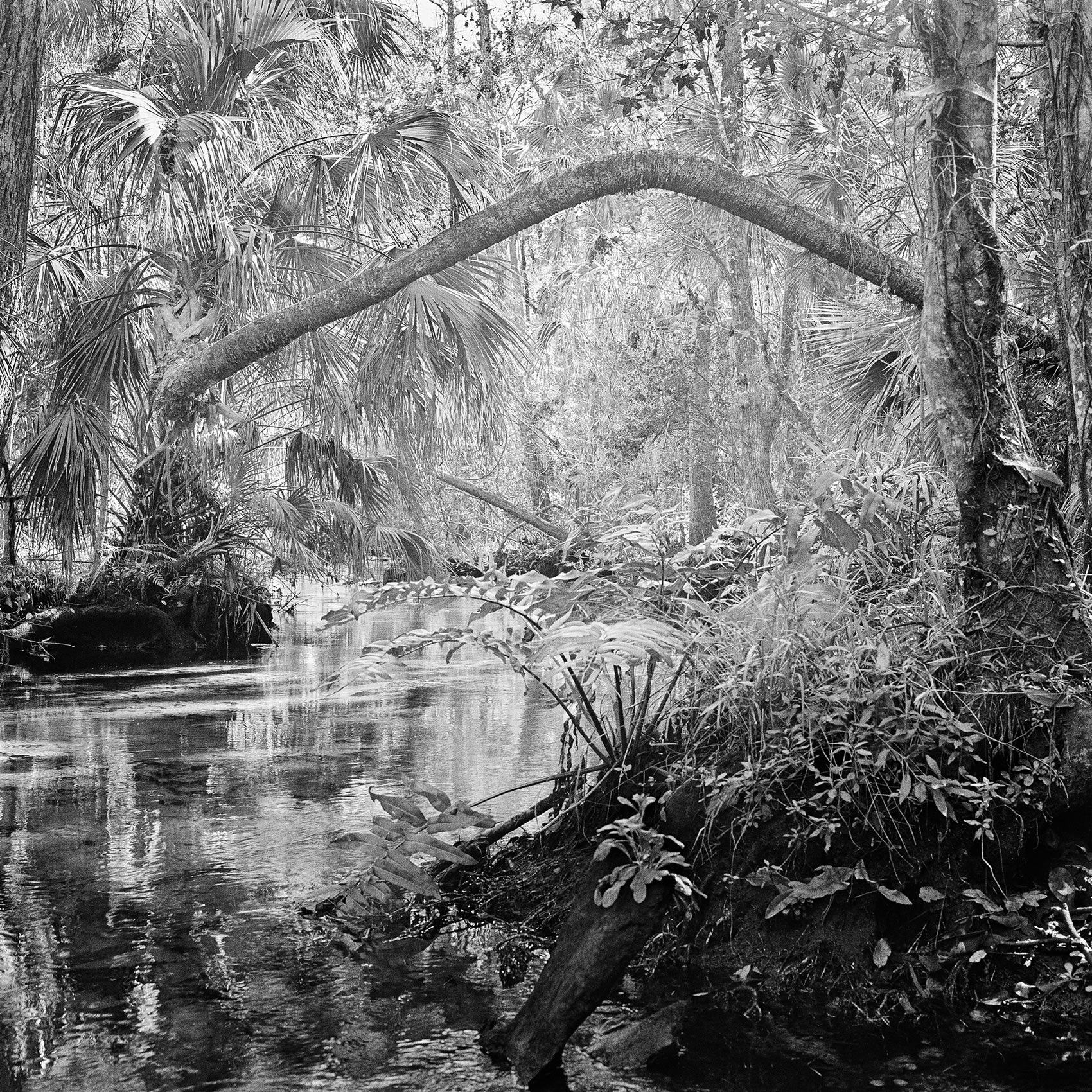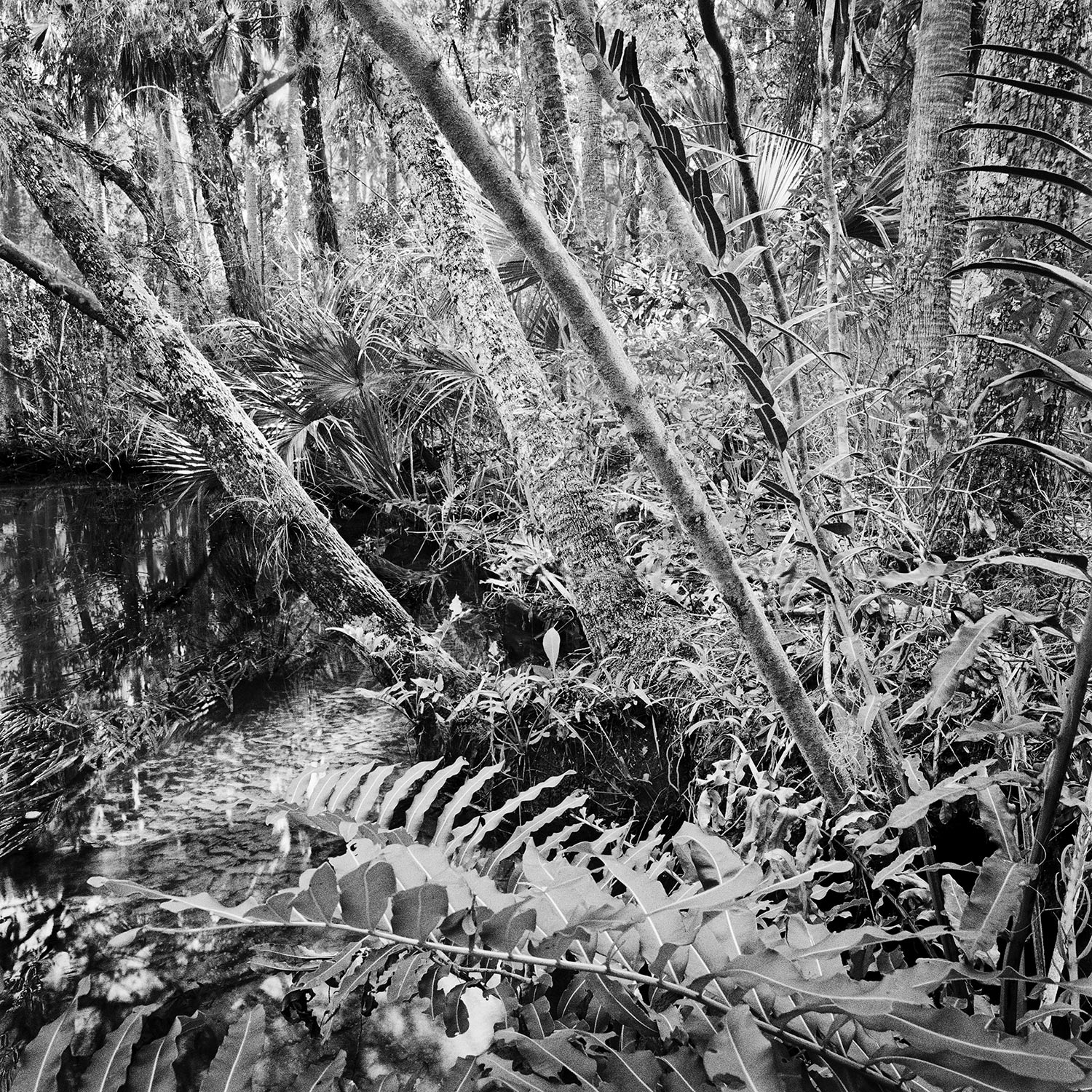 Upper Blue Run Creekside, 2004

Around the same time, friends built a cabin on pilings at the edge of the wildlife refuge. I began visiting regularly to paddle and to photograph. In 2004, I began a photographic project titled Primitive Florida that explored low-lying areas in Florida that I felt were vulnerable to storms, rising seas, and development. The Chassahowitzka became a favorite subject for that project.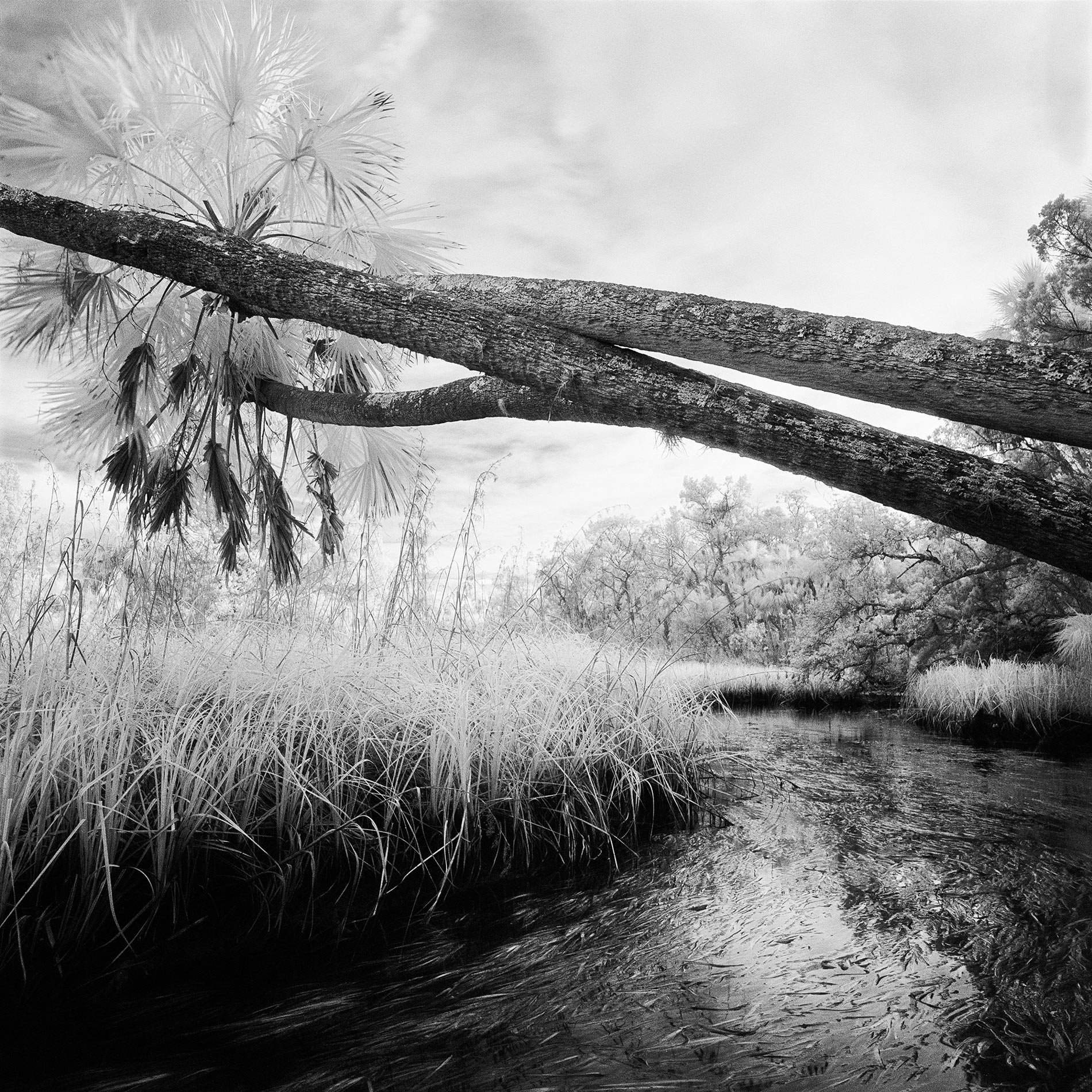 Horizontal Palms and Creek, 2004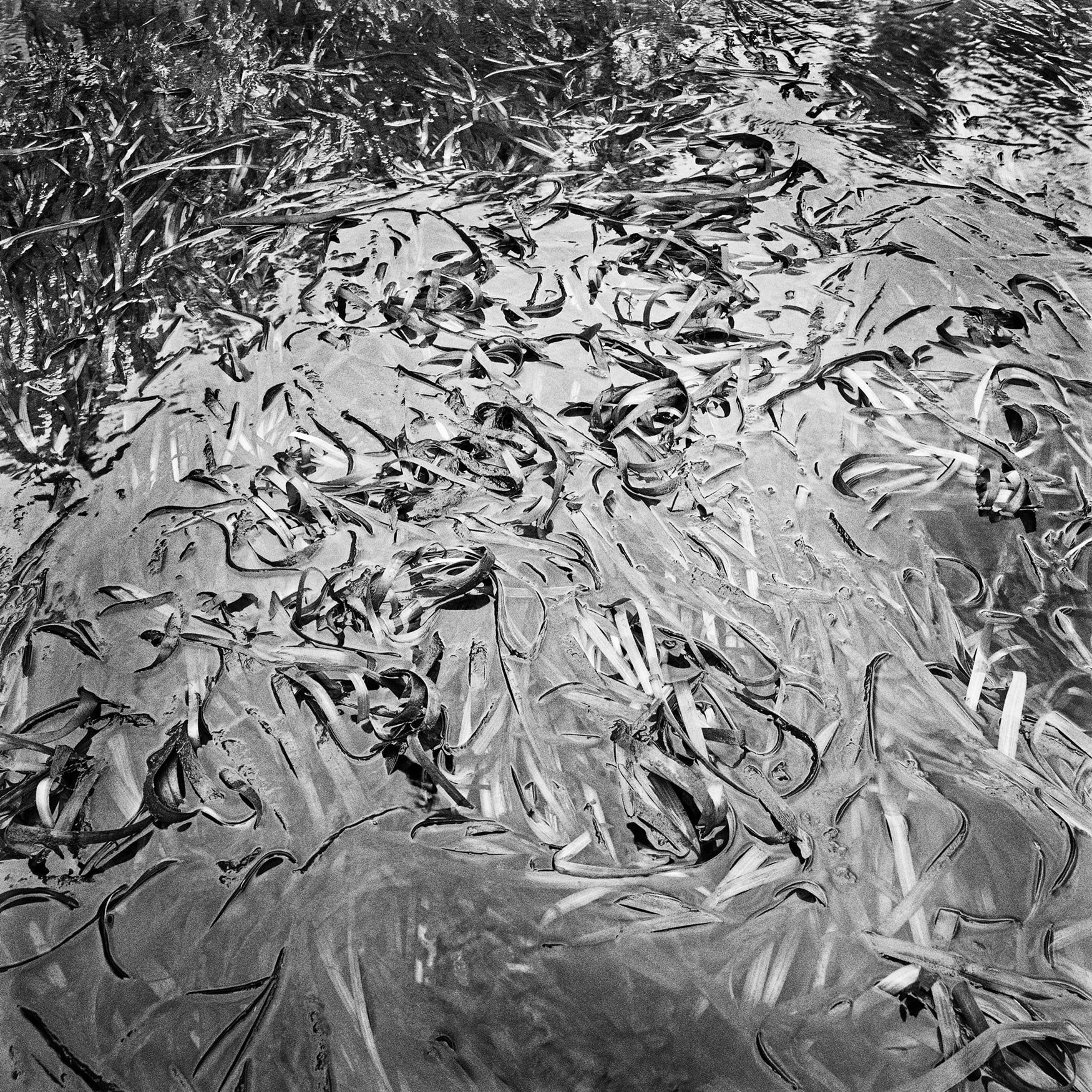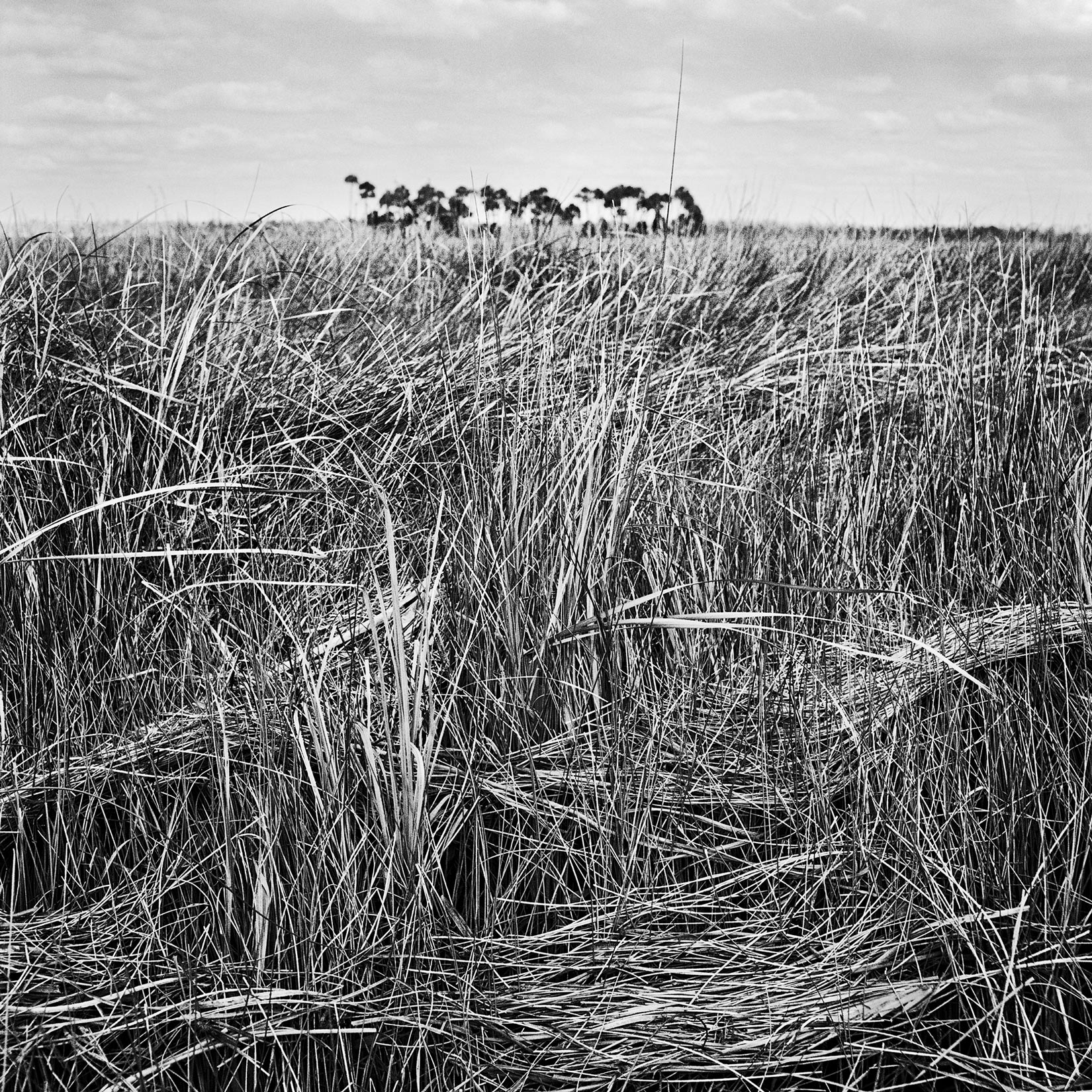 Chassahowitzka a century ago
Chassahowitzka is a small town about sixty miles north of Tampa on Florida's west coast. It is situated at the head of the spring that feeds the river of the same name. There is very little written about the history of the Chassahowitzka area. Native Americans lived nearby on higher ground and fished and hunted in the waters and forests of the swamp. Ceramic pots, arrowheads, and shards dating back ten thousand years have been found in the primary spring and at a burial mound nearby. The name "Chassahowitzka," meaning "pumpkin hanging place," was given to the region by the Seminoles. 
In 1910, the logging and mill town of Centralia was established for seventeen hundred workers and their families. Tidewater Cypress Company built railroad trestles into the swamp so that the virgin forest of prized cypress trees could be harvested and processed at the mill. At its peak, the mill produced one hundred thousand board-feet per day. After all the cypress trees were cut, red cedar trees were logged to make pencils and cigar boxes. In 1926, when all the accessible and usable trees were removed, the sawmill at Centralia closed and the company moved up the coast to harvest more virgin forests. The remains of the mill town disappeared during the Great Depression.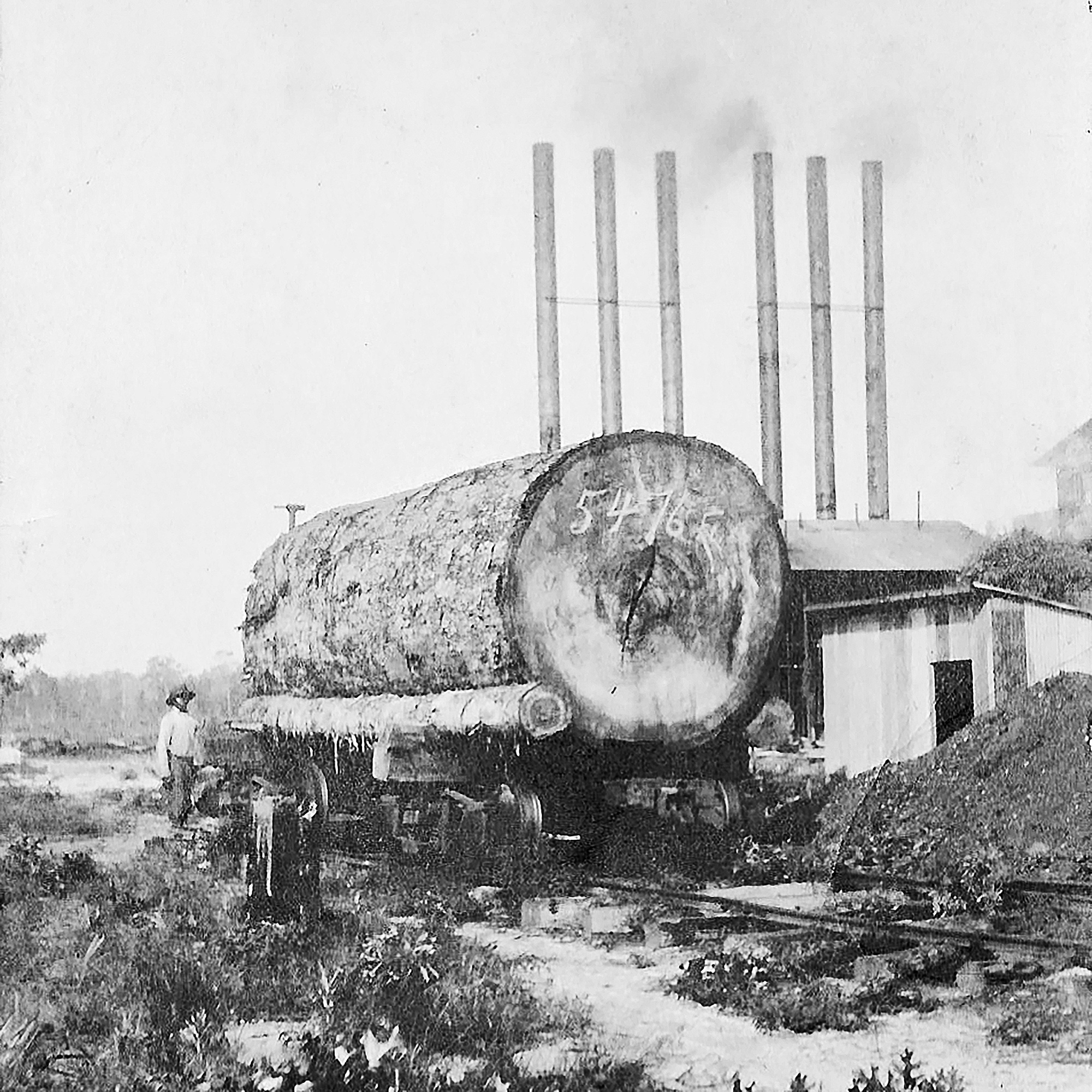 Centralia Mill & Log, unidentified photographer, 1912
"One day in 1912, the Centralia sawmill received its largest log, a cypress timber that yielded 5,476 board feet of lumber. For several weeks the tree's gigantic top was displayed on a flatcar for people to marvel at." St. Petersburg Times, April 11, 1977. Photograph courtesy of Sid Taylor.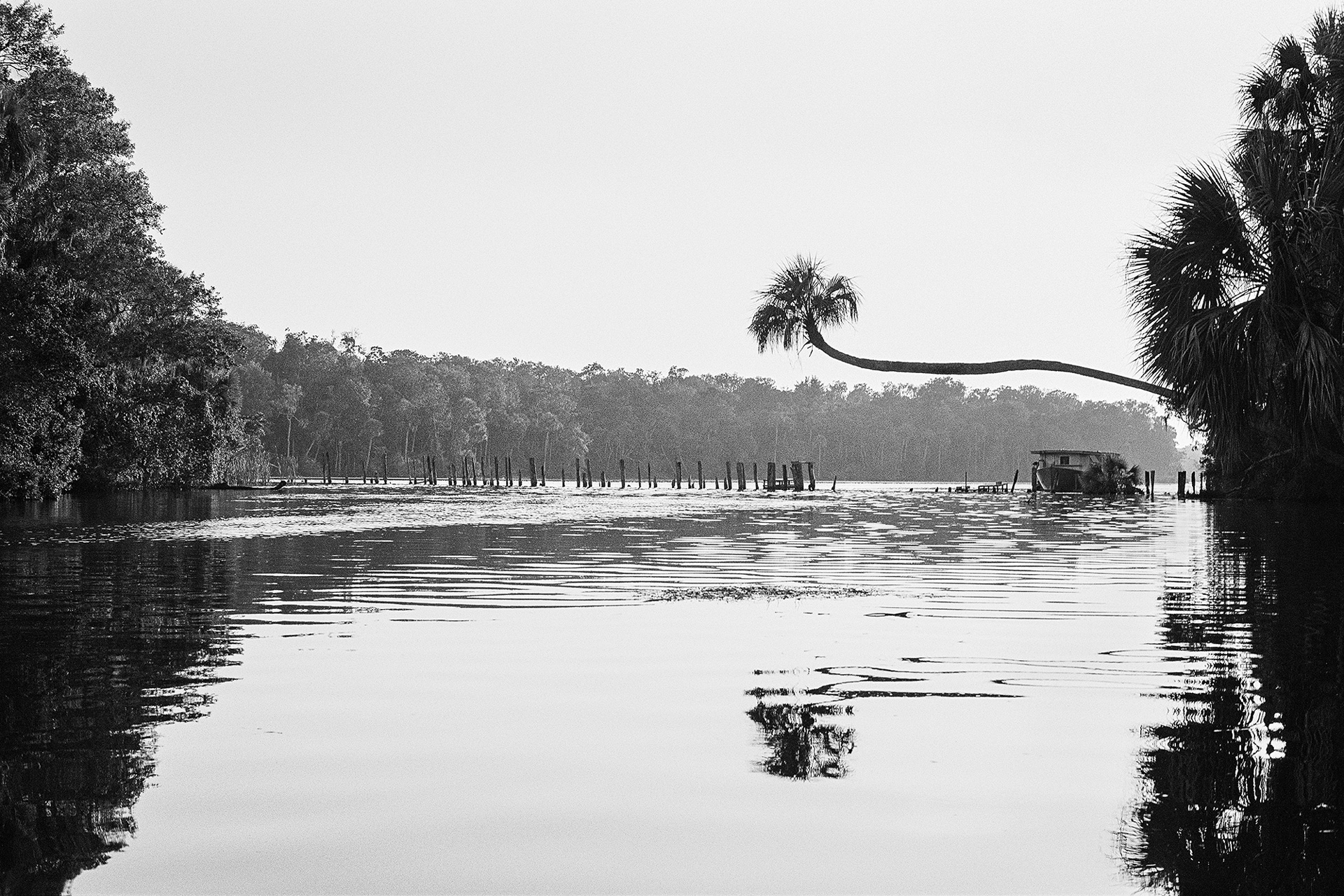 Chassahowitzka River Trestle, 1977

I first noticed the thinning of forests and the increasing number of dead trees in 2014. I hadn't been to the swamp in two years, and the damage from the encroaching salt water horrified me. This is my native landscape and the environmental damage was heartbreaking to behold. My first response was to paddle out and photograph the deforestation. 
What had been verdant, semitropical forest has become an open plain of grasses relieved by dying palms and dead hardwood trees. Sabal palms are the most salt-tolerant trees in this ecosystem and are the last to expire. This saltwater intrusion is a widespread phenomenon, occurring all along the Big Bend section of Florida's Gulf Coast, from Weeki Wachee to St. Marks.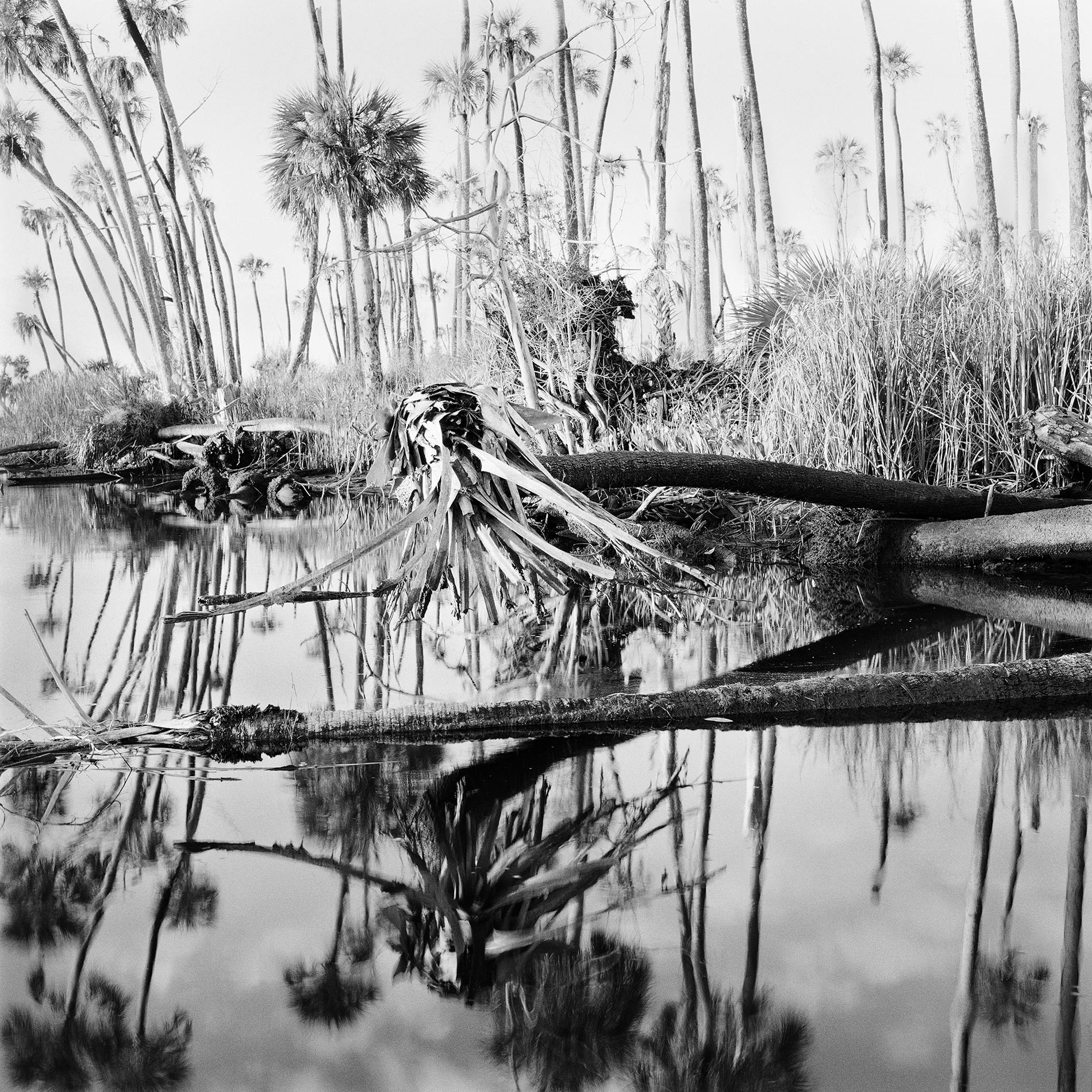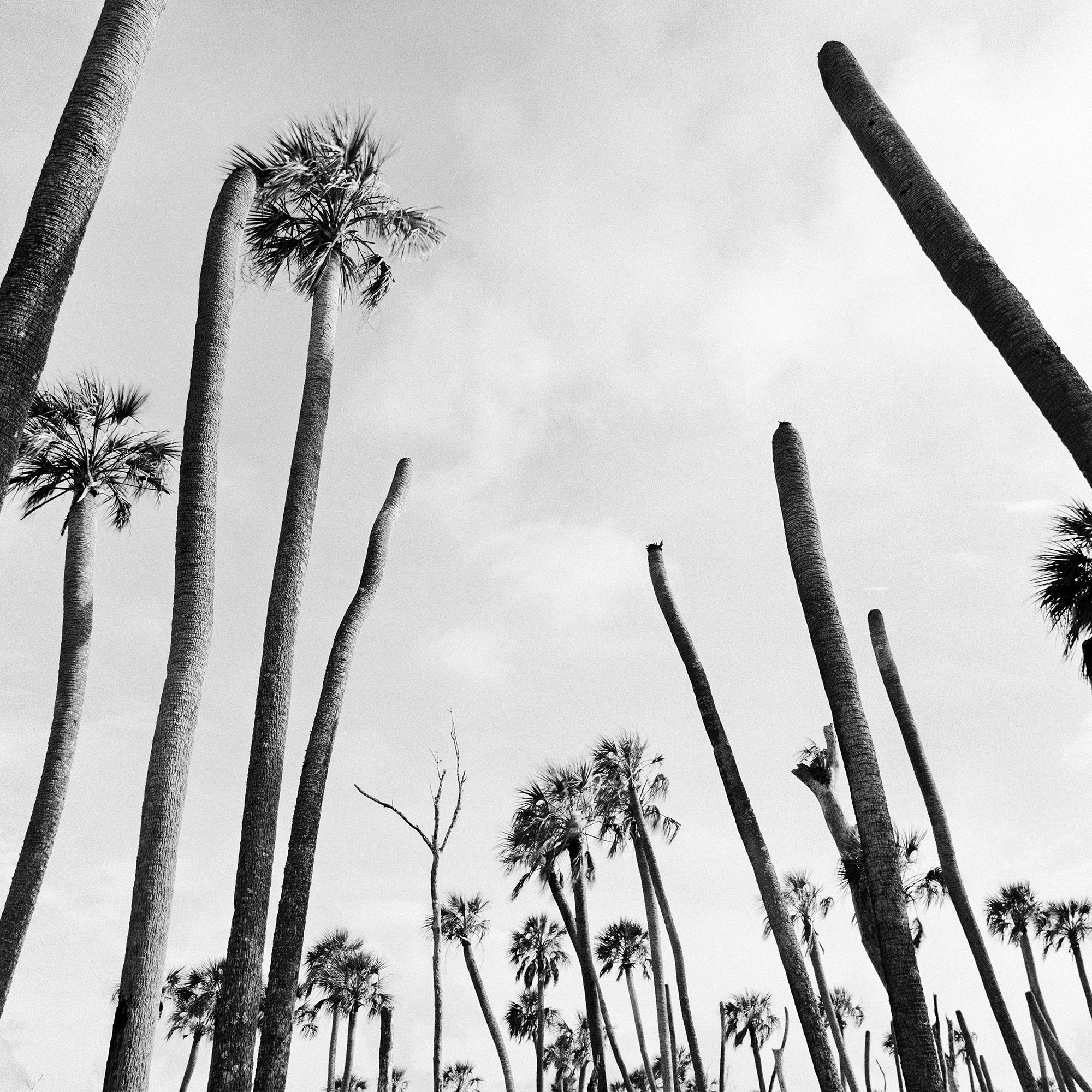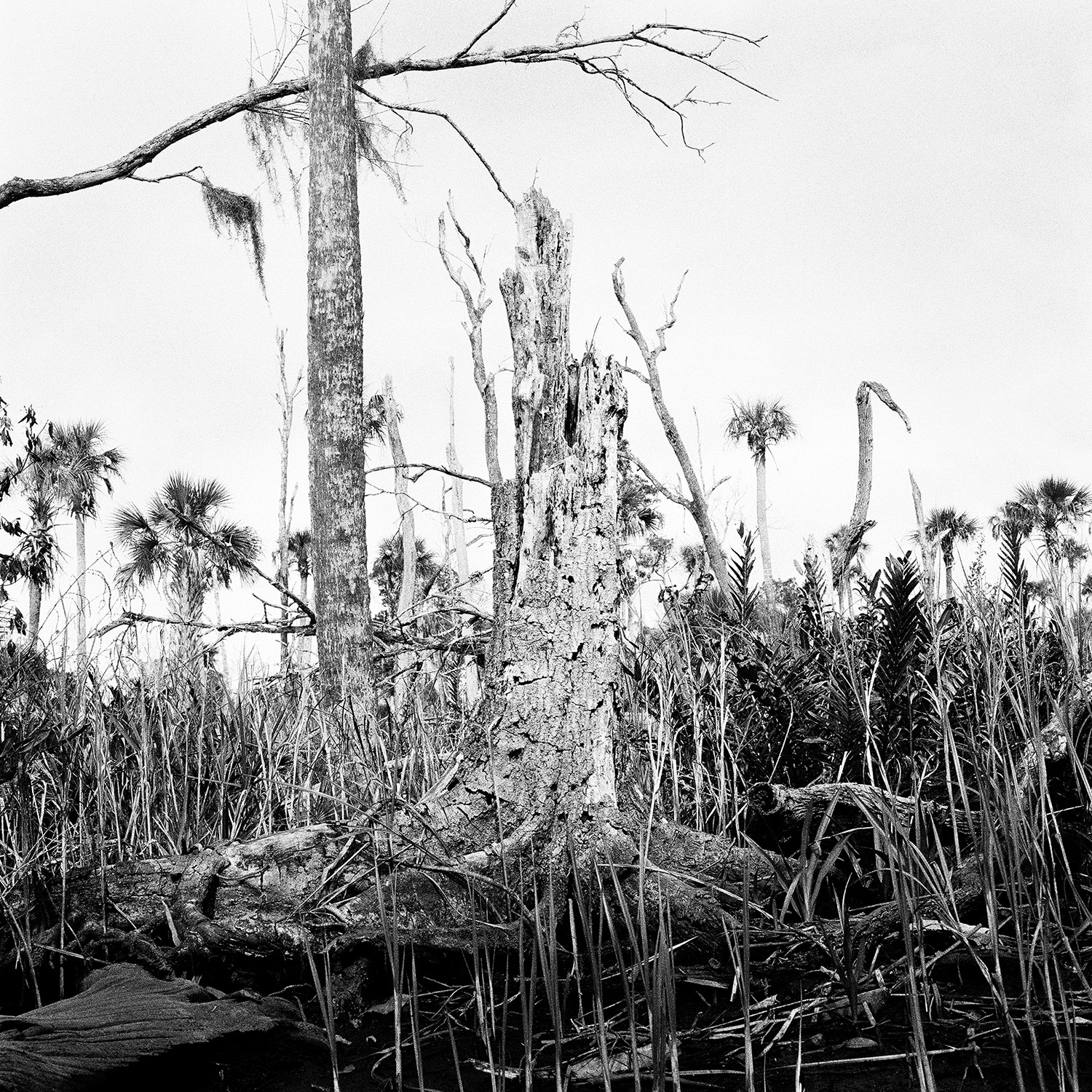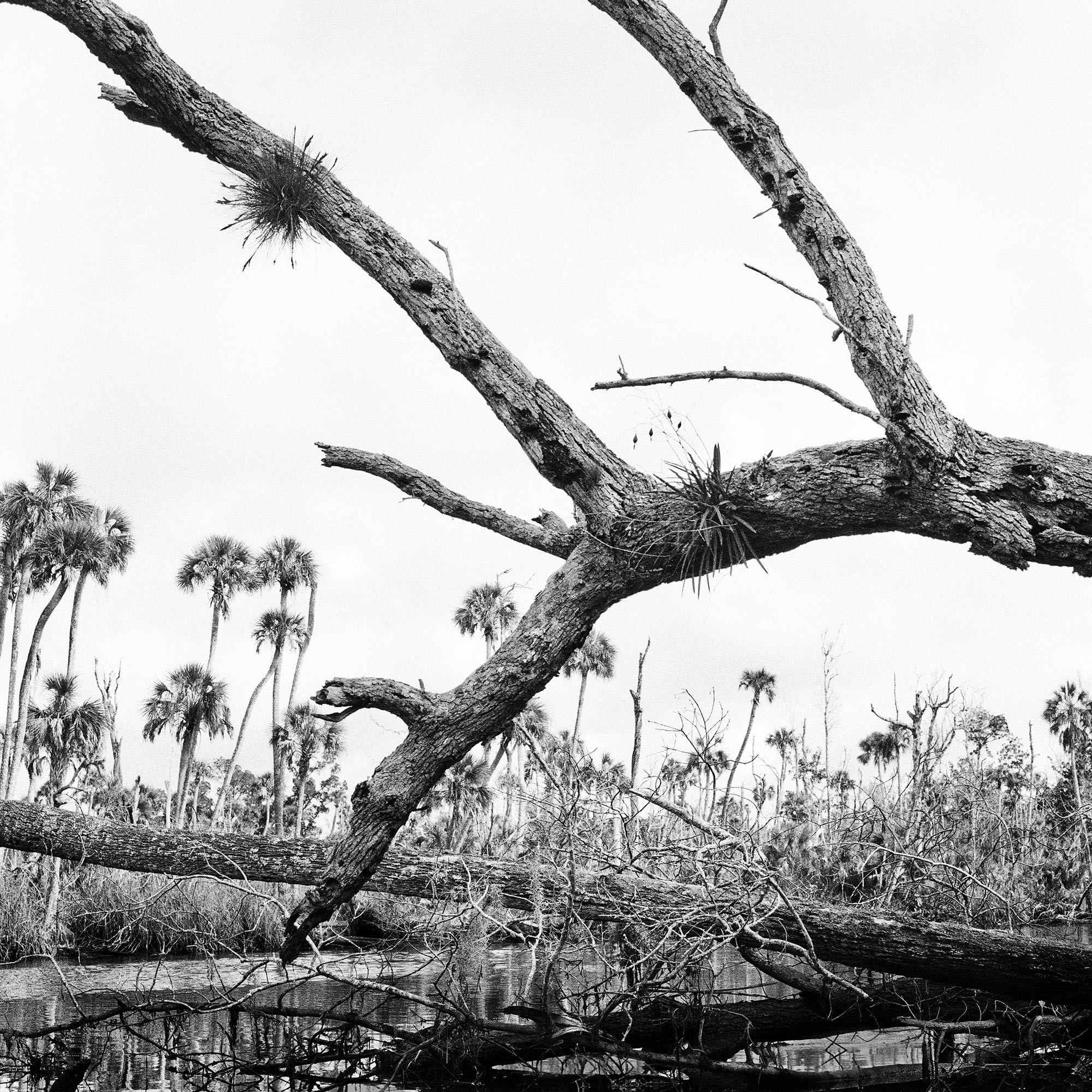 Dead Tree Hosting Orchids and Air Plant, 2015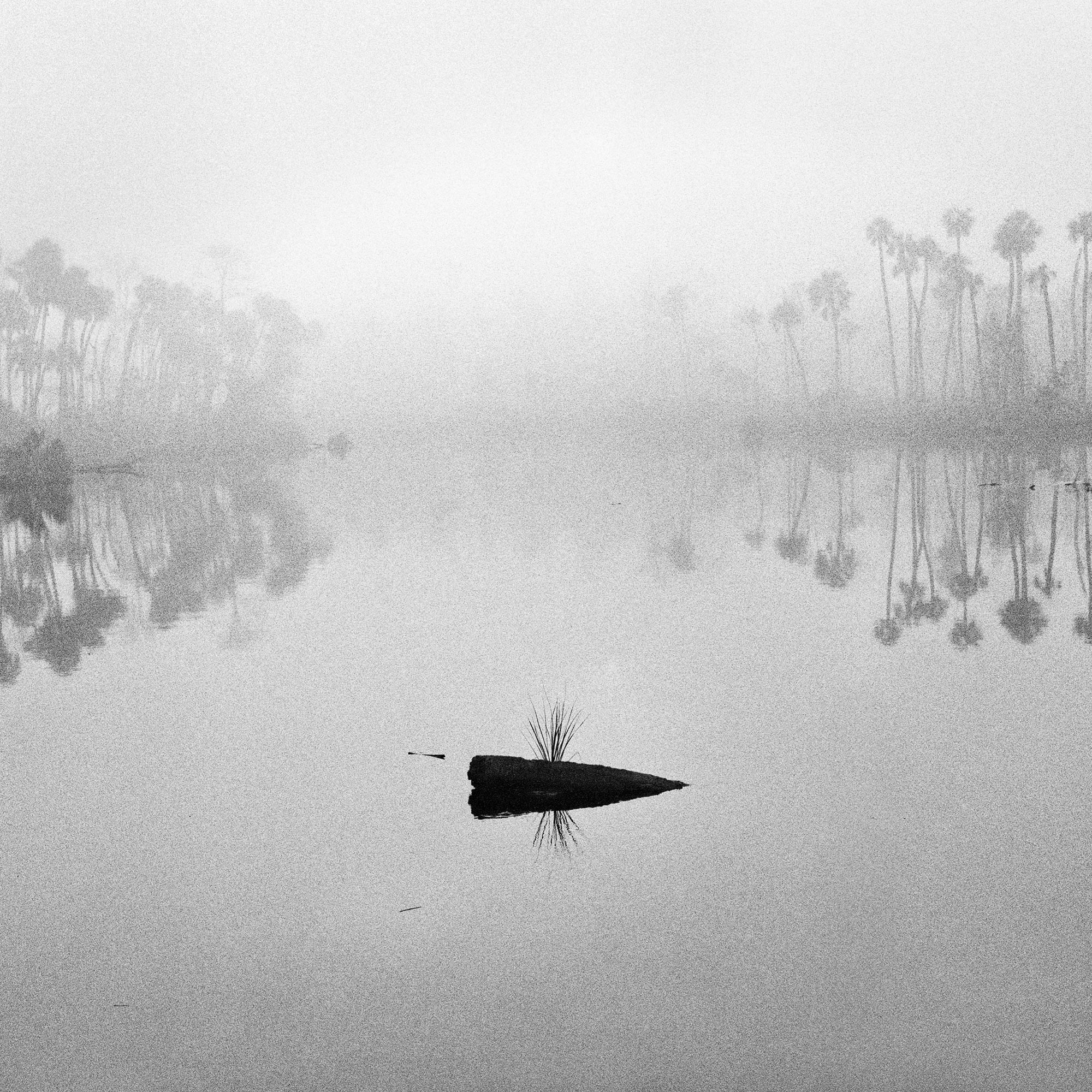 In 2014, I began photographing in the salt-damaged saw-grass savannas and spring creeks at the Chassahowitzka as a way of examining and reckoning with the ecosystem loss and of understanding what was becoming of my native Florida. I narrowed my focus to a small, remote area that I love and know well. My intention in bearing witness to this loss has been to portray the ruined landscape with passion and beauty. To help document the progress of the saltwater intrusion, I have rephotographed landscapes that I first photographed as many as thirty-six years ago. These rephotographic diptychs are difficult to produce, since my old film cameras don't have GPS to guide me to the exact location of my archival photograph. Most often, I use the trees in the earlier photograph to help position myself for the follow-up photograph. Unfortunately, the deforestation caused by rising sea levels has killed off many of these locator trees. When presented together, the two photographs become one grim fact.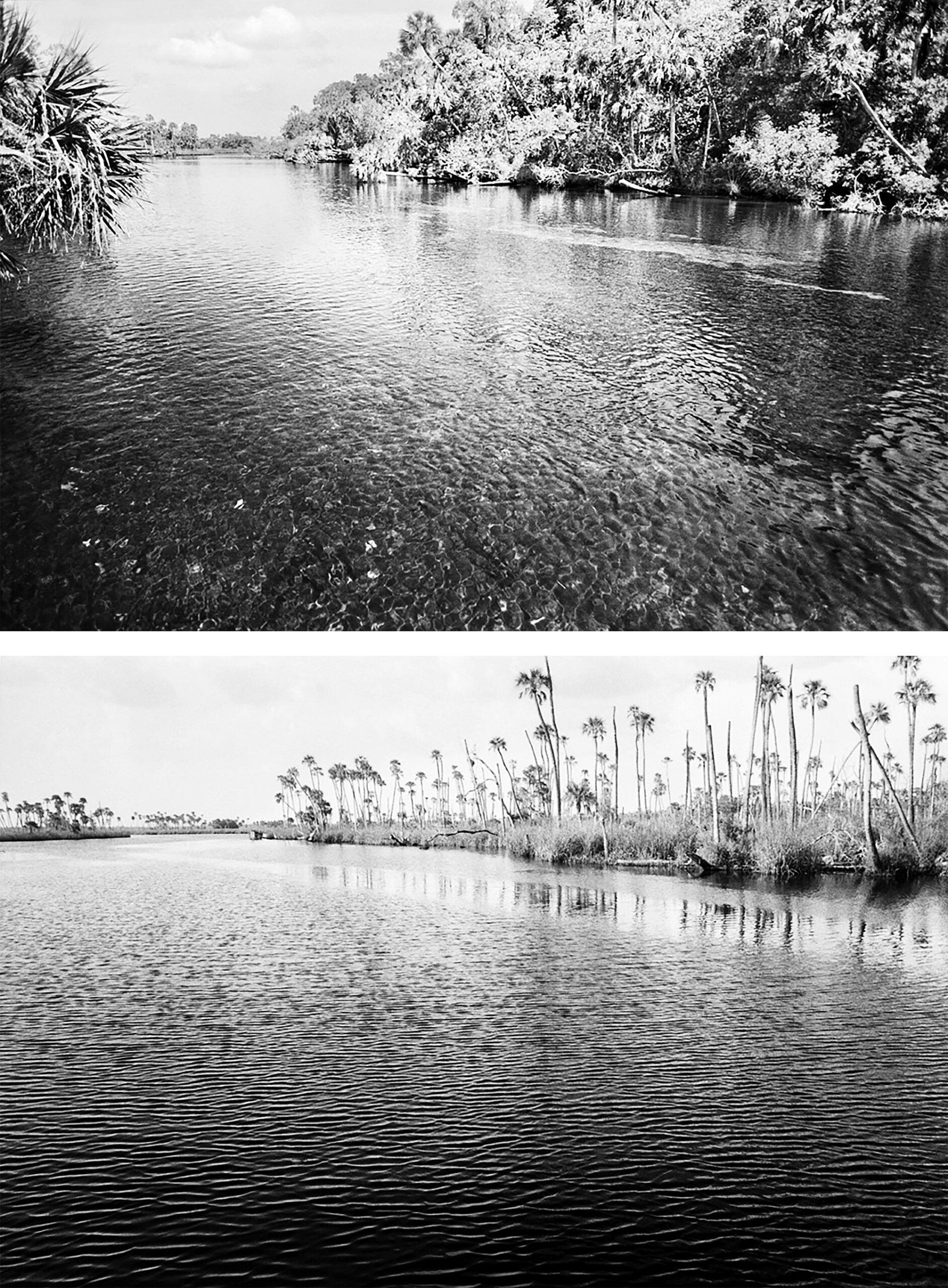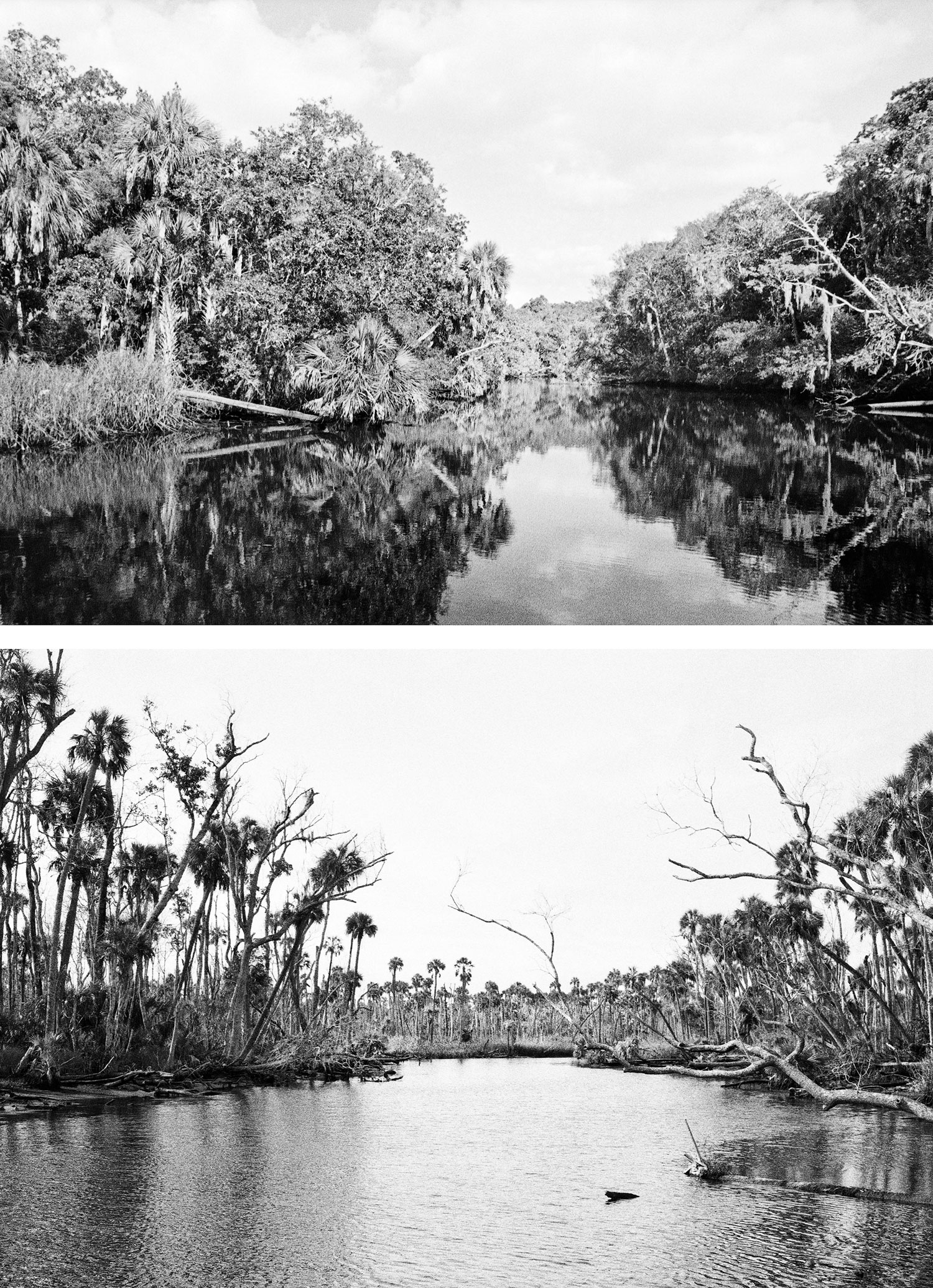 Lower Crawford Creek, 1988-2014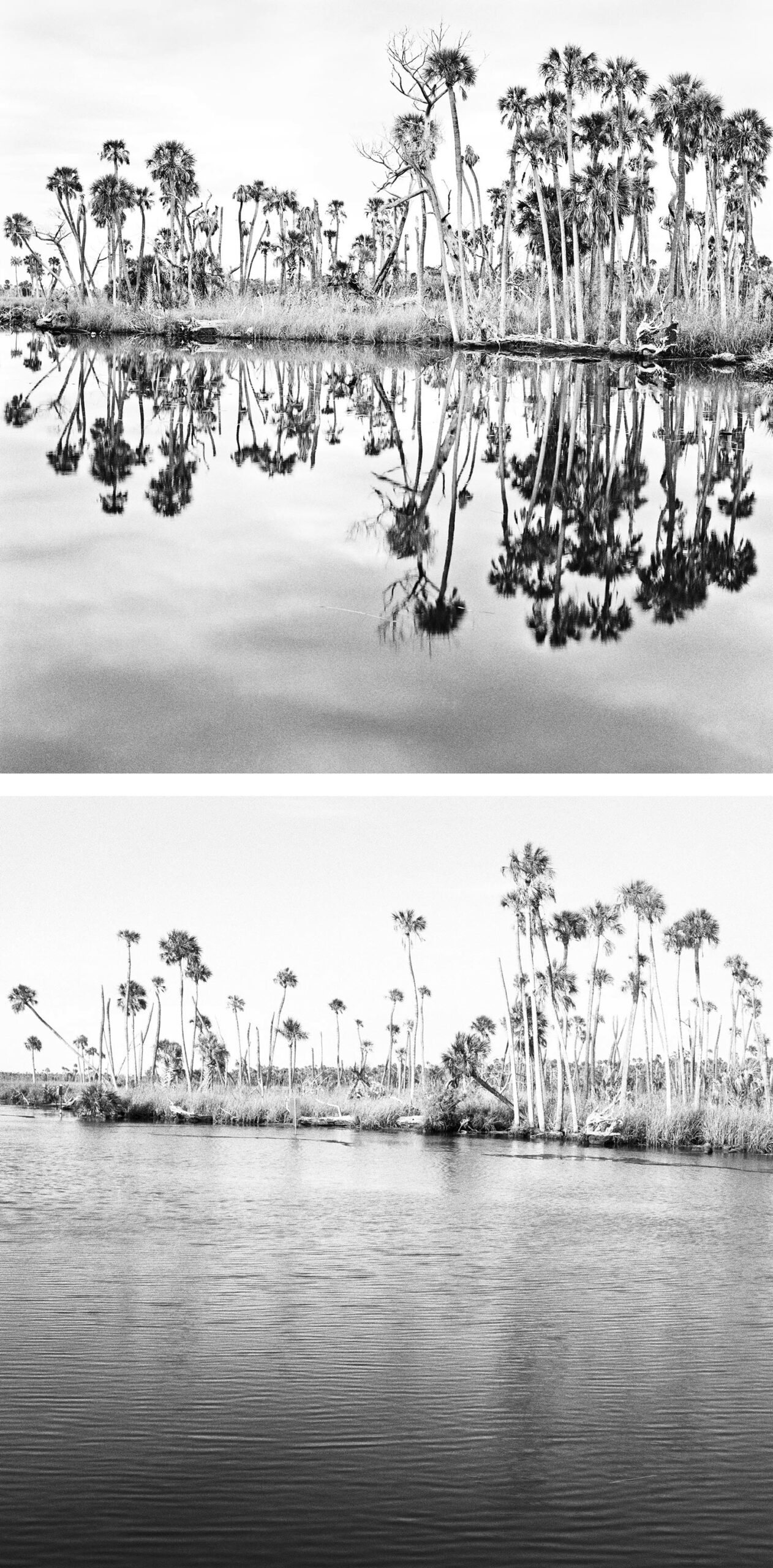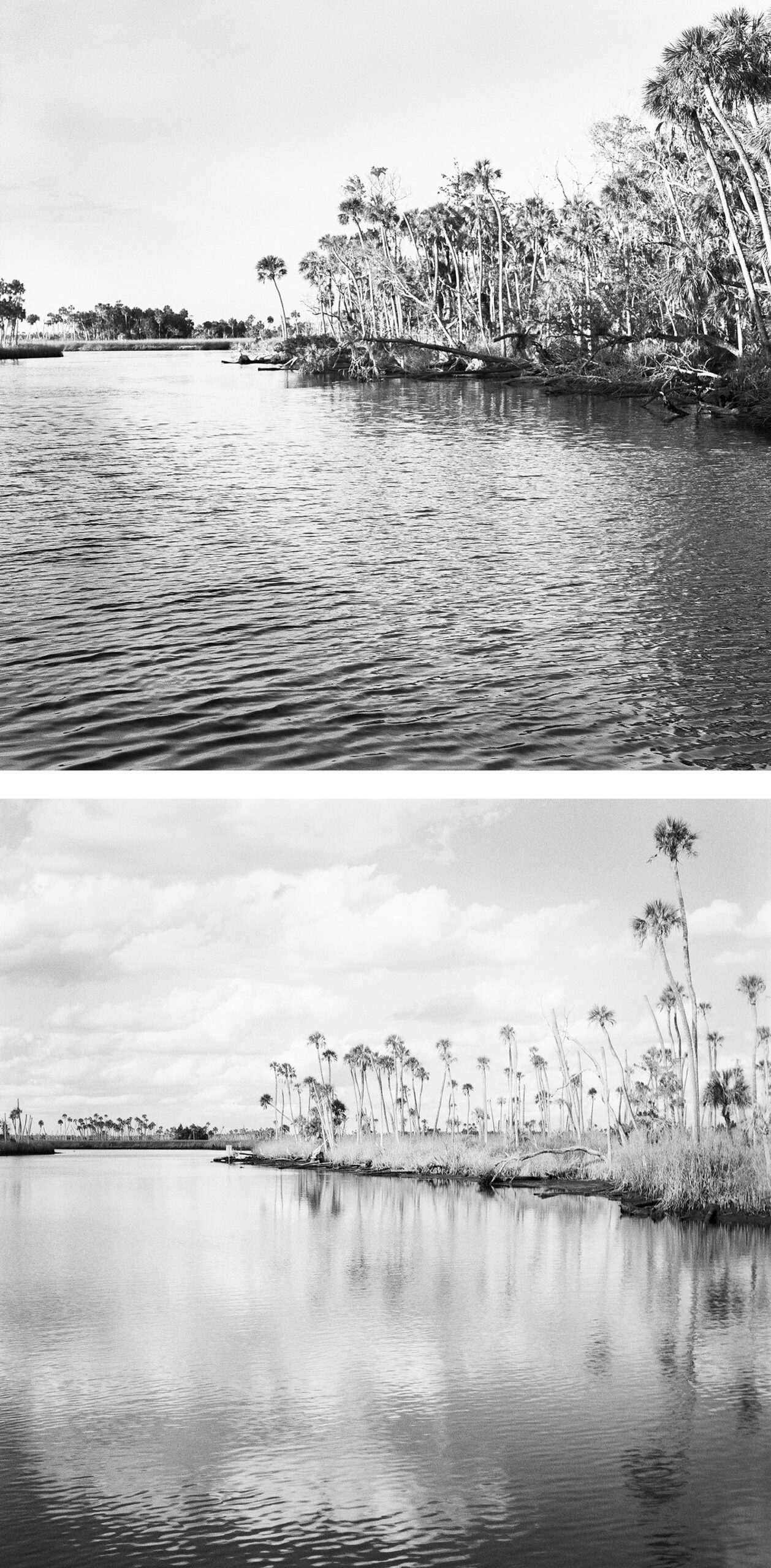 View Downstream, 2004-2022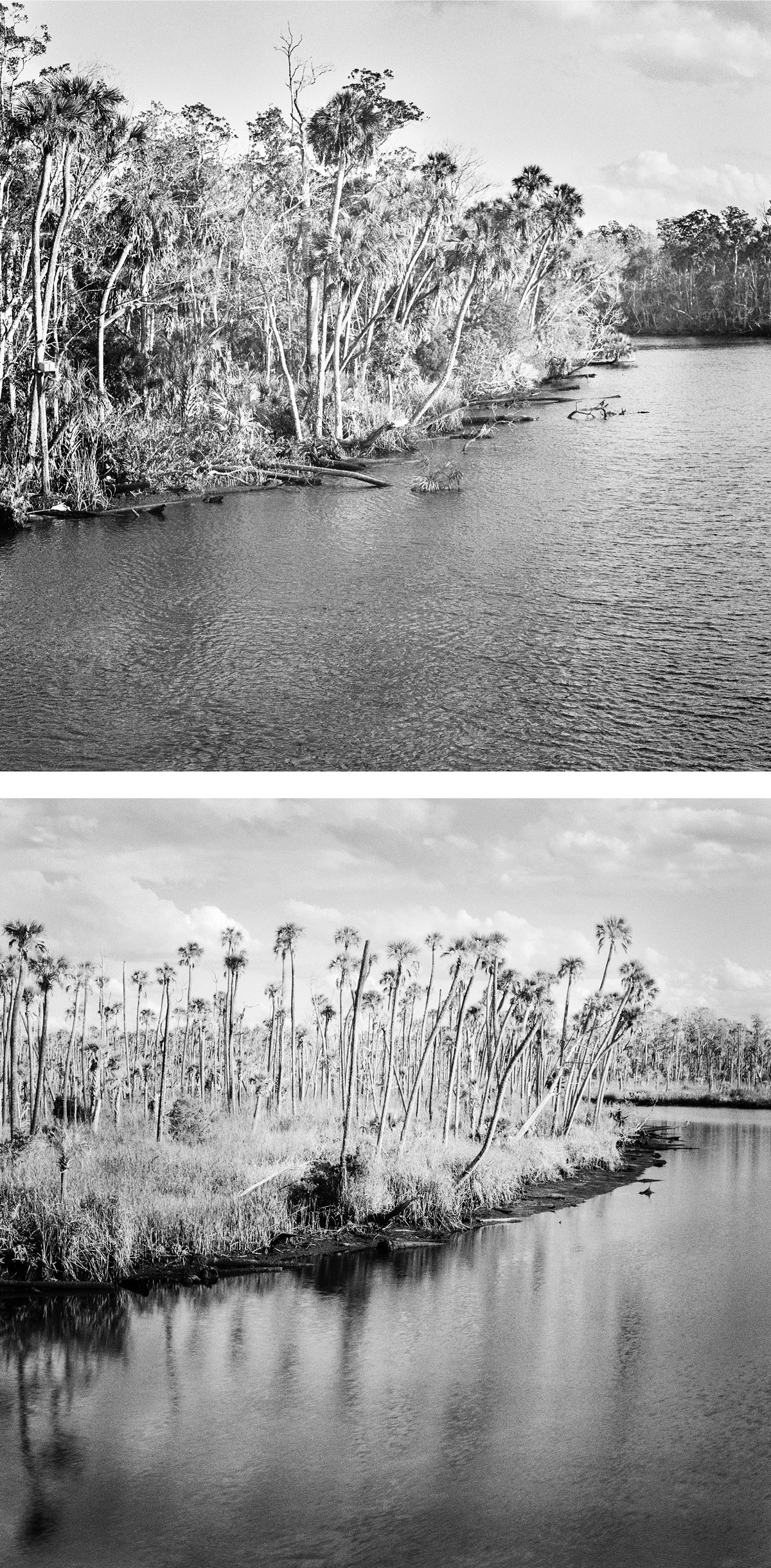 "When Benjamin Dimmitt fell in love with the Chassahowitzka, he never guessed it would one day break his heart. The Florida native fell hard for the swamp's azure spring runs and rustling coastal hammocks—so hard that he devoted thirty-five years of his life creating [this] series of exquisite fine art photographs. Chassahowitzka is a rare, first-magnitude spring system that originates in southwest Citrus County (less than sixty miles north of Tampa) and flows into the Gulf of Mexico. Local recreationists and anglers are deeply attached to the shallow river and its numerous springs and creeks. In An Unflinching Look, Benjamin Dimmitt confronts the dramatic pace of Earth's ecological change at a single, particular, and so recently gorgeous place."
—Susan Cerulean, naturalist and writer, Florida Fish and Wildlife Conservation Commission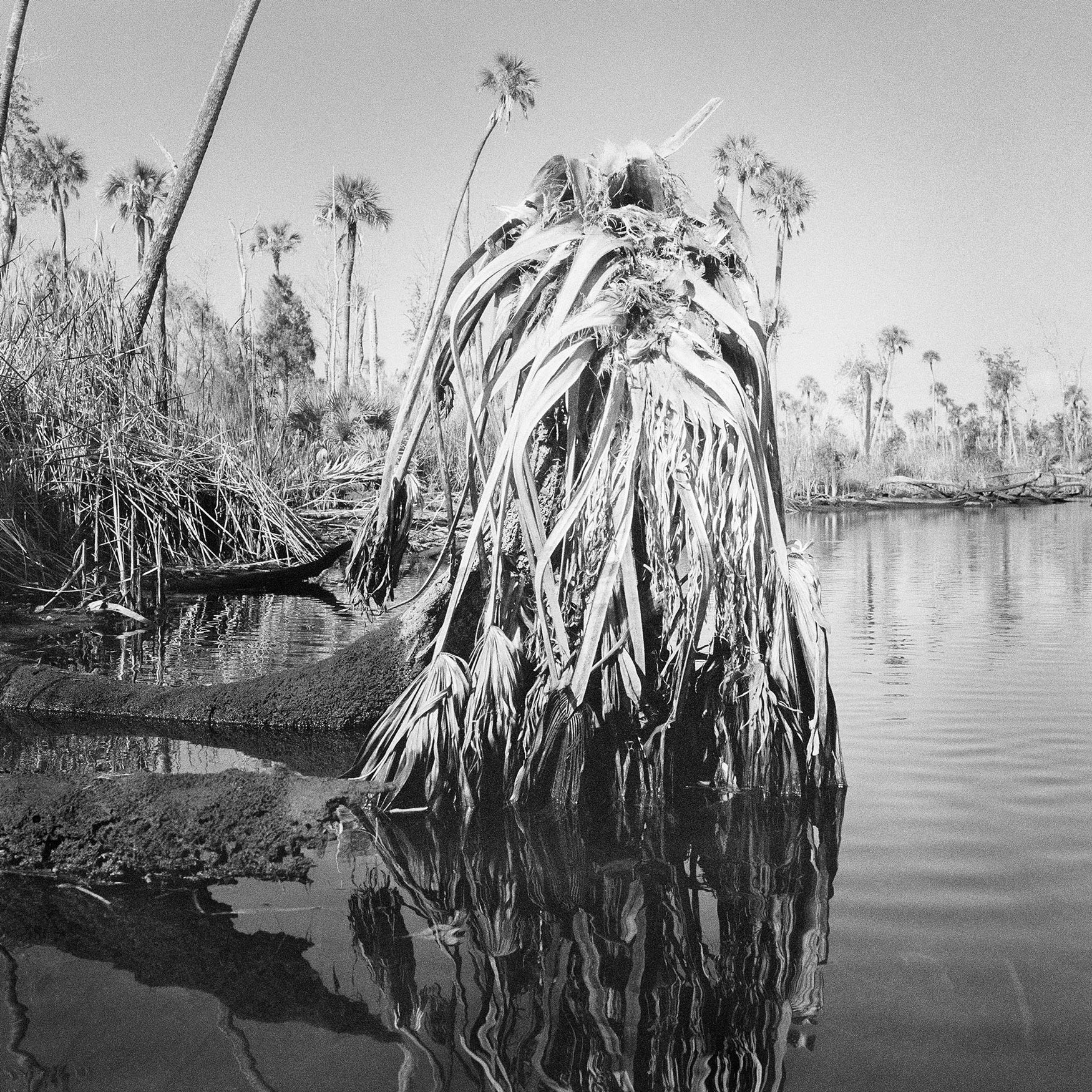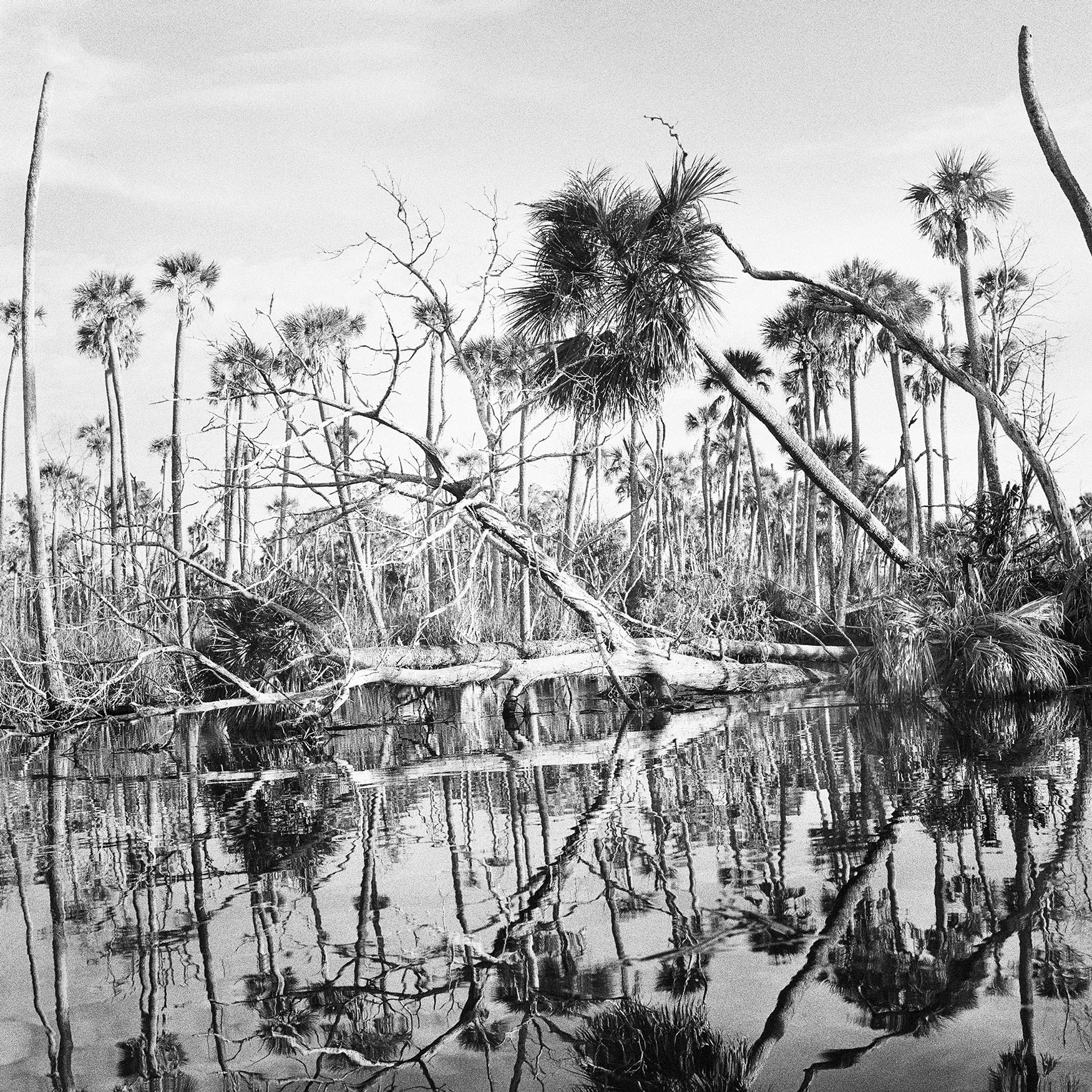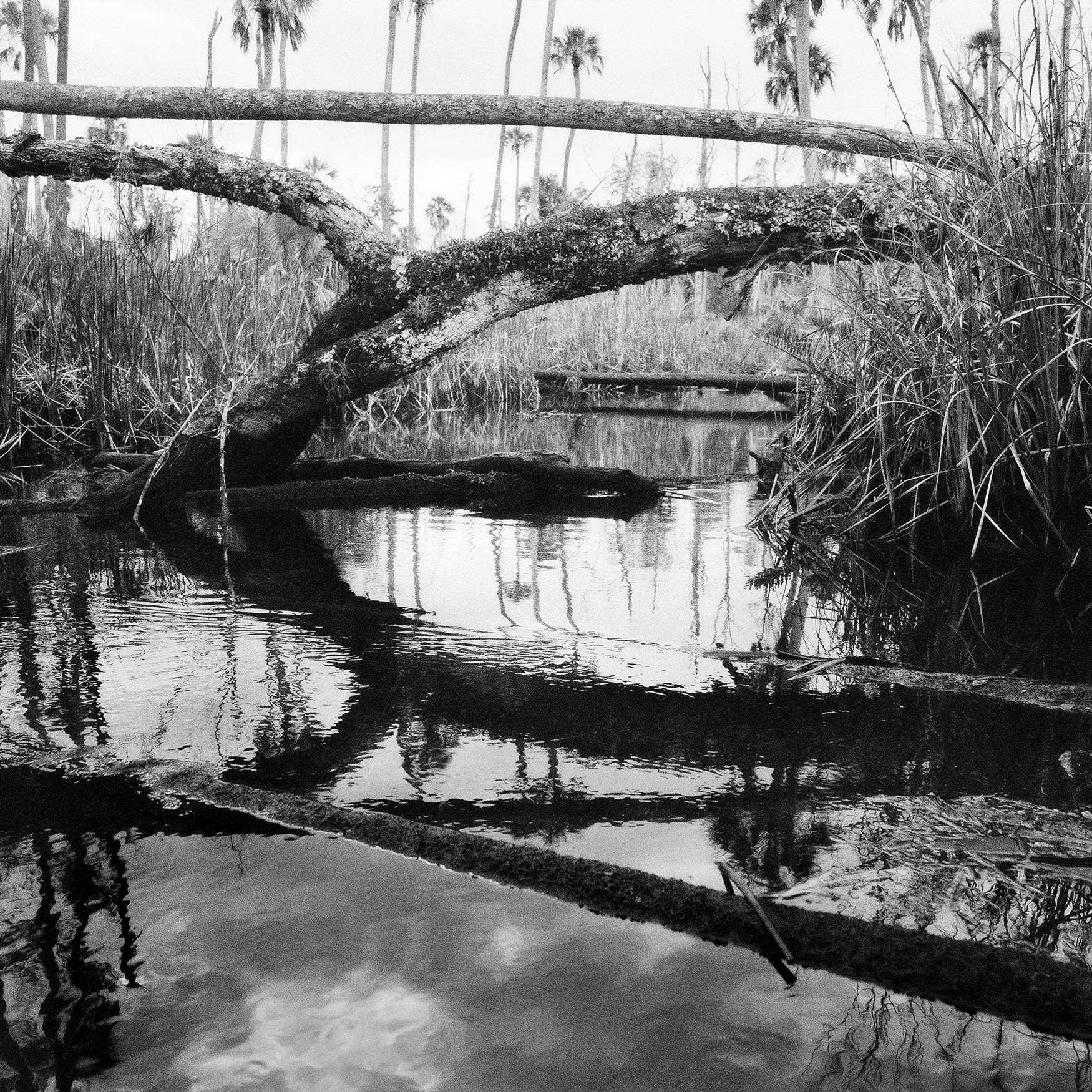 The Human Hand Is Everywhere
"There is water in almost every image; sometimes still, flat, and dark; sometimes clear and reflective, sometimes moving; occasionally punctuated by a few cedars or walled and shadowed by overgrown banks. We are, perhaps, trained to understand such landscapes as Edenic, but the hand of humans is everywhere in this place, and it is not limited, as Dimmitt makes clear, to the occasional wooden boat or rustic cabin he shows coexisting peacefully within an apparently unspoiled environment. With a little guidance, we see the presence of absence, imagining the missing oaks, maples, cypresses, and bays that would have characterized the swamp before its first timber harvest in the 1920s. More chilling and immediate are the so-called ghost forests of dead and dying tree trunks that appear in the later years of this uncompromising study, the result of sea-level rise and death by salt water. This is climate change made manifest."
—Dr. Alison Nordström, photography scholar and curator, Harvard University Peabody Museum of Archaeology and Ethnology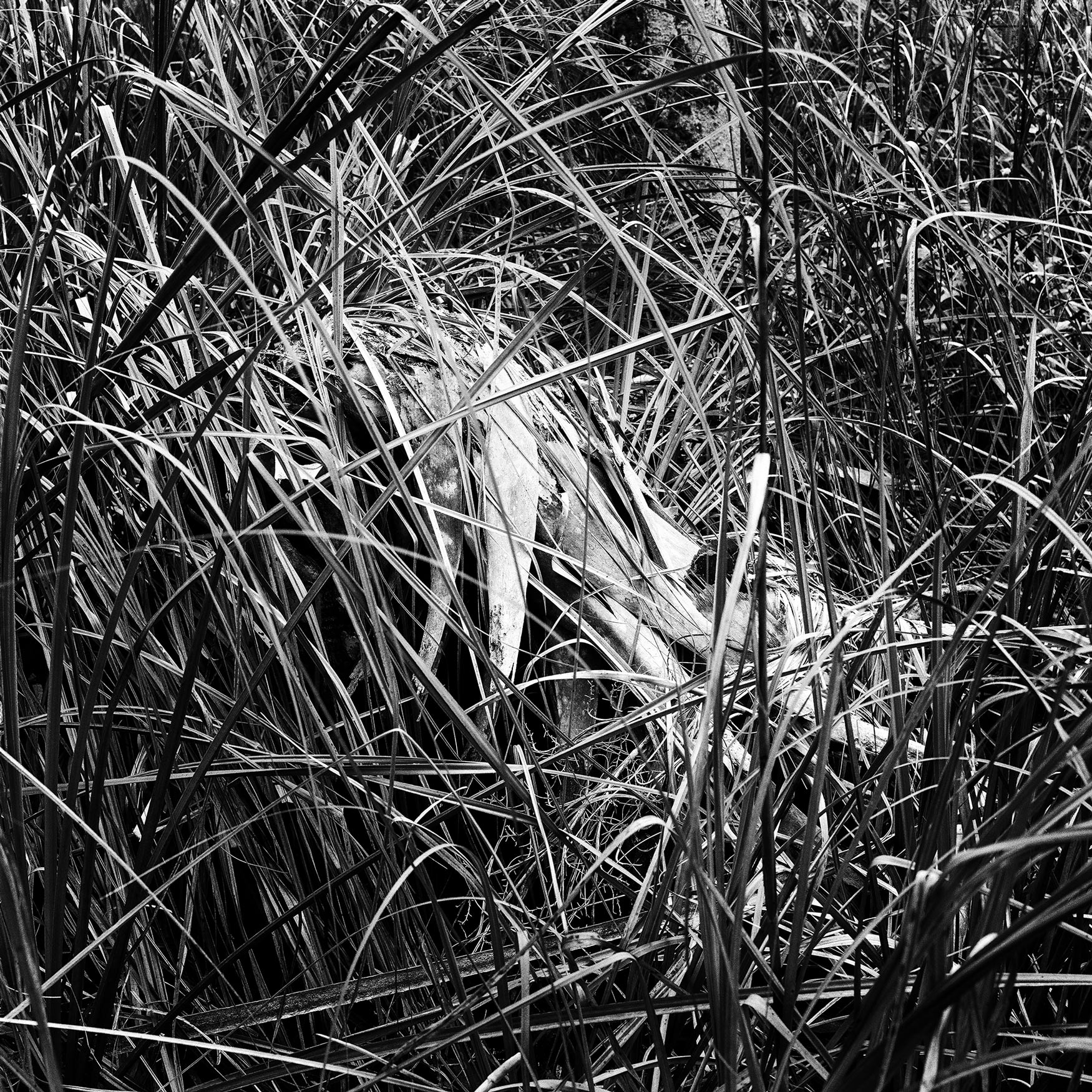 Expired Palm Sapling, 2019

I did my last photography for this book in December 2022. I went for a paddle in the late afternoon the day before we left. It had been very hot, and it was refreshing to be on the creek. A breeze pushed the bow of the canoe around when I stopped to photograph. It was very quiet. No leaves or palm fronds rustled in the breeze because there were no living trees around me. I listened hard, and in the distance I could hear tapping. I paddled further and identified the tapping as the sound of woodpeckers hammering away at the acres and acres of dead trees. It wasn't overwhelming, but it sounded like ruin.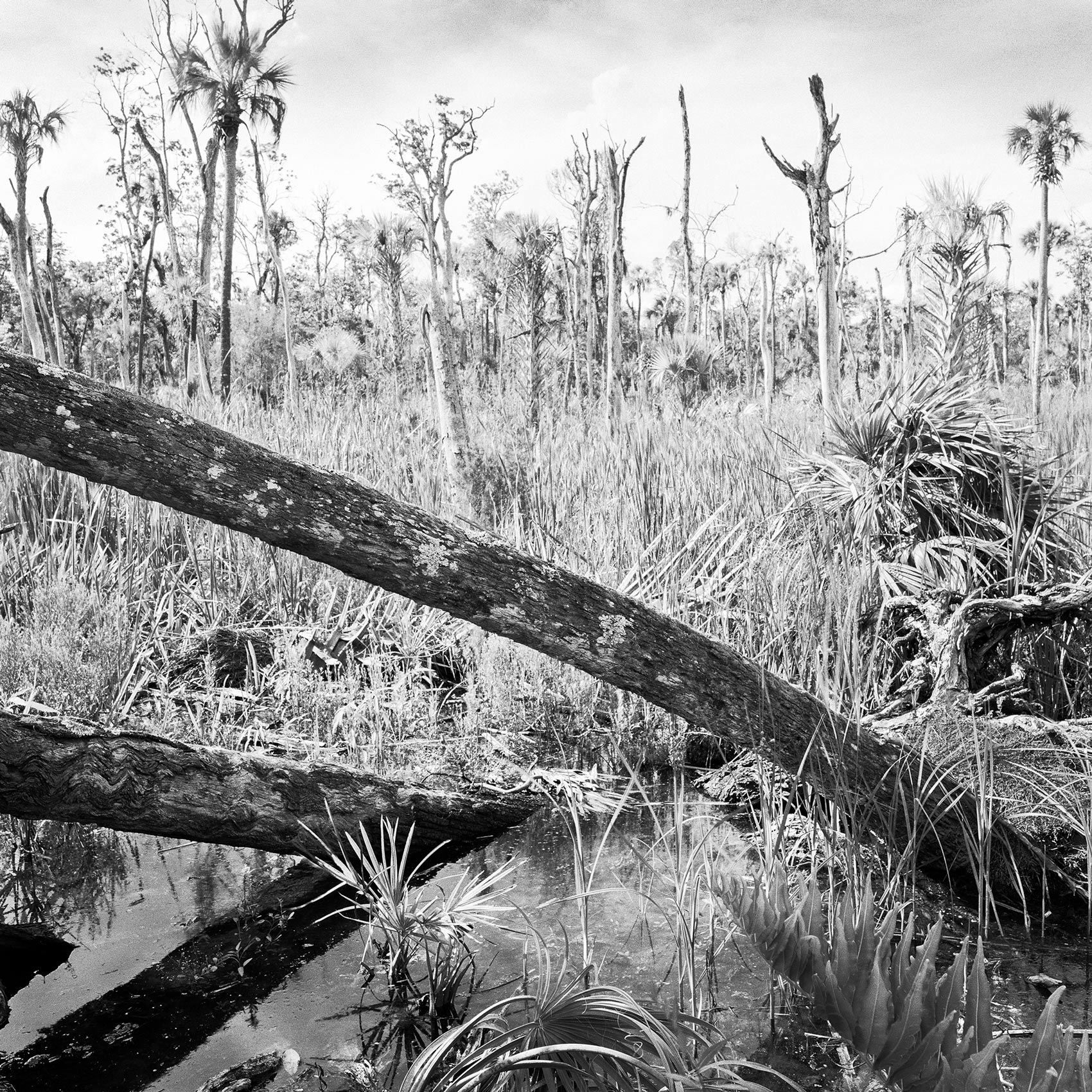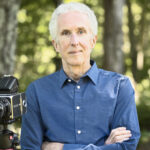 Benjamin Dimmitt was born and raised on the Gulf Coast of Florida. When he was given a camera as a boy, his first subjects were the woods and wetlands near his home. He studied photography at Eckerd College in St. Petersburg, Florida, the Santa Fe Photographic Workshops, and the International Center of Photography in New York City. Benjamin held an adjunct professor position at ICP from 2001 to 2013 and taught most recently at the Penland School of Craft near his home in Asheville, North Carolina. His photographs have been exhibited in museums, galleries, and festivals internationally and are held in multiple major museums and private collections. Benjamin first visited and photographed the Chassahowitzka National Wildlife Refuge in 1977.