Two Georgia promoters combine punk rock and pro wrestling to create a close-quarters blend of two slam-bang art forms. And yes, art is the right word.
"Wrestling is ballet with violence."
— Jesse Ventura
Inside the 40 Watt Club, one of the most iconic rock 'n' roll clubs in the world, two women trade vicious punches.
An electric energy fills the historic venue. The scent of spilled beer floats in the air. The two women, a brunette named Jazzy Yang and a blonde named Angelic Rish, elbow, kick, body-slam and choke one another as the revved-up crowd cheers.  Red and blue lights flash as Angelica kicks Jazzy in the chest.
But I am not waiting for the Athens, Georgia, police to come and break up a bar fight. I am watching a spectacle called Classic City Wrestling. 
Just before this match began, the legendary Alabama punk band the Dexateens delivered a cutthroat rendition of their song "Cardboard Hearts." My ears are still ringing. The head of their bass drum reads: "This machine kills Americana."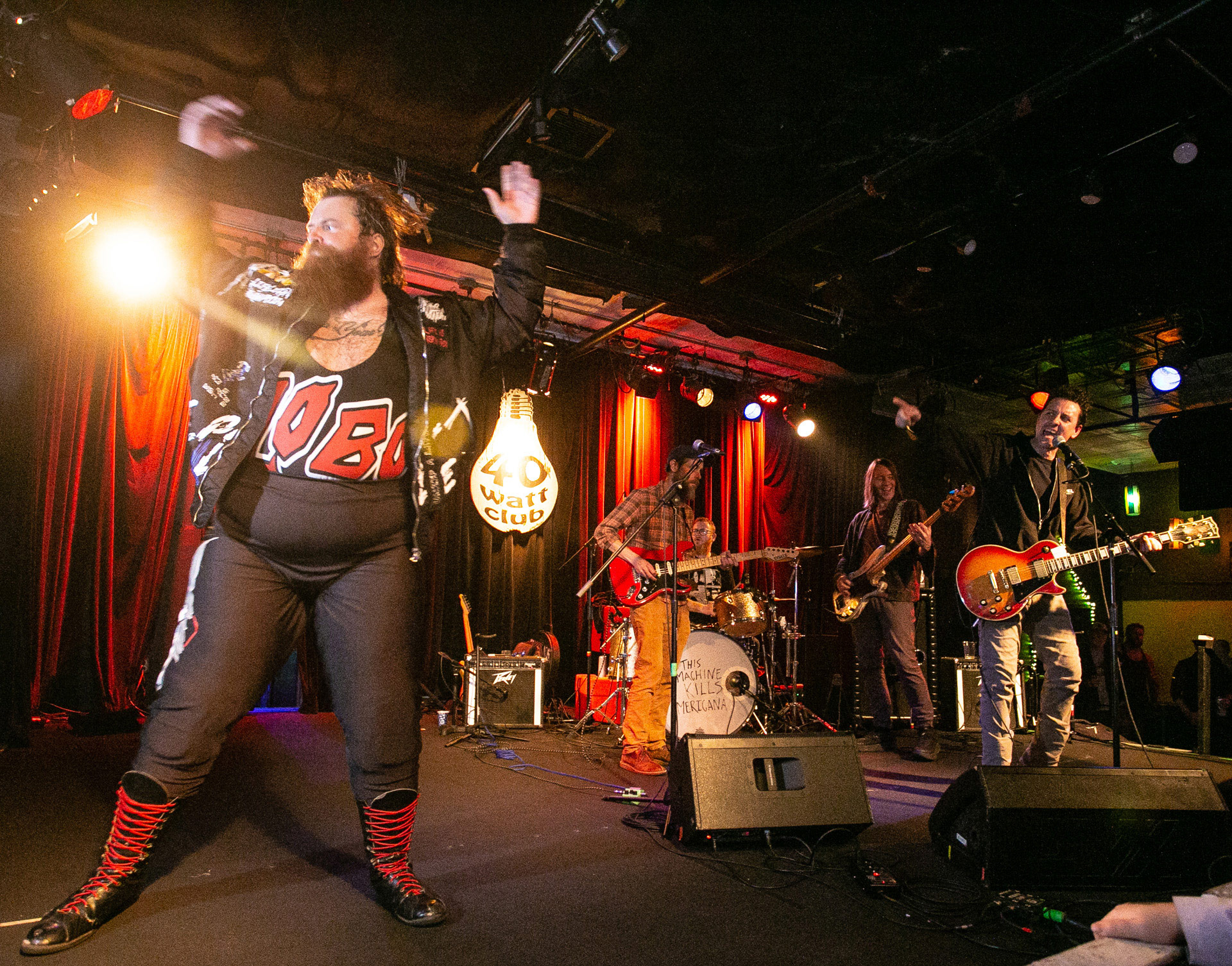 Indie rock goes with everything in Athens, so it's no surprise that two entrepreneurs have created this beastly combination, where one of the South's most venerable rock bands delivers wide-open, foot-stomping tunes with reckless abandon before each high-energy match. True grit. Rasslin' and rock 'n' roll. They go together beautifully.
Before the show starts, Classic City Wrestling co-founder Justin Legend tells me, "When I talk about Southern indie wrestling, people have a perceived notion that it's bad wrestling. Low quality. That's not the case with the wrestlers we have. I put our wrestlers up with the best of any match you're going to see. Anywhere."
"Athens is known for its arts, music, food and sports. We're trying to establish a movement to portray pro wrestling as belonging in that artistic scene."
Legend's partner and this evening's master of ceremonies Cole Taylor explains the pair's high ambitions.
"Tonight we're crowning two contenders for the championship," he says. "In the spring, we're going to have another show for our first ever championship at the 40 Watt. Essentially, we're a young company. We're less than a year old. Athens is known for its arts, music, food and sports. We're trying to establish a movement to portray pro wrestling as belonging in that artistic scene. It's where athleticism meets the arts. We're trying to create a legacy. We will always incorporate music."
Cuatro Cabezas vs. "Marvelous" Michael Stevens
The most important element of professional wrestling is the willing suspension of disbelief: the audience understands what they see on the stage or screen is scripted, but they pretend they don't know. You can hear the punches landing. You can hear the thuds of body slams. You have to dodge the sweat slung from the wrestlers' bodies..
I grew up in the 1970s and '80s watching wrestling, roller derby and stock car racing on the TV. In today's dangerous and eerie times of pending World War III, plagues, earthquakes, toxic train wrecks, venomous politics and looming catastrophes, we all need some harmless entertainment. Joining the crowd for CCW's second show at the 40 Watt seems a fine distraction from the grim realities of everyday life.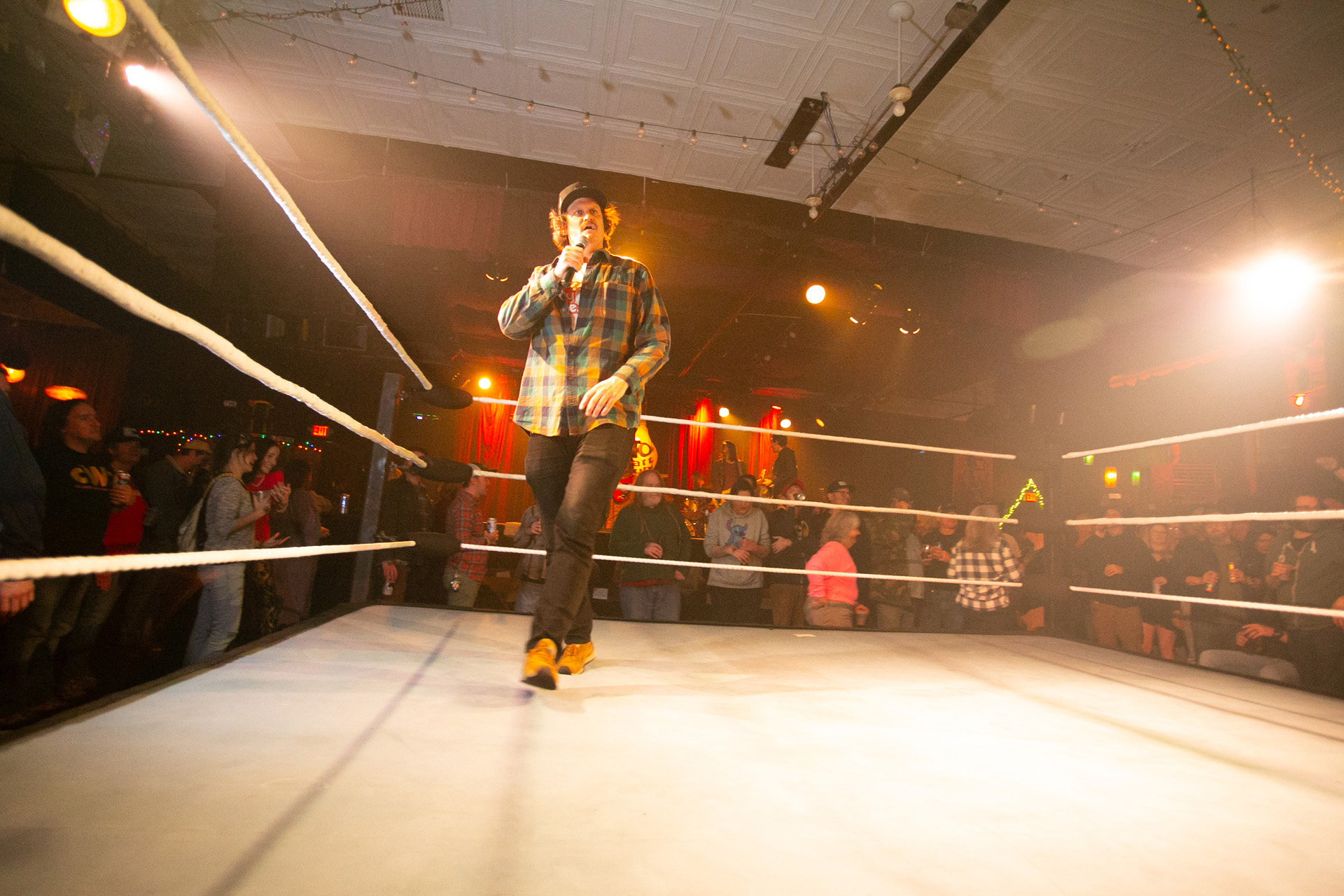 On this cold Saturday, I meet Taylor at the 40 Watt before the show. Workers are loading in vinyl covered ropes, metal pulleys, lumber and other mysterious pieces and parts that would be assembled into the ring and surrounded by rows of metal folding chairs that served as reserved seating. 
An Athens resident, Taylor grew up in rural Virginia and earned a swimming scholarship at the University of Georgia. Like many who come to the Classic City for higher education, Taylor was drawn into the music and arts scene. 
"Wrestling has always been in my life. My dad and all the older males in my family were wrestling fans: It was always on TV."
"I eventually became more interested in rock 'n' roll than swimming," he says. "I've always been a wrestling fan. I've always had a vision of owning a pro wrestling company like Classic City Wrestling." Before starting CCW, Taylor lived the rock life, serving as tour manager for Steve Earle, the Drive-By Truckers and Houndmouth. 
While passionate about music, Taylor never lost his love for wrestling.
"I started hosting these wrestling parties at Flicker Bar," he says. "People would come — not all of them wrestling fans — and they'd have fun, drink, yell at the TV and just hang out. I reached out to Justin, who really is a wrestler. He was working for another wrestling company. I told him I wanted to get into it and that led to me becoming an announcer at the promotions."
After the show, Legend tells me about his journey to partnering with Taylor to create Classic City Wrestling.
"I was born and grew up in Atlanta. I moved to Athens around 2006," Legend says. "I fell in love with the town. My wife and I are happy [here]. Wrestling has always been in my life. My dad and all the older males in my family were wrestling fans: It was always on TV. My first real memory of seeing it in person was when my dad took me to the Omni (the Atlanta coliseum that stood from 1972 to 1997) on Thanksgiving to see a big NWA show with the Road Warriors. That was burned into my consciousness as a kid."
Dave Stage vs. Lobo Okami
Founded in 1948, NWA is the National Wrestling Alliance, a coalition of independent wrestling organizations that is now owned, appropriate enough, by another rock 'n' roller, Smashing Pumpkins frontman Billy Corgan. For the uninitiated, professional wrestling organizations are traditionally referred to with three-letter acronyms. They seem to be an unbreakable principle of wrestling branding and marketing. The infamous Vince McMahon's WWE — World Wrestling Entertainment — dominates the business in the U.S. today, but over the last century, scores of independent, three-letter wrestling outfits fueled the industry's growth. Countless Southern kids grew up watching the Ted Turner-founded WCW — World Championship Wrestling — on Turner's TBS network.
"I was always aware of indie wrestling," Legend says. "As a kid, I had dreams of being a wrestler. I did wrestle in high school, then I discovered punk music and went down that road. I played in bands through my twenties. When that ended, I wanted to try wrestling, even if it was just one match. It came naturally to me. I wrestled for a couple of years. Then I had a life-threatening injury. I broke my leg in the ring and had to have surgery. As a result of that, I caught MRSA in the hospital. I had eight surgeries. I came back, but eventually I hung it up because the body can only do so much."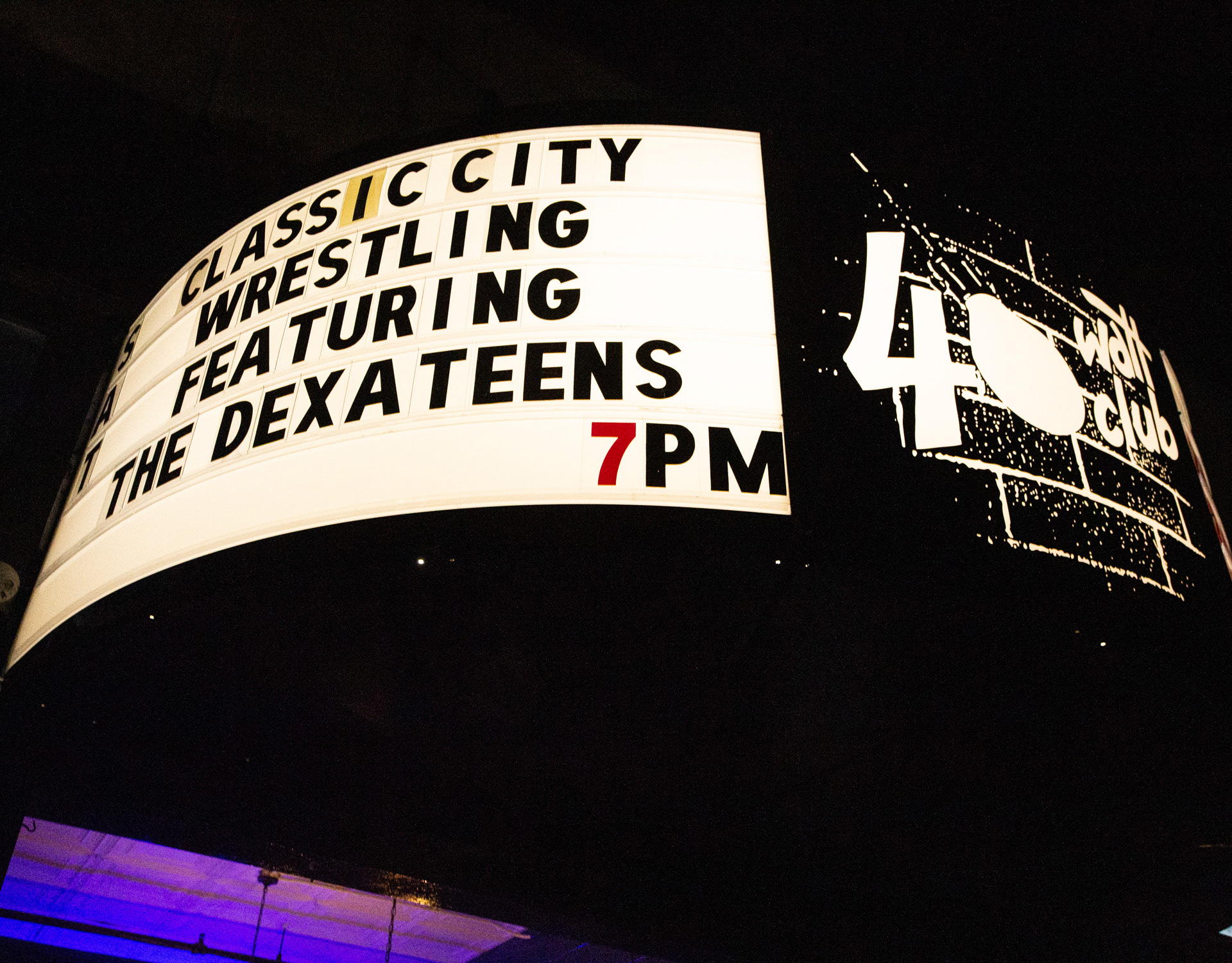 Legend describes how he and Taylor conceived and eventually cemented their wrestling endeavor: "Cole understood wrestling. We became good friends. Our vision of wrestling, music and creating something that's uniquely Athens is the mission. We're presenting what independent wrestling can be in the South. We're offering something very different than what people would assume from a Southern wrestling show."
I watch the stagehands assemble the ring as Taylor discusses the script with the wrestlers and the Dexateens. The Dexateens soundchecked by playing amazing instrumental versions of several Led Zeppelin songs, but they wouldn't play Zeppelin tunes for tonight's show. They've been around for 25 years, and I'd forgotten how hard they rocked. They prove to be the perfect band for this occasion.
"The wrestling we offer includes nonbinary, LGBTQ competitors and women's main events. We have the whole spectrum. We feel that's what sets us apart."
Legend elaborates on the freewheeling dynamic of Classic City Wrestling' while emphasizing his partner's mantra about changing the perception of Southern wrestling. "This is one of the only independent pro wrestling shows in Georgia that features a women's main event. These women are some of the toughest and hardest-working individuals in independent pro wrestling," Legend says proudly. 
"So tonight, the guys are opening for the women. The women are the main attraction. I book all the talent. The wrestling we offer includes non-binary, LGBTQ competitors and women's main events. We have the whole spectrum. We feel that's what sets us apart. A lot of the wrestlers here tonight actually appear on TBS and TNT for AEW. For many of these wrestlers, this is their last stop before they hit the big league, and they do this full time."  
Established in Jacksonville, Florida, in 2019 All Elite Wrestling (AEW) ranks as the one of the largest wrestling promotion companies in the United States and competes with WWE.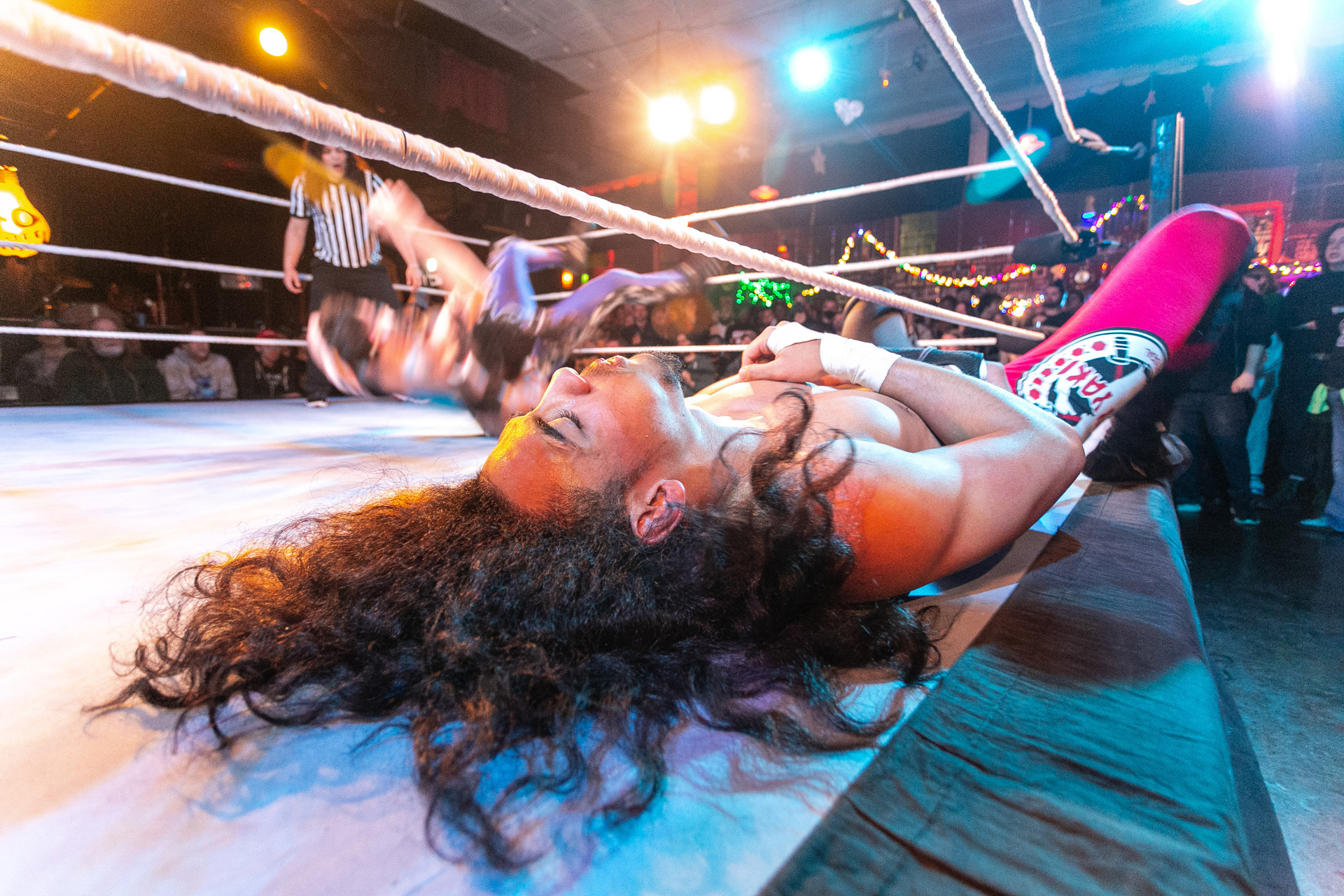 I ask Legend about the brutal journey to become a professional wrestler. 
"The first thing is, these wrestlers find reputable trainers," he says. "In those old days, you still had a lot of carny behavior. Guys would take your money and you might only get one class. Then you'd never see them again. But Georgia now has an amazing selection of training facilities – like the Nightmare Factory." Wrestlemania headliner Cody Rhodes, son of wrestling icon Dusty Rhodes owns that school based in McDonough, Georgia.
And beyond athletics, wrestlers must also master the business side, Legend says.
"There's so much you have to learn on your own especially on the business side," he says. "It is a business — and there's good people out there and terrible people out there. You have to develop thick skin if you're gonna wrestle. You get your physical training at a reputable place and you must have a high degree of mental toughness. It can be a hard world to navigate."
Legend has high hopes for CCW's wrestlers.
"Every single wrestler, I'd be surprised if they're not signed to a contract in the next five years. I tell our wrestlers I want them to get to a point where I can't afford them," he says with a laugh. "They're hardworking and very passionate about what they do."
Vary Morales vs. Owen Knight
Classic City Wrestling sells out all 430 tickets at the 40 Watt that night.  A diverse, well-behaved audience gathers and quickly fills the rows of chairs on all four sides of the ring as well as all available standing room. Taylor dons his MC personality, introduces the wrestlers and fires up the crowd. At the start of each bout, the featured wrestlers emerge from backstage to great fanfare and theatrics. Fans cheer for their favorite wrestlers and groan in sympathy for particularly savage hits. The club's two bars stay busy. Jubilant mayhem ensues. No negativity or bad vibrations circulate through the crowd. We are all friends.
Notwithstanding the carnival atmosphere, Classic City Wrestling is clearly a serious business.  A well organized merch table was set up with T-shirts, beer huggers and other swag printed with the CCW logo. Signage touts the event's long list of sponsors.
The Dexateens play a bone-jarring song or two before each match. Each original song is like a shot of high-grade whiskey, fueling the party. Matt Patton, a founding member of the Dexateens and full-time Drive By Truckers bassist, later called me from a DBT tour stop in Urbana, Illinois, to discuss the wild evening. 
"I wasn't prepared for what a high level of wrestling it would be," Patton said. "I haven't seen live wrestling since I was a young boy in the eighties in Birmingham, Alabama. It was beyond my expectations. The whole band was taken aback by it, and every time we've talked since then, we talk about that night. What a high level of entertainment. It was a unique situation. I can't think of another thing we've participated in like that. I was very impressed. I'm sure some of the wrestlers were hurting the next morning. I don't see how they did all that without someone getting seriously injured," Patton concludes with a laugh.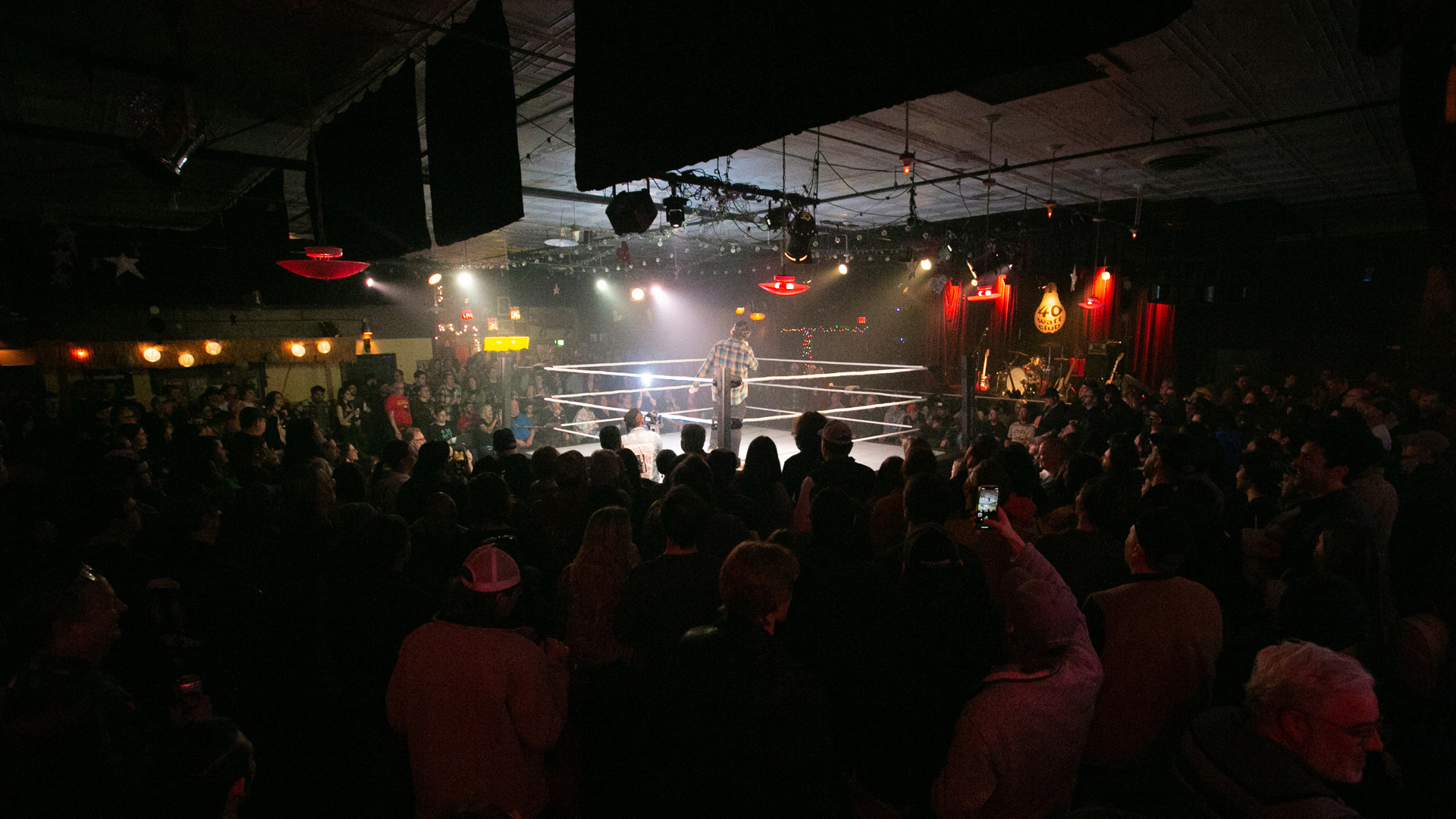 The common viewer may be unaware that these wrestlers are serious athletes, many of whom competed in other sports before entering the business. Wrestlers risk sustaining lifelong injuries. Even in this carefully choreographed entertainment, one inch can make the difference between a successful move and a broken bone, or worse. It's impossible not to incur pain and risk injury when a metal chair is slammed across your back or you are thrown through a wooden door propped in the ring while executing complex, gymnastic moves with extreme dexterity and athleticism.
Classic City Wrestling's first championship bout—  "Dawn of a Dynasty"—is set for Saturday, May 13, at Athens's 40 Watt Club.
And judging by the sold-out crowd in the 40 Watt, the appeal of this rock-and-rasslin' extravaganza crosses most every boundary.
"There are a lot of different people here," Legend says, nodding toward different people in the crowd. "Different races. Ages. I look over here and there's an old white couple — who look to be older than my parents — who buy tickets to every show. Then you see goth kids. Interracial couples. Music fans. Then over here, you have UGA students, wandering in just out of curiosity..."  
I see smiles and wonder on their faces as they watch their favorite wrestler delivering a vicious body slam or a jackknife. The rush of vicarious danger runs high.
"There may be someone out there who's curious about wrestling, but they don't know if they'd feel safe with the crowd," Legend says. "But once they arrive, they fit right in. When I was in the ring, I knew there might be somebody in the crowd who just lost a loved one, lost their job, got bad news from the doctor — but wrestling provides an escape during dark times."