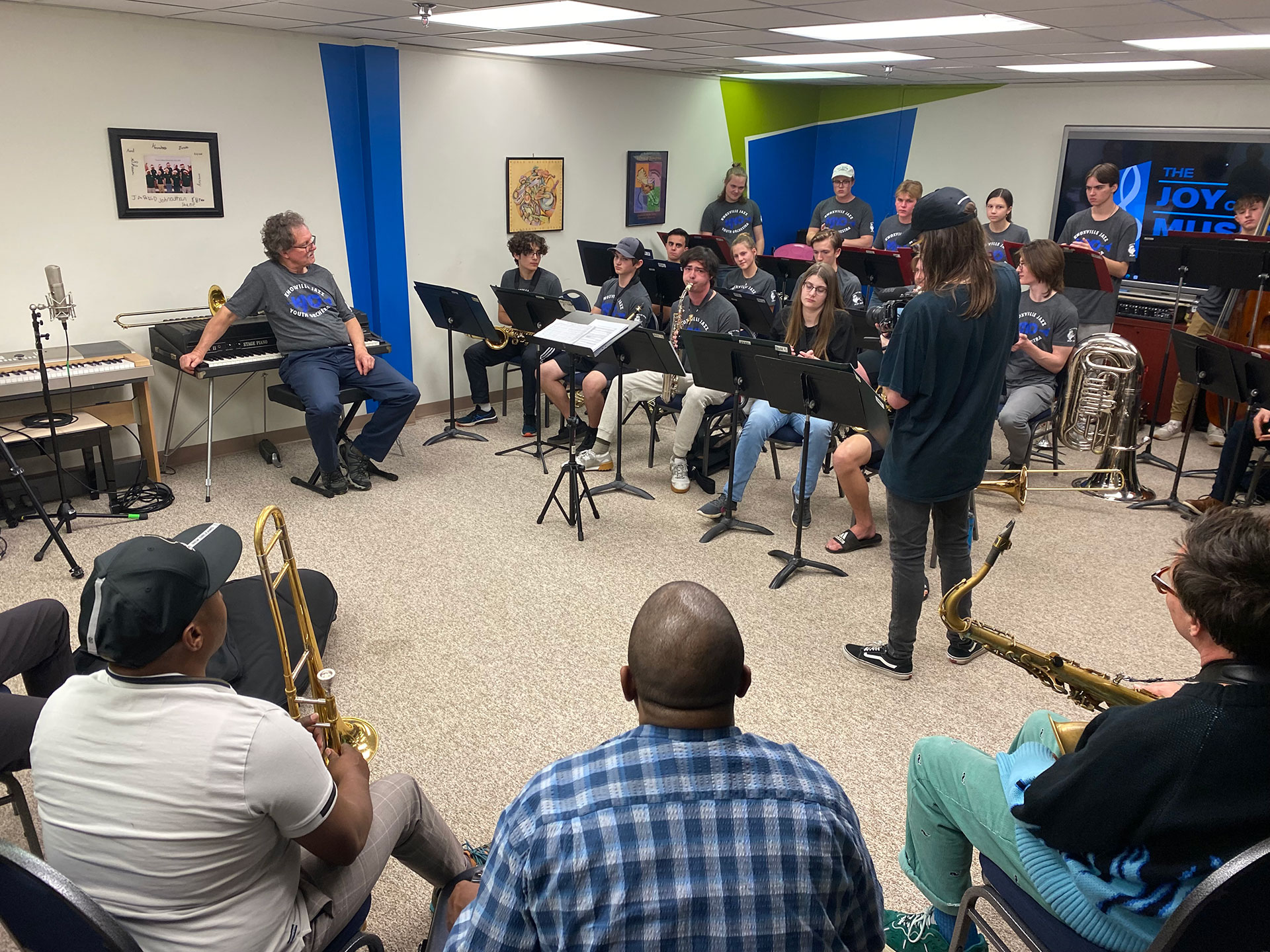 How can a music festival transform a city? The Big Ears Festival in Knoxville is bringing the community together in ways folks never dreamed of only a few years ago. This is the second in a three-part series exploring how Big Ears is creating little miracles in Tennessee.
My first lesson in the 2022 Big Ears Festival's joy-creation method came before the festival even began, when New Orleans' legendary Preservation Hall Brass Band visited a Knoxville Youth Jazz Orchestra rehearsal at the Joy of Music School, a nonprofit organization that offers free music education to area kids. They have provided thousands of lessons over their nearly quarter-century history, all at no charge. (If you can, toss some coin their way).
Orchestra director Tom Lundberg, a veteran educator and trombonist with 22 years in the Knoxville Jazz Orchestra, had his 19-member ensemble of budding musicians lined up and primed to play for the New Orleans notables. They kicked things off with an up-tempo read of "Just a Closer Walk With Thee" that earned approving nods and "all right then" and "go ahead on" encouragements. Up next: "Little Liza Jane," the tempo a touch peppier. After the kids ran their solos, Lundberg signaled the Pres Hall guys to take a few choruses.
Friends, if you've never seen 19 wide-eyed teenagers tilt forward as if choreographed, ears perked and mouths agape, put it on your bucket list. As one Pres Hall master after another took their turns, the kids' grins turned damn near Cheshire – all except the rhythm section, who were making the most of their chance to jam with the masters.
Then came some Q&A time. The kids had good questions that earned honest answers: talk about commitment, the importance of finding a community of role models and like-minded musicians. How living the life makes the music come alive. How you have to do it for the right reasons, and money just ain't one of those.
And, with that bit in mind, how you always need to be thinking about your side hustle to keep the wolf from the door. I imagine for some of these aspirant players these answers were both inspiring and sobering. The musician's life is a hard road; it is not for just anyone, but the rewards are worth the struggle.
After dropping that knowledge, the Preservation Hall elders dropped some wisdom via a second line master class. The funereal cadence of "Closer Walk With Thee" was anchored by the steady snare of Glenn Finster Andrews and bass drum of Kerry "Fat Man" Hunter, a demonstration of the power of sloooooow brought to life in a way no instruction book could manage. From my angle, all I could see of the drummers were Andrews' hands, utterly relaxed, movement nearly imperceptible; he comes by the nickname "Buddha" honestly. Then "I'll Fly Away" launched into ecstatic call-and-response that exemplified the primal duality of music: lamentation and celebration all rolled into one.
A couple of these kids are already in college-level music courses, and a few more are weighing acceptance letters from top-tier music programs like Miami, North Texas and Berklee. The Joy of Music team and director Lundberg are clearly doing something right. No one would mistake the tentative musical statements of these teenage strivers for the deep-root wailings of the veterans, but the gulf between the two groups diminished with each celebratory chorus.
~~~
Aside from leading a marching band during the Krewe Du Cattywampus Parade and gigging at least a half-dozen times during the festival, saxophonist/composer Aurora Nealand joined forces with musician/sculptor Jebney Lewis for the City Songs: Knoxville project, an outgrowth of their ongoing community-engagement collaborations in New Orleans.
Since Nealand described Lewis as "the mastermind of this project," I'll let him explain the idea.
We feel that a city can be understood and experienced as a physical repository of sensations and memories – a terrain upon which inhabitants map their lived experiences. This project used as its first point of departure the place-based reflections, memories and experiences of a group of Knoxville's young people.
Over the course of several months, Nealand and Lewis met via Zoom with writing and music students at Knoxville's Fulton High School. The writing students crafted and recorded short narratives about specific places in Knoxville that held meaning for them. Then composers and beat makers from an electronic music class set those narratives to music.
Via email, Fulton assistant band director David Miller explained how this project reshaped his approach to his electronic music class.
"The idea of wanting to impress the Big Ears collaborators and feeling like they were going to be in the spotlight encouraged (the students) to put forth their best efforts because they wanted to be seen and heard."
"This project forced the kids to think in a much different way, since they were assigned a voice track to work with," he told me. "We talked a lot more about listening and identifying themes within the writings that we could use to determine our musical approach."
Similarly, writing teacher Christy Brown noted that her "students really pushed themselves to be vulnerable in their writing and share very personal experiences, while also taking more pride than usual in their final edits. The idea of wanting to impress the Big Ears collaborators and feeling like they were going to be in the spotlight encouraged them to put forth their best efforts because they wanted to be seen and heard."
Jebney explained that beginning Monday before the festival, "we spent the day at Fulton with the two classes listening to and reading work and getting and giving critical feedback. Then we enlisted local [and visiting] musicians … to meet us at the locations the students wrote about to listen to the tracks that had been composed and add another improvised musical layer to the mix."  The aim was to "very explicitly and dynamically connect memory and place to music."
One video features Knoxville artists Abby Fisher (percussion) and Jorge Variego (bass clarinet) improvising under the Tennessee Theater marquee to words by Jennifer Nicely. Lewis described this one as a "pretty out-there promo vid for downtown Knoxville." Here's hoping the Visit Knoxville team picks this one up for wider distribution.
My favorite is the video/story about Danny Mayfield Park, written by Azion Dawkins and performed by rising cypher/MC Denny Rae'Kwon (a product of Knoxville's Good Guy Collective) with Lewis on drums. Keep an eye on Rae'Kwon, y'all; kid has got it.
You can watch the rest of the videos at the City Songs YouTube channel.
Lewis told me via email that the teachers plan to keep using the curriculum and the artists are game to do it again. Brown noted that the "collaboration was both refreshing and exciting for me as an educator, as well as for my students. Watching them grow as writers through the whole process ... and seeing their faces light up while listening to the final drafts and giving essential feedback. [It] was so inspiring and exactly what education is all about."
~~~
It is worth noting that Fulton High is one of those schools that pundits and policymakers commonly describe – or, more tragically, dismiss – as "disadvantaged." It ranks near the bottom of statewide high school rankings (292nd of 347); Austin East, the other Knoxville high school that Big Ears and Preservation Hall partnered with this year, ranks even lower at 328th. These schools are about as likely to turn up on the evening news due to student-involved shootings as for student achievement, and while this may owe something to the "if it bleeds it leads" imperatives of commercial news gathering, one sad fact remains: Students at Fulton and Austin East – hell, kids everywhere in America – are at a historically high risk of gun violence.
Tennessee ranks 41st nationally in per student funding, and allocation formulas within the state leave schools like Fulton even worse off than that sad rank suggests. Our societal tendency to disregard the fate of schools like Fulton is nothing short of criminal, a cynical act of civic self-destruction and a staggering waste of human potential.
This is no shade on the Fulton faculty. Dedicated and creative teachers like Brown and Miller make a real difference. These heroes roll the rock up the hill day in and out with the added burdens of long hours, low pay, and steady harassment from people who consider public education an unnecessary, socialistic evil.
Partnerships like these between Big Ears and these schools have an undeniable impact, though its scope is necessarily constrained. Public education – especially in the arts – has been deprioritized for decades in America. A great tragedy of our social order is that we do not prioritize these kinds of investments. These kids are every bit as worthy of public investment as law enforcement and prisons.
Despite abundant research showing that investment in education is far more effective in reducing crime and boosting civic participation than expanding enforcement and incarceration – not to mention being cheaper and more humane – we insist on spending big in all the wrong places while trying to buy education on the cheap. Tennessee, for example, spends roughly three times as much annually per inmate as it does per student.
These kids are not stupid; they intuitively understand the valuation placed on their lives based on factors such as skin color and place of birth. For many of these students, the attention and respect afforded them by these renowned artists serves at least two critical functions.
First, these real-life role models offer a glimpse of what it might look like to live life as an artist. It affords a sense of possibility and expands the range of options that students might consider valid. It offers hope.
Second, it affirms to these students that their lives and experiences are important, that their stories are worth telling and their talents worthy of respect and nurturing. After two years of pandemic isolation, I am hard pressed to imagine anything more important for kids anywhere than to be truly and wholly seen and to know that they have as much right to dream big as anyone.
Many of us can remember a time when we held certain dreams to be real possibilities only to reach a fork in the road where we left that possibility behind. No judgment: Life happens. Existing as a career artist is difficult and terribly uncertain, and it damn sure is not for just anyone. But despite the growing tendency of late-stage capitalism to devalue those who make our world worth waking up to every day, people who choose the artistic path are heroes and role models who embody the grace that can visit those who commit to their muse.
Sure, odds are that few of these kids will pursue art as career, and the chance that any who choose that path will "make it" is vanishingly small. But if we must assess these efforts in probabilistic terms, let's try this: It is almost certain that each of these kids will remember forever the taste of the creative impulse, that shiver of possibility and connection that occurs in the act of making and creating. This is the sacred spark that makes us capable of loving, sharing and caring for our fellow humans in a way that goes beyond base transactional arrangements. Art is not the only pathway, but it is tested and true.
The memory of that spark can never be erased despite the myriad social cues that urge us to trivialize art and artists. Believing oneself capable and worthy of a creative life is an act of revolutionary impertinence against the pressures that urge us to accept lives of numb mediocrity and that deem broad segments of our neighbors as hopeless or unworthy.
They are neither. We can ill afford to squander these wellsprings of latent promise; our situation is far too dire.
To quote Bob Dylan, "It's not dark yet, but it's getting there." We owe it to the students and ourselves to nurture these sparks, to give them oxygen. In their turn, these are the people who will tend these sparks in the face of creeping darkness.
Keeping that spark alive may be the single most important act of faith we can offer.