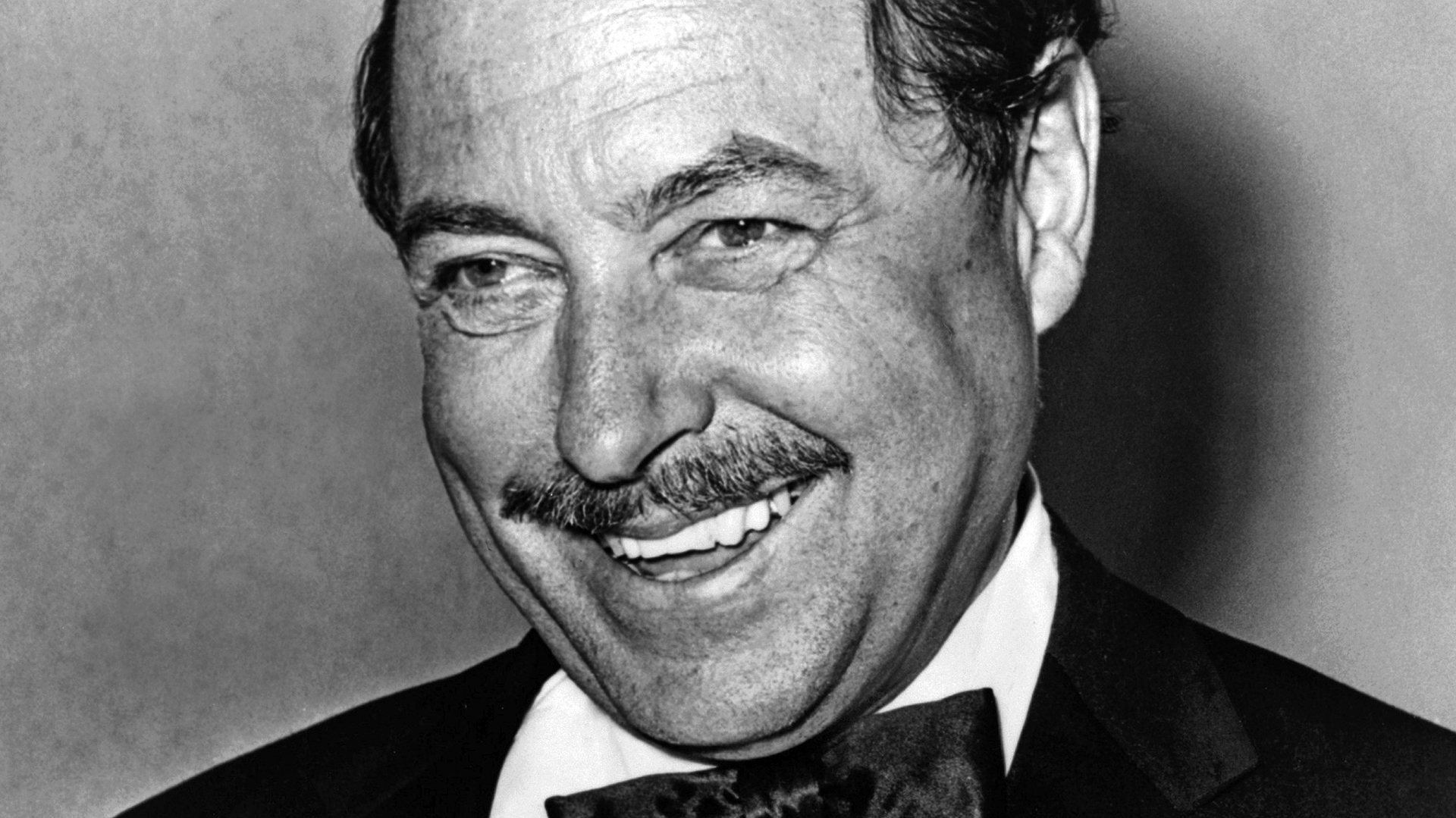 The Kindness of Strangers
Playwright Tennessee Williams was born in Mississippi and raised in the almost-South of Missouri. But no writer is more indelibly associated with the Big Easy.
In our last literary adventure, we left you hanging in the French Quarter at William Faulkner's one-time abode in Pirate's Alley. I'm sure you've managed to fill the time productively since then, or at least fill your gullet with beignets and Sazeracs.
New Orleans has a way of making the mind a little fuzzy. Let's stroll a few blocks through the Quarter, a little period of adjustment for you to clear the cobwebs, while I tell you about the object of our next pilgrimage.
Tennessee Williams was one of the most prominent playwrights of the twentieth century. From 1945—with his breakout play The Glass Menagerie, which won the New York Drama Critics' Circle award for best play—until 1959's Sweet Bird of Youth, nine of his plays were Broadway hits, with Menagerie and A Streetcar Named Desire later becoming huge Hollywood hits. By the end of this run, Williams had landed one more Critics' Circle award, three Donaldson Awards (the precursors of the Tonys), and a Tony Award. And a couple of Pulitzer Prizes just to balance out the trophy case.
In all, he wrote around forty full-length plays and about the same number of one-act dramas, along with two novels, a passel of short stories, a couple of volumes of poetry, and the screenplays for most of his plays that moved to the screen.
Along with fame and fortune came an almost cliched descent into drugs, alcohol, and dissolution. And despite Williams being bright enough to see the likely result of, as he called it, the "catastrophe of success," the script was both overdetermined and inevitable.
"…the public Somebody you are when you 'have a name' is a fiction created with mirrors and that the only somebody worth being is the solitary and unseen you that existed from your first breath and which is the sum of your actions and so is constantly in a state of becoming under your own volition—and knowing these things, you can even survive the catastrophe of Success!"
—"On a Streetcar Named Success," Tennessee Williams, The New York Times,
November 30, 1947
He wrote that for The New York Times shortly before Streetcar's Broadway opening, so his rocket blast to fame had barely even begun.
Williams' penetrating insight into his characters—many of them derived from family and acquaintances—makes his work sizzle even now, eighty years after he wrote them. He was America's Shakespeare.
Williams wrote at a frenetic pace almost up to his death in 1983, though none of his later works reached the same creative acclaim of those prize winners. He was subject to savage bouts of depression that resulted in hospitalizations and even more drug abuse. He was a semi-closeted gay man from a puritanical religious family. He was both enamored and repelled by the Dionysian delights of New Orleans and his other frequent home, Key West. He died at age seventy-one in New York's Hotel Élysée—a poetically apt echo of Streetcar's Elysian Fields locale—from an overdose of Seconal.
That's the capsule version, my best shot at reducing Williams's legacy to five-hundred words. Mea culpa. The man was an absolute giant in American letters, the equal of Faulkner, Fitzgerald, Hemingway, Edith Wharton, Flannery, and so on. It is our good fortune to have so many wonderful film productions of Williams' great works, starring performers from Kirk Douglas, Elizabeth Taylor, Kim Hunter, Paul Newman, Burl Ives, and Katharine Hepburn to, of course, the unmatchable Marlon Brando, whose first starring film role was in Elia Kazan's Oscar-winning, 1951 production of Streetcar.
But the deeper delight—and this is not true of all dramatic scripts—lies in reading the texts in tandem with watching the productions. There is a flexibility in Williams' characters and situations that allows for significant variation in interpretation from actors and directors. But at its core, Williams' penetrating insight into his characters—many of them derived from family and acquaintances—makes his work sizzle even now, eighty years after he wrote them. He was America's Shakespeare.
Our first destination is 722 Toulouse Street, where the legendary we can gawp at the first of many New Orleans abodes for the legendary playwright. It was in this attic apartment where he hit upon both his chosen name (he was born Thomas Lanier Williams III on March 26, 1911, in Columbus, Mississippi) and the stylistic foundation of his great works: an idea he called "plastic theater." This entails the creative use of sets and lighting to create ambiance that was in many ways as important as the words themselves in conveying his artistic intentions. Nowadays, such tactics are an everyday component of our mediated world, from theater to television to movies to tikitty toks. But in 1945, this was a brand new bag.
We can't go in, though. The building is now owned by the Historic New Orleans Collection, which has converted it into offices for their organization, with the famous attic apartment now filled with air conditioning infrastructure. But the building still stands. And there's a plaque!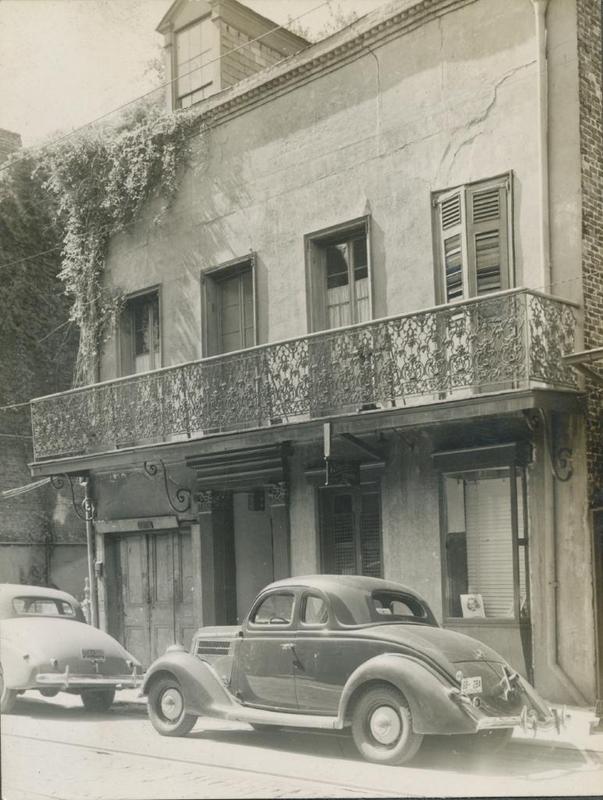 Okay, maybe my snark is a little out of line here. As much as I would like to see the attic preserved as lovingly as, say, Rowan Oak, the HNOC is one of the world's critical hubs of Williams' legacy, a de facto headquarters for Tennessee Williams papers and research. While the official Williams papers repository is at the University of Texas in Austin, the HNOC has made a concerted effort to establish its own archive, beginning with their 1994 purchase of an original script of Vieux Carre, which Williams set in his former Toulouse Street home. Then in 2000, HNOC…
…acquired 16 of the 44 lots being auctioned at Neal Auction Company in New Orleans. According to the auction house, the items were being sold by a rare book and manuscripts dealer from Thibodaux, Louisiana (a small town outside of New Orleans), who had acquired them from someone who had found them in the garbage outside of one of Tennessee Williams's French Quarter apartments.
— HNOC Website
Over time, the HNOC, whose main building is just a few minutes' walk from the Toulouse Street location, assembled one of the most expansive collections of Williams' papers and effects outside of the UT collection. HNOC also publishes the Tennessee Williams Annual Review; issue No. 22 was released this year.
Most visibly, the HNOC hosts the annual Tennessee Williams & New Orleans Literary Festival every March (to coincide with Williams's birthday) with the HNOC-affiliated Saints and Sinners LGBTQ+ Literary Festival running simultaneously. Lots of readings, performances of play excerpts, writing workshops, walking tours—pretty much everything a word nerd like me flies toward like an about-to-be-incinerated moth.
The good folks at French Quarter Journal provide a wealth of information about their neighborhood, including details about Williams' many New Orleans apartments during his 45-year on-and-off residence in the city.
722 Toulouse Street, 1939
708 Toulouse St., 1941, where according to Tennessee Williams and the South by Kenneth Holditch and Richard Leavitt, "he was evicted as the result of an incident involving sailors."
538 Royal Street, 1941
722 Toulouse Street, 1941, for a second time
710 Orleans Avenue, 1945-6, where he lived tempestuously with Pancho Rodriguez y Gonzalez.
632½ St. Peter Street, 1946-47, which Holditch and Leavitt say he called his "favorite apartment."
1014 Dumaine Street, 1962—on and off—until his death in 1983.
—French Quarter Journal, 10/23/2020
If anybody is worthy of multiple pilgrimage destinations, it's Williams. If you want to hop back in the car and scoot back almost to the Alabama border, Columbus, Mississippi would be happy to welcome you to the Tennessee Williams House Museum & Welcome Center, a National Literary Landmark. His childhood home—which, trust me, was not an especially happy place for a "weak" boy with a violent and frequently drunk manly man of a father—has been painstakingly restored to its original condition. When the U.S. Postal Service issued a Tennessee Williams commemorative in 1995, the museum hosted the unveiling of the 32-cent stamp.
Now the sharp reader will notice I had you drive from Oxford to New Orleans last journey, and now back to a place just down the road from Oxford. And you might be justified in taking me to task for that roundabout, but we just happen to be a short hop from our next pilgrimage.
Tupelo.
Go. Read.