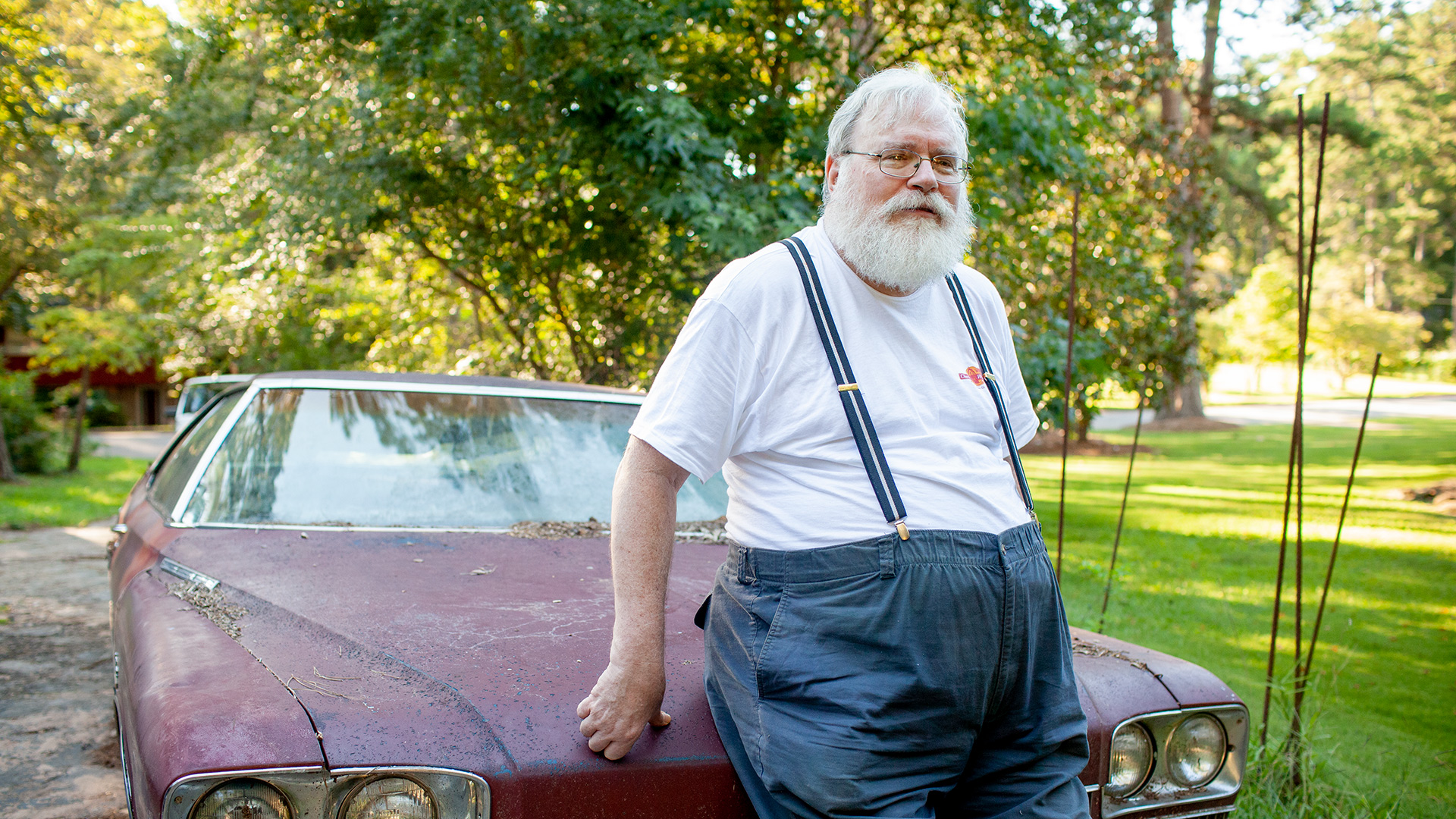 College towns move us from the world of youth to the world of adulthood. For folks who went to college in Athens, Georgia, William Orten Carlton was the man who welcomed us to the new world.
Ort, he was called. Simply Ort. And we are sad that we will never get to say, "Hey, Ort!" ever again. Ort shuffled off this mortal coil last weekend.
Ort met you when you came to Athens. Somehow, he magically managed to do this shortly after you arrived.
Ort told you stories you never asked to hear, stories you never dreamed you would hear.
Ort remembered minutiae — about, it seemed, damned near everything and everywhere.
Ort, on the day that Chuck met him, recited the names of all the tiny unincorporated communities in Gilmer County, Georgia: Cherry Log, Pisgah, Tails Creek, Tickanetly and Yukon (where Chuck's from).
Ort learned that Chuck's short-lived punk rock band was writing a song about their hometown called "I'm So Bored With Ellijay" and suggested the line, "Think I'll move to Talking Rock, live inside a cement block." Pronounced correctly as SEE-ment, of course.
Ort once owned a record shop called Ort's Oldies. To wander into it was to enter a world of wonder. And Ort's own brand of performance art. He would look carefully at the vinyl and discuss in detail any flaws in its condition. And if it had no jacket, but only a paper sleeve, he would charge you just a dollar.
Ort mail was an Ort thing. He was on a never-ending search for places where he could get mail that was addressed simply to Ort, at no particular street address, but just a town and ZIP code.
Ort mail from Drake, Kentucky, was a treat. The little town south of Bowling Green was one of his favorite mail drops. Ort had fallen in love with a band from Bowling Green called Government Cheese, and Drake was an easy stopping point as Ort headed home from a Cheese visit.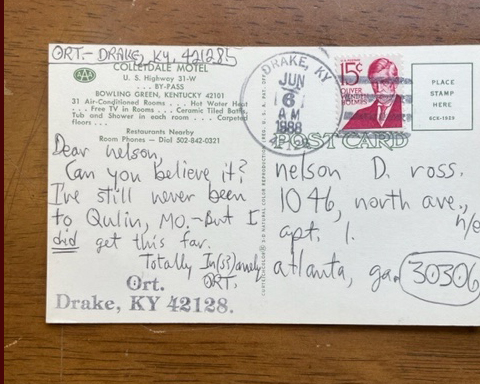 Ort loved beer in all its varieties, long before the rest of us knew there were varieties apart from Bud vs. Miller.
Ort made friends all over town, even back in the bad beer years.  He spent many a Friday afternoon on the deck of TK Harty's sunning himself in the warmth of young adulthood. "My Girl" was on the jukebox and Bud was in the pitcher.
Ort is in the Pantheon of friend makers. He spread his goodwill onto everyone he met like it was peanut butter. He was the love man.
Ort was without guile.
Ort was without cynicism.
Ort was where he belonged in the spring and summer of 1980, when R.E.M. formed and began to make rock and roll history. Bands like Pylon and the Side Effects were part of the buzz.
Ort was always around supporting the bands and even taking admission at the top of the 40 Watt steps. And at Tyrone's O.C. as well. Ort was a linchpin in a rare season of rock and roll. At such instants, one is allowed to leave one's feet and be airborne, perhaps never to touch down.
Photographs are courtesy of Jason Thrasher, Shannon Byrne, Flagpole Magazine, The Red & Black and many of Ort's friends who offered their tributes in social media.
Ort was the first person who Peter Buck, R.E.M.'s guitarist, met when he moved to Athens in the 1970s. "I met Ort at my first day working in the phone-booth sized Wuxtry [record store] at College and Clayton," Peter told us. "We talked about music, and he went on his way. But he basically made a stop on his rounds pretty much every day. I got to know him really well, and liked him too. He might even have been the first person to tell me about Pylon." Sharing the music knowledge, as always.
Ort always told young newcomer music fans never to try to get on guest lists, because it was our duty to support those bands by buying tickets.
Ort took complete strangers on car rides around Athens, just to show them his hometown.
Ort attracted tributes on social media from hundreds of people, most of whom we've never met and never will, when he died last week. They talked about how he shined, about how he sent them postcards from tiny rural post offices, about how fiercely he loved folks.
Ort was "wonderful, weird, loving and lovable," Lucy McGowan wrote on Facebook. We don't know Lucy, but she understood Ort the way we all did.
Ort's name might one day grace the Athens Post Office, if the petition to rename it in his honor gets enough signatures. This makes eminent sense: Ort could recite every ZIP code in Georgia.
Ort wrote columns about beer and music and people he loved for the Athens Observer and Flagpole Magazine, two wonderful Athens print rags, and he did a radio show on WUOG-FM called "Ort's Oldies" or "Ort's Radio Problem." The first broadcast was in 1972. The last one was in 2022, 50 years later.
Ort had an unparalleled passion for music — and any and all information about songs and musicians and bands. In the early 1970s, Ort and his fellow DJ and pal Mark Segura hosted shows that reached as far back as the music of the 1940s. They searched high and low for local and regional records whose quality belied their obscurity.
Ort's dynamic radio shows were aural collages of his joy and his knowledge. They will happily remain available to hear thanks to the diligence of his friend, Andy Johnson, who has recorded 120 hours of Ort on reel-to-reel, beginning with shows from the 1970s.
Ort's only real radio "problems" came when someone called the station to gripe about the music he was playing. Our old friend Dr. Jennifer Griffith, who teaches writing in Athens, remembers when she was 17 and headed to WUOG to do her first on-air radio shift, following Ort's show. She climbed the five flights of steps to the tiny studio, and the first thing she heard was Ort on the phone with a caller: "Lady, if you don't like what I'm playing, you can take your radio and shove it up your ____ ."
Ort's Facebook page says he went to the "University of Hard Knocks. It's in Knocksville."
Ort signed all of his Facebook posts this way: "Wholeheartedly, Ort." That's saying something, because Ort's whole heart was huge and open to all.
Ort was the spiritual embodiment of a town that felt like heaven to all of us who arrived there from sheltered lives in small towns or stifling suburbs.
Ort was the St. Peter who stood at the gates of that heaven, welcoming everyone.
Remembrances in newspapers