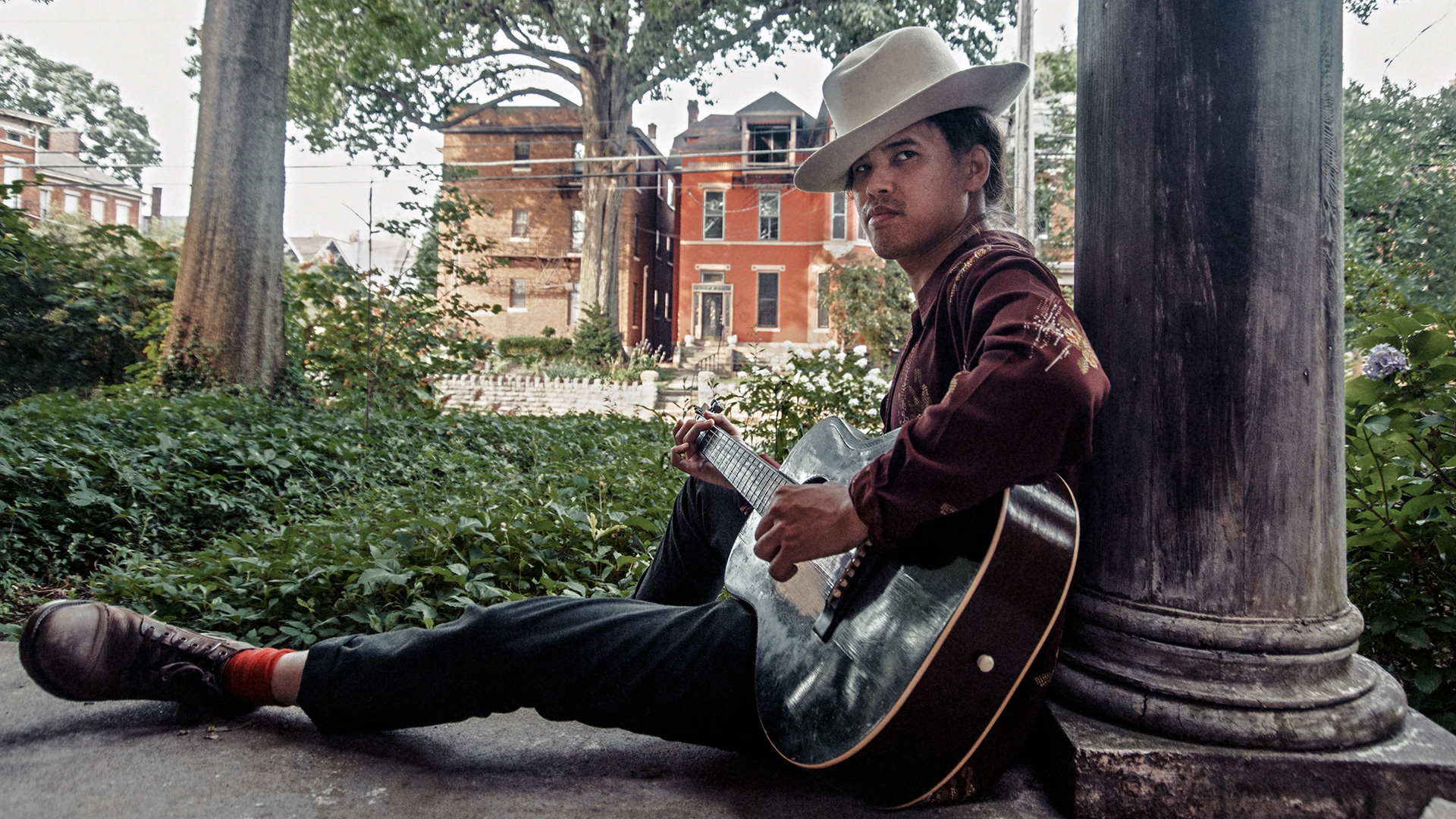 Nat Myers's sound is reminiscent of Charley Patton and Memphis Minnie, but his perspective as a first-generation Korean-American raised in Kentucky brings a fresh twist to the fingerstyle blues tradition.
Over the past eighteen months, we have brought you a couple dozen stories that illustrate the state of Southern music—what it is, who makes it, why it matters—in ways that we hope have left you with more questions than answers.
From a guitar hero who learned to play music by playing a video game (Guitar Hero, naturally), to an evangelist's daughter who excels at both pop and classical music, to this summer's story about a Chinese prodigy who jams out with bluegrass stars, maybe we got you scratching your head and wondering: Just what the hell is Southern music, anyway?
The answer is simple: There are as many Southern musics—and variations on those musics—as there are ways to cook shrimp.
Even if we narrow down to something as seemingly basic as country blues, there are so many variations as to defy any coherent genre boundary. Is it gentle and sweet, like Mississippi John Hurt, or rough and foreboding like R.L. Burnside? Tales of tragedy or declarations of love? Boasts of machismo swagger or on-the-knees promises to be mo' better, please, baby, please?
For fingerstyle slide guitarist Nat Myers—whose debut album Yellow Peril just landed from Nashville's Easy Eye Sound records—the answer seems to be all the above. His rolling left-handed picking reflects the undulating landscape of his Kentucky home while his smooth conversational drawl and unfailingly polite demeanor are characteristic of a Bluegrass State upbringing. But his singing voice comes with way more gristle and bite, and—like all the best blues artists—Myers has stories to tell that are all his own. Here he sings about his home state in a vein that recalls the warm and easy picking style of Mississippi John Hurt.
Born in Kansas, Nat found himself in Kentucky from an early age. Like most of us, he puzzled over how he fit into this world, with the added complication of being "half breed" (his words). His Korean mother met his father while he was stationed on the peninsula, eavesdropping on artillery positions along the 38th parallel.
As a kid in the sticks, there were few Asian faces around. Identity crisis much?
"Man, I see pictures of me when I was younger," he told me, "and I see a kid who thought he was white."
Struggling to fit in, he spent his teens as a skater rebel thrashing out to hardcore music.
"I didn't know what I was. My thinking was very myopic in terms of like, I didn't really think for myself, really. I mean, I would never listen to the stuff I used to listen to. You know what I mean?"
"Man, I see pictures of me when I was younger, and I see a kid who thought he was white."
But all that time, Nat was working out how to play his guitar—a gift from his mother that she hoped might divert him from his rough and rowdy friends—and diving deep into poetry. He was especially drawn to the expansive storytelling of Shakespeare and the Homeric epics and started writing his own as soon as he figured out the business end of a pen and pencil.
He moved to New York to study at The New School. One day Nat tried his hand at busking in the subway. A few cover tunes and a bunch of original songs later, he had twenty bucks in his pocket. On the heels of collecting a stack of rejections for his writing, "I realized that what poets need to be doing right now is performing."
"I just always, when I was young," he recalls, "I aspired to be a poet. It just seemed like a natural trajectory to want to perform music. But it was a weird train transit, man, in terms of actually performing."
Then along came COVID, and Nat retreated from New York to ride out the pandemic. He wrote a passel of songs and uploaded them to the internet, catching the attention of Dan Auerbach of The Black Keys. Auerbach invited Myers to hang out in Nashville, and over several visits, they cowrote some more tunes—some with blues icon Alvin Youngblood Hart—and mapped out a plan for recording Myers' debut album.
They decided a formal studio would be too sterile, so they brought their recording gear to the hundred-year-old stone house Auerbach calls home. With windows open to the Tennessee forest and Myers' booted foot stomping time on the wood floor, they nailed a dozen songs in three days. The album is mostly solo Myers alone, with a few tracks adding Auerbach and a couple other pickers.
This collaborative environment also brought an extra edge to what would become the album's title track, a song Myers wrote during the pandemic. We like to forget, but Covid-time brought with it savage and overt anti-Asian bigotry. For Myers, it was an inflection point.
"I wasn't raised with a clear understanding of my Asianness," he recalls, "and I didn't really have a consciousness about who I was as a Korean American until very recently. I got very militant about it during the pandemic, and while I've chilled out a little since then, I'm all about Yellow Power. I want this record to raise my folks up."
It took multiple takes to achieve the intensity they were looking for. At one point, "Dan's fingers started to bleed," Myers explains. "His thumb was blistered to shit, but he didn't care. We just kept playing harder and harder."
Wanna go to college but they say you just a little too smart, Charley
Nothing 'gainst you but it's all about who you are, sorry
But the album is more than just another protest project. Like any good blues artist, Myers has a knack for boastful and bold declarations of love. Check these out.
It's a good summation of the album's warm vibe and a pretty decent thing to sing to yourself as you go about your day.
Now drop the needle and wrap yourself in this one. You won't want to ramble no more.
Since we filed this story, Nat has been busier than a one-legged tap dancer. Here's a quick roundup.
In July, Nat performed a surprise show at Skinny Dennis in New York that was filmed by a national TV network for airing this fall.
On August 11, he made his debut at the Grand Ole Opry, one of a brief list of Asian-heritage performers to walk those boards. This, as President Biden likes to say, is a big fucking deal.
Nat was invited to perform at the Recording Academy (the Grammy organization), as seen in this live version of "Ramble No More."
He was named one of NPR's Favorite New Artists of 2023 and was included on an NPR "songs they can't stop listening to" playlist.
He has been invited to appear at AmericanaFest in Nashville next month. He will perform at 3rd and Lindsley on September 21 and will sit on a panel discussing Kentucky's music scene.
Not bad, Nat. Not bad at all.
Go. Listen.